SOCOM Investing in New Tech to Counter Drones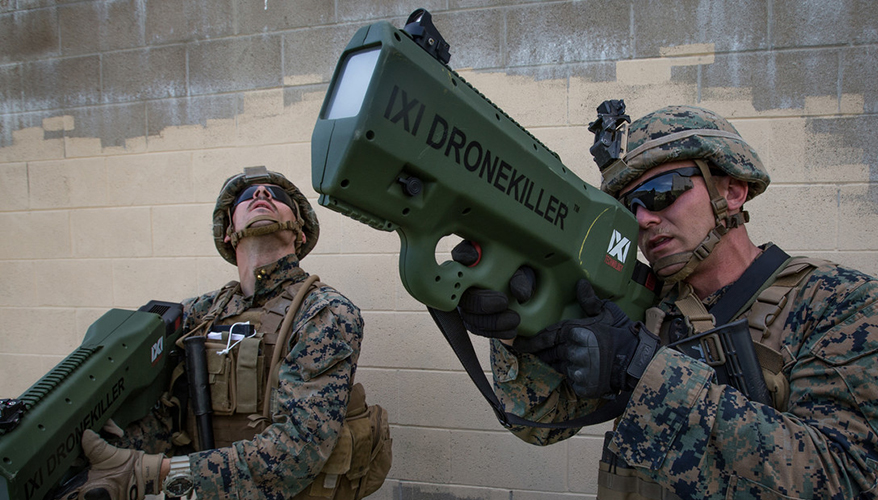 Photo: Defense Dept.
This is part 3 of a 10-part series covering U.S. Special Operations Command's Top 10 technology needs leading up to the Special Operations Forces Industry Conference in Tampa, Florida, May 21-25, 2018. Today: Counter-UAS.

Unmanned aerial systems are becoming cheaper and more powerful. The military is investing in technologies to counter systems employed by adversaries that could carry deadly payloads.
Special Operations Command is developing counter-UAS platforms that can be used by dismounted special operators, said Navy Lt. Phillip Chitty, a spokesperson for the command.
SOCOM is "working on handheld, backpack-sized, mobile and fixed-site configurations that detect and defeat small UAS," he said in an email.
The organization is currently conducting evaluations and risk-reduction efforts to create prototypes, he said. It is also working with agencies such as the Joint Improvised-Threat Defeat Organization and the services, he added.
Enemy unmanned aerial vehicles are a major threat for special operators, Chitty noted. The Islamic State has reportedly armed drones with explosive devices and dropped them in Syria.
"The use of small, lightweight, unmanned aerial systems by our adversaries presents a force protection threat to U.S. and … partner nation special operators," he said. "These systems are used primarily for reconnaissance and are capable of carrying light payloads."
SOCOM is seeking both kinetic and non-kinetic options for counter-UAS systems, Chitty said. Industry has developed technology that can knock drones out of the sky using missiles and lasers, as well as platforms that can jam the system's communications relay, forcing it to turn around or land.
The command is "looking at everything from handheld to a 'system-of-systems' capability that optimizes all methods of detection and mitigates all threats that small UAS present in an interface that will not dramatically obstruct the SOF operator's mission planning or load," Chitty said.
Army Gen. Raymond A. Thomas III, commander of Special Operations Command, said the organization is hard at work developing such technologies.
"Current efforts include … continuing ThunderDrone activities which focus on counter-unmanned aerial systems challenges and solutions as well as opportunities to enhance our offensive use of UAS, especially in coordination with machine learning-enabled capabilities," he said in prepared remarks to the House Armed Services subcommittee on emerging threats and capabilities earlier this year.
ThunderDrone — a series of rapid prototyping events that focus on unmanned aerial technology — is an initiative under SOFWERX, an organization which seeks to facilitate fast prototyping and technology experimentation between SOCOM and nontraditional partners.
The command sees U.S. adversaries taking commercial-off-the-shelf unmanned systems and reconfiguring them to be employed as weapons and surveillance tools, he added.
James Smith, acquisition executive at SOCOM, said earlier this year that the command was working on the second iteration of its rapid prototyping event that focused on counter-UAS.
The organization concluded the tech expo portion in February and had more than 90 vendors demonstrating their technologies to over 250 government subject matter experts, he said.
Further demonstrations were slated for March and April, he added.
ThunderDrone is expected to culminate in June with a third event called "Game of Drones," he said. Top performers from the counter-UAS event will be able to compete against each other for cash prizes.
Maj. Gen. Carl E. Mundy III, commander of Marine Corps Special Operations Command, noted that counter-UAS is a major concern for MARSOC. It is working alongside SOFWERX and the Marine Corps' Rapid Capabilities Office to develop such technology, he noted in prepared remarks to the Senate Armed Services subcommittee on emerging threats and capabilities in April.
SOCOM's Top 10 Technology Needs
Part 1: SOCOM Iron Man Suit Prototype Delayed a Year

Part 2: Special Operations Command Beefing Up Communications
Part 4: SOCOM Tapping into Biotechnology

Part 5: SOCOM Replenishing Precision-Guided Weapon Stockpiles
Part 6: SOCOM Setting Records for Unmanned Systems Procurement

Part 7: New Tools Wanted to Fill Signature Management Gaps

Part 8: Commandos Need Lightweight, Energy Efficient Equipment

Part 9: Special Operators New Position, Navigation and Timing Capabilities

Part 10: Special Ops Command Aims to Convert M4A1 Carbine
Topics: Special Operations, Special Operations-Low Intensity Conflict