Army Aims to Speed Acquisition of Next-Generation Rifle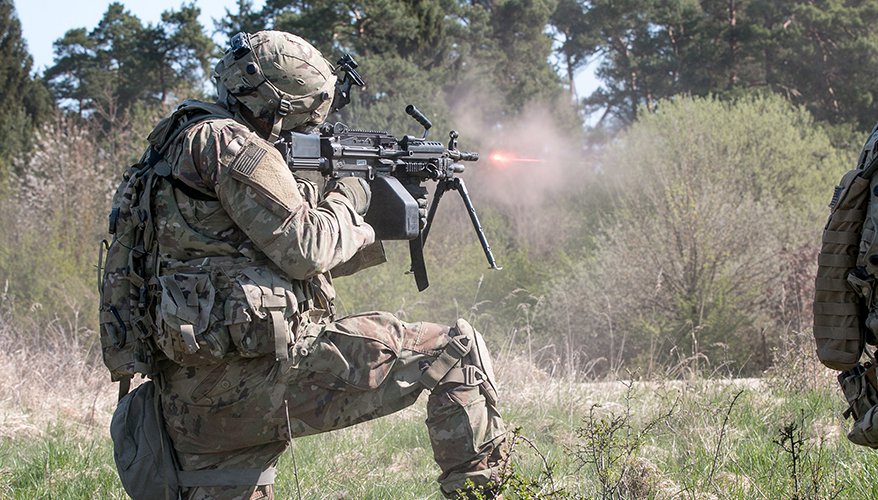 A soldier fires a round from his M249 squad automatic weapon during a live-fire training exercise.
Photo: Army
INDIANAPOLIS, Ind. — Under pressure from top brass, Army project managers hope to field a next-generation squad automatic rifle sooner than planned.

The system, also known as the NGSAR, is expected to replace the legacy M249 squad automatic weapon. Current plans call for it to be fielded in fiscal year 2022.

The projected timeline has already been accelerated from previous estimates that the new weapon would be fielded in 2025 or later. But some officials want the acquisition community to move even faster, noted Lt. Col. Loyd Beal III, product manager for crew served weapons in program executive office soldier.

"We have senior leaders who say, 'What's taking you so long? Why '22? Why can't you do it in '20 or '21? And so we're seeing that kind of pressure and we're thinking around that type of problem statement," Beal said May 9 during a panel discussion at the National Defense Industrial Association's Armament Systems Forum in Indianapolis, Indiana.

Col. Elliott Caggins Jr., product manager for soldier weapons, said: "We're going to do everything we can … to try to get that program moving faster."

In June, the Army will select vendors to participate in a prototyping event, Beal said. A solicitation for that opportunity has already been released. Up to five vendors could be chosen, he told National Defense.

Under the current schedule, contracts for engineering and manufacturing development are expected to be awarded in late fiscal year 2019. For the EMD competition "it's wide open again" and participants in the prototyping event will have to recompete, Beal said.

The EMD phase is anticipated to last about two years. Unless the program is accelerated, the new weapon is expected to reach milestone C and enter production in fiscal year 2022, he said.

For the prototyping solicitation, the Army took a "systems approach" and included the gun, weapon fire control and ammunition, Beal noted.

"Normally we typically back into the ammunition or we back into fire control and we may go out and procure a gun," he said. "This is a really unique opportunity … to do something different and to really kind of look at the problem in terms of a holistic system that we could go out to industry and say, 'Hey, what can you do to solve this problem?'"

Sergio Aponte, product officer for the next-gen squad automatic rifle, said project managers want to see technology advances in a number of areas to create a more lethal weapon system.

"We're looking at new ammunition," he said. "That's number one." Officials are evaluating different materials for those rounds, he added.

New barrel production processes and materials are also on the wish list. "We have to deal with those higher energies that we've been talking about for that lethality," he said.

For the weapon system, recoil mitigation, suppression and signature reduction are also important, Aponte noted.

"Those materials, processes and new innovations that we're looking for from you are really critical in order to meet this timeline that we're talking about," he told members of industry.

Meanwhile, the service also plans to acquire a next-generation squad carbine. That is expected to be fielded 18 to 24 months after the current NGSAR target date of 2022, Beal said. However, there's also pressure from higher ups to move faster on that effort, he noted.

"The automatic rifle [program details] will get set, and then you will see the carbine come up fast and furious in terms of the requirement, in terms of our approach, in terms of the acquisition strategy and those types of things," he said.

Caggins said officials would like to be able to make capability trades for both weapon systems concurrently.

"We're in those discussions right now [to figure out] how do we do that, how do you accelerate that and what makes sense from a technological perspective and a capability perspective," he said.
Topics: Armaments, Army News, Land Forces