Army Push for Greater Lethality Presents Opportunities for Armaments Industry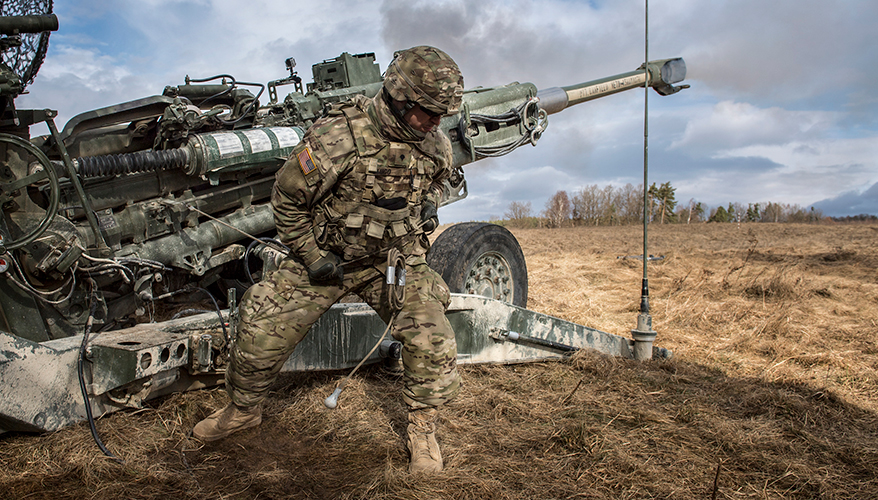 U.S. Army gunners from Archer Battery, 2nd Platoon, 4th section, Field Artillery Squadron, 2nd Cavalry Regiment carry out a mission on the M777 howitzer.
Photo: Army
Indianapolis, Ind. — Lethality is now a "hot issue" in the Army and resources are being realigned to push these capabilities forward. And that's good news for industry, a service official said May 8.
"I don't think I've ever seen such strong emphasis on lethality growth from small arms all the way up to artillery systems all at the same time. That's almost unprecedented," said Anthony Sebasto, executive director of the enterprise and systems engineering center at the Army's Armament Research, Development and Engineering Center. "In the past they've all come in cycles but this is … a wholesale change," he added.
The Army has identified long-range precision fires, next-generation combat vehicle, future vertical lift family of helicopters, air and missile defense, soldier lethality and the network as its primary areas of focus as it prepares for conflict with peer competitors such as China and Russia. Armaments touches on five of those six categories, Sebasto said at the National Defense Industrial Association's Armament Systems Forum in Indianapolis, Indiana.
Sebasto's slide presentation identified the top armament needs: higher pressure/lower wear weapons technologies across all platforms; extended range projectile technologies; novel warhead materials; power sources for indirect fire precision munitions; artificial intelligence-enabled weapon fire control that reduces engagement time from target acquisition to trigger pull; advanced small caliber ammunition; drone defeat munitions; lightweight, high strength materials for guns and mounts; and novel recoil mitigation approaches to facilitate lethality enhancement on lighter manned and unmanned platforms.
"The message to industry is the Army has set conditions, has set priorities, everybody is falling in line" including the science and technology communities and the program executive offices, he said.
"For everybody in this room that's involved in the lethality business, whether you're guns, whether you're missiles, whether you're directed energy… I think it's fair to say all of you are the right people at the right time to come together" to provide new capabilities, he added.
During his remarks, Sebasto highlighted a few critical technology gaps. ARDEC is always looking for new and better materials for weapons, he noted.
Developing sufficient power sources has also been a challenge, he said. "Power sources for munitions — this has been a nagging problem for years," he said. "We keep asking munitions to do more and more and [we] put more smarts in them. But the battery technology, power source technology have not necessarily kept up."
Lower-cost solutions for shooting down enemy drones are also needed, he noted. When faced with a swarm of inexpensive unmanned aerial vehicles, the Army doesn't want to have to fire munitions that cost $10,000 each, Sebasto said.
Weapons for unmanned systems also need to be improved, he said. "We're going to move toward autonomous ground platforms that will be unmanned" and relatively small, he said. "For the armaments business, if you want to have multi-role capabilities for the use of guns we need to look at ways of how we can reduce recoil."
To stay ahead of threats, "we're going to have some breakthroughs and we don't have all the answers," Sebasto said. "There's plenty of really smart folks in industry and academia that can help."
Topics: Armaments