Support Growing for Directed Energy Weapons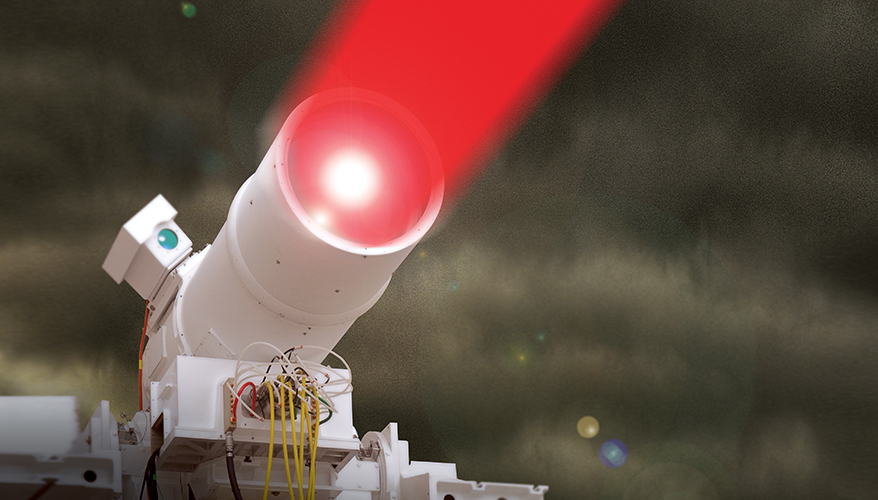 Photo-illustration: Navy/Thinkstock
Lawmakers and Defense Department leaders are showing increased interest in directed energy technology as the U.S. military gears up for great power competition with China and Russia.
High-energy lasers were big "winners" in the 2018 omnibus spending bill that Congress passed in March, according to defense industry analyst Jim McAleese of McAleese & Associates.
These weapons benefited from an "explosive spike" in Pentagon research, development, test and evaluation funding, which increased 23 percent relative to 2017 levels to $91 billion, he said in an email.
McAleese said those funds include: $35 million for a high-energy laser technology maturation initiative for the Army; $152 million for innovative naval prototypes including a solid-state laser and high-energy lasers; $246 million for Air Force directed energy technology including $43 million for high-energy laser research and $70 million for prototyping; and $36 million for a Defense Department-wide laser demonstrator.
"Robust federal investments in directed energy is absolutely critical to our national security," Rep. Tim Ryan, D-Ohio, said at a recent directed energy summit. "No one can sit in classified briefings as I have and learn what our adversaries are doing right now and not feel a keen sense of urgency to invest more into these technologies," added Ryan, a member of the House Appropriations Committee.
These types of weapons have the potential to address a wide range of threats including defense against enemy missiles, rockets, artillery, mortars, drones and fast boats. They have unique characteristics such as speed of light engagement and a virtually unlimited magazine, he noted.
"I like what the budget looks like this year and into fiscal year '19 — almost $1 billion to move us from low to high gear in what we need to achieve and accomplish in this area," he said.
Directed energy is one of the high-tech capabilities mentioned in the 2018 national defense strategy, which emphasizes competition with advanced adversaries as the primary focus of U.S. national security efforts, rather than counterterrorism.
Michael Griffin, the new undersecretary of defense for research and engineering, is putting emphasis on the technology. He isn't just interested in "big lasers," he noted. High-power microwaves, "several flavors of lasers" and neutral particle beam weapons are also on his shopping list.
As competition with China and Russia heats up again, there is growing support on Capitol Hill and elsewhere for investing in these areas, Griffin said.
"As we come out of the Slough of Despond in directed energy into an environment that is more welcoming of our contributions, we should not lose our way with some of the other [directed energy] technologies that were pioneered in the '80s and the early '90s and now stand available for renewed effort," he said, making reference to the deep bog in John Bunyan's allegory Pilgrim's Progress.
As the R&E chief, Griffin said he will be "very welcoming of other approaches that may not have had a lot of focus in recent years or recent decades."
Directed energy will be one of about 10 core technology areas that will be prioritized in modernization investments, he noted. "I do believe that we are going to put our money where our mouth is."
Topics: Budget, Emerging Technologies