Time Is Now to Advance U.S.-India Defense Cooperation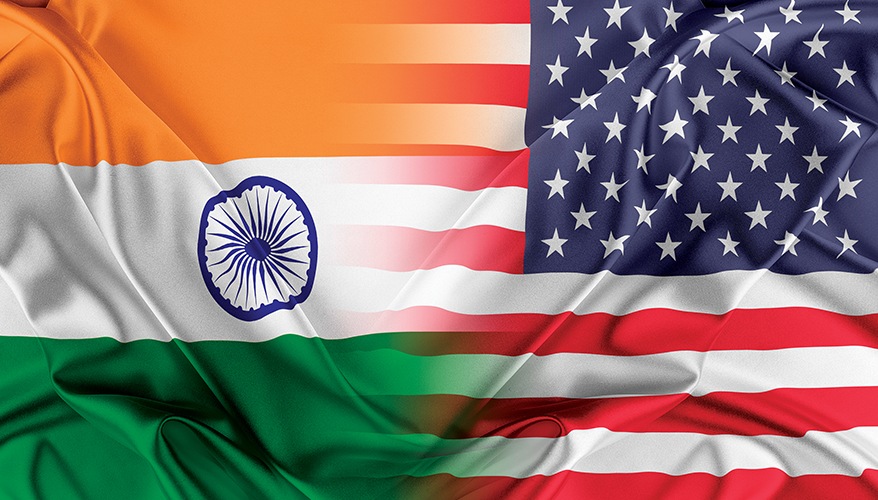 Illustration: iStock
Many recent articles have commented on the potential benefits of a new, closer U.S. defense relationship with India. The details of what will constitute the new relationship is still an unanswered question.
China is expanding more and more into the Asian region, the South and East China Seas and the Indian Ocean. The People's Republic of China is a long-term rival with India because of border disputes, trade disputes and China's support of Pakistan. China has also created controversy through its claims over the Spratly and Paracel Islands in the South China Sea. The international community recognizes the claims of the Philippines and Vietnam over the islands, which may contain oil and petroleum reserves. China is quickly becoming a regional hegemon, challenging U.S. and Indian interests in the Indo-Pacific Region.
Common concerns of China's increasingly aggressive claims and actions in the Indo-Pacific Region have reignited interest in the Quadrilateral Security Dialogue, known as the Quad, comprising India, the United States, Australia and Japan.
Recent articles reflect a crescendo of voices advocating the need to expand defense ties between the United States and India. Certainly the two countries are at a new crossroads in what is clearly a mutually beneficial relationship arising from shared threats. Before proposing a new defense relationship, a review of the current one serves as a good starting point.
In August 2016, the United States and India signed a historic agreement. According to the Washington Post, "the Logistics Exchange Memorandum of Agreement allows for exchange of logistics support, supplies and services between the two countries' armed forces. This includes food, water, fuel, spare parts, repair, transportation, communication and medical services." The agreement does not allow for basing of U.S. troops on Indian soil.
Over the past four years, India has purchased $4.4 billion in military equipment from the United States. India currently operates the P-8 Poseidon anti-submarine warfare aircraft and has purchased Apache helicopters scheduled for delivery in 2019.
Other U.S. major systems purchased by India are the C-17 transport aircraft, C-130 Hercules aircraft, SH-3 anti-submarine warfare helicopters and the M2 .50 caliber machine gun. India's minister of defense finalized an order with Boeing in 2015 for the production, training and support of 15 CH-47 Chinook helicopters. Deliveries will begin in 2019. Two ultra-light M777A2 howitzers were delivered for trials in India. It is also likely to buy 245 Stinger missiles for fitment into AH-64 Apache attack helicopters.
Then-President Barack Obama issued a joint statement with Indian Prime Minister Narendra Modi following the U.S. president's January 2015 visit to India. The joint statement cited six "pathfinder efforts" as the best areas for defense cooperation. They were the product of a previous Defense Technology and Trade Initiative, which was set up in July 2012 by then-Secretary of Defense Leon Panetta. The cornerstone for the bilateral effort was the initiative and the India Rapid Reaction Cell, which was established in January 2015.
The six pathfinder efforts are divided into two parts, four project proposals and two pathfinder initiatives. The four project proposals are: next-generation Cheel (Raven) mini-unmanned aerial vehicles; roll-on/roll-off kits for C-130 aircraft; mobile, electric hybrid power sources; and next-generation protective ensemble.
The two pathfinder initiatives are now joint working groups: Aircraft Carrier Technology Cooperation and Jet Engine Technology.
The initiative and rapid reaction cell are unique. The office of the secretary of defense established the cell to promote an expansion of the defense relationship between India and the United States.
The cell uses the Defense Technology and Trade Initiative to implement security relationships with India. No other country has similar organizations within OSD.
The two nations also attempted to establish an Engineer and Scientist Exchange Program Memorandum of Agreement, which never came to pass. India recently indicated strong interest in completing the agreement.
The U.S. Army Research, Development and Engineering Center wisely allocated a scientist to the U.S. Embassy-New Delhi to foster basic and applied research collaboration with scientists within India's Defence Research and Development Organization.
With at least part of the current defense relationship defined above, the question becomes in what areas should the new defense relationship expand? What new defense relationships will result in real benefits to each country, versus disproportionate benefits to one versus the other?
The United States should articulate strong support for India's peaceful emergence as a strong economic and military power, and as a crucial component of Asian security and stability.
The United States and India should endorse a residual U.S. military presence in Afghanistan over the long term, if such a presence is acceptable to the government of Afghanistan. This is in the security interests of both countries.
"Never have India and the United States found their interests more closely aligned."
The two countries should resume regular meetings among the so-called Quad states and periodically invite participation from other like-minded Asian nations such as South Korea, Indonesia, Singapore and Malaysia. Representatives of the Quad states have not met since 2007.
Since that time, the Obama and Trump administrations identified the need to further solidify and deepen the alliance. In a speech to the Center for Strategic and International Studies on Oct. 18, 2017, then-Secretary of State Rex Tillerson outlined more in-depth requirements and even named some specifics that applied to the region. He called for the United States and India to expand their strategic partnership. He said the U.S. wants to help strengthen India's military capabilities and improve security cooperation in the Indo-Pacific region, specifically with Japan and Australia.
Are there strategic advantages for the United States for a much closer defense relationship with India and vice versa? Should the U.S. open up access to its latest weapon systems, advocating co-production programs and/or sharing of the technology that goes into those programs? To do so would support Modi's "Make in India" initiative.
Should India develop much closer ties with America, considering the historic relationship between the United States and Pakistan? Considering the changing relationship between the two nations, now appears to be the ideal time for India to move closer. For the United States, new strong friends within the region appears to be an obvious choice. India is the world's largest democracy and its military is rated as the world's fourth strongest.
What joint program development would be most beneficial to each country? Should the United States and India initiate joint research-and-development efforts to improve defense capabilities? How would U.S. forces benefit from opening up their significant lead in most defense technologies and research efforts?
The unique, dedicated organization, the India Rapid Reaction Cell, is in place within the OSD to facilitate expansion of the defense relationship between the Pentagon and India, empowered by the Defense Technology and Trade Initiative and augmented by the efforts of the U.S. Embassy-New Delhi. These primary organizations can thrust the two nations together in a never-before-experienced, high quality relationship of defense collaboration.
What is needed now is support from high level OSD officials to remove the obstacles preventing more rapid progress in armaments cooperation. Meanwhile, the Indian Ministry of Defence must do its part by removing bureaucratic obstacles that prevent progress in armaments cooperation.
There should also be a renewed effort to complete the Engineer and Scientist Exchange Program Memorandum of Agreement. An expansion of collaborative efforts should include more high payoff projects/scientific exchanges that benefit the U.S. and Indian defense communities.
So what could be some additional beneficial high payoff projects between the United States and India?
The office of the secretary of defense should seek recommendations from the embedded scientists within the U.S. Embassy-New Delhi for high payoff collaborative projects within the basic and applied research communities. This would require such organizations as ARDEC, the Office of Naval Research, and the Defense Advanced Research Projects Agency to seek out, jointly work with and support the ideas proposed by U.S. embassy personnel.
Another possibility would be placing several Indian scientists within U.S. Cyber Command. Doing so would help both countries identify and develop joint strategies to counter common threats to each country's national security and facilitate an allied cyber-protection protocol allowing for maximum information exchange.
Another idea is to add one uniformed and one civilian scientist to serve as liaisons for co-development of the Quad coalition's interoperability and standards efforts so the countries can better work together in coalition operations.
Scientists can also be exchanged within the information technology, artificial intelligence and quantum computing fields.
Further, a combined mine warfare and deep ocean surveillance team could be formed with members from each country to pursue mutually beneficial deterrence of threats. In that vein, collaborative efforts based on the littoral combat ship, with its shallow draft and high speed could be a great addition to the protection of the Indian Ocean coastline.
In the air domain, consider offering the F-16 or F-35 for the next generation of Indian fighter aircraft. On April 6, India issued a global request for information for 110 fighter aircraft which would support the "Made in India" initiative.
Also, consider offering U.S. systems such as the terminal high altitude area defense system, Patriot and Aegis to enhance India's defense and replace the Russian proposal for the S-400 air defense missile system, a deal which was discussed April 3 by India's defense minister in a visit to Russia.
It's also notable that India's long-term initiative to replace its minesweepers with minesweepers produced in South Korea recently ended due to the inability to reach an agreement. Lockheed Martin also produces minesweepers which could satisfy the Indian navy's long-term needs. But first, the issues that prevented an agreement with South Korea must be resolved by the Indian procurement system.
There are also opportunities to collaborate on autonomous systems and intelligence sharing agreements that can assist India in detection of terrorist threats.
The bottom line is that now is the time for aggressive actions to increase collaborative defense efforts. Never have India and the United States found their interests more closely aligned, and we must move forward on a host of collaborative defense projects as quickly as we can.
It is likely few would take exception to the huge benefit to both countries on expansion of defense collaboration. What is now needed is a direction as to how and in what areas that collaborative effort should embark.

Retired Indian Army Brig. Gen. Arvind Thakur commanded brigade armor units in the Indian Army and attended the U.S. Army War College in Carlisle, Pennsylvania, in 2011. Retired U.S. Army Col. Michael Padgett is a former air defense, ordnance and acquisition corps officer. His email address is sopadgett@aol.com. Retired Navy Capt. Brent Ramsey and Retired Navy Cmdr. John Kummer also contributed to this article.
Topics: Global Defense Market, International