NDIA PERSPECTIVE DEFENSE DEPARTMENT
Charting a Course for Career Development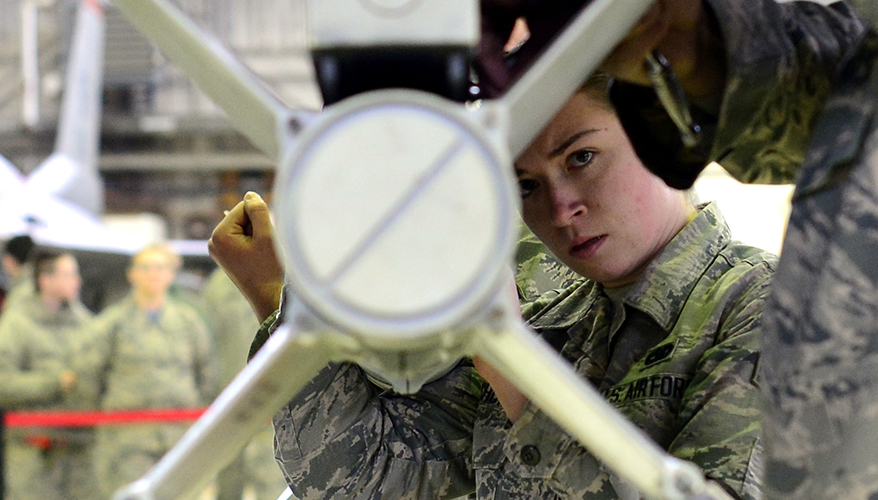 Photo: Air Force
As a young second lieutenant supporting an aircrew for the first time, I offered to "get the maps" for a pre-mission briefing.
One of the B-1 defensive system operators told me they didn't use maps, they used charts because charts included navigation information. The differentiation between charts and maps stuck with me. It's nice to have a map, a two-dimensional picture of a geographic area. But if you want to get from point A to point B, you usually need additional information to help you navigate efficiently and successfully.
I was recently reminded of the difference between maps and charts when discussing career goals with some young professional women. As executive director for Women In Defense, I was interested in whether they thought they could one day become CEO for their respective organizations. They answered honestly, saying they hadn't given it much thought.
I then asked, if you did want to be CEO of your organization, how would you get there? Now they hadn't given much thought to navigating from their current position to CEO because they hadn't given much thought to targeting the top position. But the lack of awareness of what it would take to achieve a high degree of professional success in their current organizations led me to wonder whether that is the norm in a civilian workspace. And it made me start to think about actions WID can take to help provide women with information to help them successfully navigate to their career goals.
As an Air Force officer, I wanted to lead airmen but such leadership opportunities required promotion. The Air Force provides maps, including rank structures, functional career guides, reading lists and professional military education opportunities. However, I also had navigational information. Like most officers, I received at least rudimentary mentoring at every rank during mandatory feedback sessions with my supervisor because the Air Force feedback worksheet directs supervisors to discuss "next and future assignments."
At certain ranks I found active, well-informed, engaged mentors. They advised me solid job performance is heavily weighted — and thus necessary — but insufficient to earn promotion. Raters and senior raters also want to see initiative, innovation and leadership beyond an officer's primary position.
"Ultimately every individual makes career decisions based on the knowledge available to them at the time."
So, in addition to solid job performance and completing education requirements, ambitious officers need to volunteer for "the tough jobs" including exercises, deployments, schools and assignments that will hone tactical, operational and strategic expertise. At the tactical level for instance, the Army values Ranger School, and the Air Force Weapons School, while the Navy always values sea duty. Success in these "voluntary" jobs and schools helps propel young officers to positions with increasing responsibility, and ultimately increased rank.
At each new rank, leaders and mentors explain what the service expects to prove an officer demonstrates potential to serve at the next rank. Promotion in the military depends on successful job performance as only one component of an overall evaluation because leaders are looking for a comprehensive track record that can predict future performance in higher grades with greater responsibility and scope.
I usually had the navigational information, at every rank and in every position to understand the requirements to make myself competitive not just for the next rank, but for every rank in the Air Force.
From the outside, it appears harder to similarly navigate a civilian career in the defense industry. There are maps, the organizational line diagrams, visions and strategies you can find in almost every defense company. But there doesn't appear to be the navigational information, easily available, to turn those maps into charts.
In addition to doing your job well, which is a prerequisite for promotion in all organizations, what kinds of things does an employee need to do to ensure leadership recognizes her excellence and advances her to positions of increasing responsibility?
Are there schools or specialty training that will better posture employees for advancement? Are there professional organizations that provide knowledge, skills, training and networking opportunities that will prepare young employees for opportunities that emerge three, five, or fifteen years later?
Ultimately every individual makes career decisions based on the knowledge available to them at the time. If employees lack knowledge, they cannot posture and prepare themselves for professional success. Fundamentally, you don't know what you don't know. Where do young employees in the defense workspace gain the professional knowledge necessary for them to chart successful career paths?
During WID's National Conference on June 14, I intend for speakers and workshops to provide navigational information to attendees and concrete pragmatic tactics, techniques and procedures to prepare attendees to successfully achieve their professional goals. The conference will offer networking, allowing women to share knowledge and experience about companies, functional areas and projects. The conference will also offer power workshops, 40-minute sessions designed to provide women with tools to help them achieve their professional goals.
My B-1 crews would never have considered flying operational missions without accurate charts. Navigational information is key to combat mission success. Professional success also depends on accurate navigational information. WID will continue to work to expand outreach to provide women in the defense workspace with networking and professional development opportunities to help them reach their personal goals.

Rachel A. McCaffrey is executive director of National Defense Industrial Association affiliate Women In Defense.

Topics: Defense Department, Air Force News