SOCOM, Industry Prepare for 'Game of Drones' Prototyping Contest
Photo: SOFWERX
TAMPA, Fla. — Special Operations Command is gearing up for the final event in the ThunderDrone competition, which seeks unique and unconventional counter-unmanned aerial systems technologies through rapid prototyping.
The final event, dubbed "Game of Drones," will see participants vie for three top spots, and up to $600,000 in prize money, in June at Nellis Air Force Base, Nevada. About seven technologies have made it to the final stage and will compete for the top prize slots, said SOCOM Acquisition Executive James Smith in an exclusive interview with National Defense at the National Defense Industrial Association's annual Special Operations Forces Industry Conference in Tampa, Florida.

"We are pretty optimistic about how those technologies will do at Nellis," he said.

The ThunderDrone effort was first announced by Air Force Secretary Heather Wilson last summer during a media event at Holloman Air Force Base, New Mexico. The Defense Department's Strategic Capabilities Office, the Air Force and SOCOM's SOFWERX office jointly organized and resourced the rapid prototyping events, or RPEs. Since then, two such events have taken place, one in the Ybor City neighborhood of Tampa, where SOFWERX is located, and the second at Fort Bragg, North Carolina.

About 30 companies will be participating in the third ThunderDrone rapid prototyping event at Nellis, according to SOCOM officials. Over 100 companies and more than 400 individuals from government, academia and startup companies took part in the initial event in Ybor City.

Sierra Nevada Corp., headquartered in Reno, Nevada, is one of the companies that will participate in the final RPE at Nellis Air Force Base. Its expeditionary mobile aerial defense integrated system, or X-MADIS, is a self-contained, fully mobile and integrated counter-unmanned aerials systems capability that contains radar and electro-optical/infrared equipment built into a commercial off-road vehicle.

SNC partnered with Ascent Vision, a Belgrade, Montana-based precision technologies company, and Rada Electronic Industries, a Silver Spring, Maryland-based defense electronics system firm, on the platform, which was previously developed for an undisclosed Defense Department customer, said Jerry Coburn, SNC business development director.

The ThunderDrone rapid prototyping event was a "natural, easy way for us to pitch an already integrated capability," Coburn said.

The initiative was initially geared toward finding new drone technology that can be used in an offensive capacity, said Tambrein Bates, SOFWERX director in an interview with National Defense. As the events moved along, however, the focus turned more toward counter-UAS capabilities, he added.

"The next event is really going to be kind of the culmination event for everything," he said. In addition to the prize money awarded to the top three finishers in the counter-drone category, several offensive capabilities that have been discovered and demonstrated over the course of the prototyping events will be showcased, he added.

However, those winning technologies will not necessarily be automatically used by SOCOM or the other services, Smith noted."I can't state explicitly … what we might do with that technology, depending on how it performs," he said.

Given the command's reluctance to state whether a winning technology could lead to a contract, industry participants are wondering "if the juice is worth the squeeze" to attend yet another demonstration, Coburn said.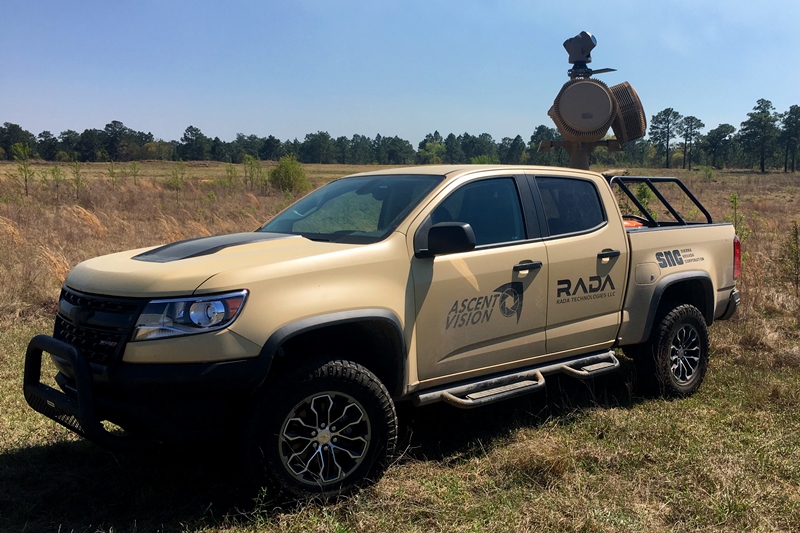 Expeditionary mobile aerial defense integrated system (Sierra Nevada Corp.)
Companies are also cautious about how the products are being graded across the events, he added.

"There will be a test report written [and] we may or may not get feedback of what came out of that," he said. "It's unfortunate if we don't get feedback on our own system."

However, Coburn noted that efforts such as ThunderDrone offer companies big and small with the opportunity to test their products against live targets on a government range.

"We can't just go out on a site, pick a chunk of land and turn our EW system on; you have to have electronic attack approval to do that," he said.

These events allow companies such as Sierra Nevada to collect data in a way it could not replicate itself without such a test range, he added. "It's a massive level of expense, it's a massive level of coordination that, just frankly, would not be worth it internally."

Coburn praised the speed with which the prototyping events were organized and coordinated. "It was a short cycle … three months-worth of activity, which typically for the joint service environment takes up to a year," he said.

Prototyping efforts also offer a marketing advantage to companies, he said. The opportunity to demonstrate the X-MADIS capability in front of Joint Special Operations Command officials at Fort Bragg, for example, "is very worthwhile," he noted.

The ThunderDrone team has learned much over the course of the three rapid prototyping events, Bates noted.

"The biggest thing that's been most surprising to us is there is actually seven steps to the kill chain," he said. "What we really determined is that there is no single group that has everything, cradle to grave."

Partnerships that formed between non-traditional industry contractors led to "some really provocative capabilities," he added. SOFWERX's business model had a hand in encouraging those companies to join and develop "a more holistic capability," he noted.

"That's an advantage that SOFWERX has, because we act and speak like a business, we can work with our business partners in that capacity," he added.

Since the SOFWERX initiative was formed about two years ago through a partnership intermediary agreement with the Doolittle Institute and Special Operations Command, the office has "turned a corner" in streamlining its goals and operations, Bates said.

"Our processes are much more solid. Our outreach is more solid. We do have a social media following as well as our ecosystem, so it's allowing us to attract a lot more non-traditional [companies], which was actually part of the goal that we've set for ourselves under this endeavor with SOCOM," he said.

"But I think really what's given us a real sense of pride is the interaction from both the industry partners as well as the warfighters, so it's not really lopsided," he noted. "We're getting a tremendous amount of support from both through the endeavor, and that's really where I wanted us to be at two years in."

Kelly Stratton-Feix, acquisition agility director at SOCOM, said the collaboration with SOFWERX and efforts such as the rapid prototyping events have helped the command build and develop equipment more quickly.

"SOFWERX is not constrained by the normal traditional acquisition processes that we have," she told National Defense. "They do things like business-to-business agreements, they're not located on base, [so] they're easy to get to. They formed an ecosystem for us … so we are just simply able to engage in a faster way and to have activities happen for us faster."

That has allowed acquisition officials to make better quality decisions, more rapidly, which has also helped to lower cost barriers, she noted.
Topics: Special Operations, Special Operations-Low Intensity Conflict, Robotics and Autonomous Systems, Robotics