New Machine Guns on the Horizon for Special Operators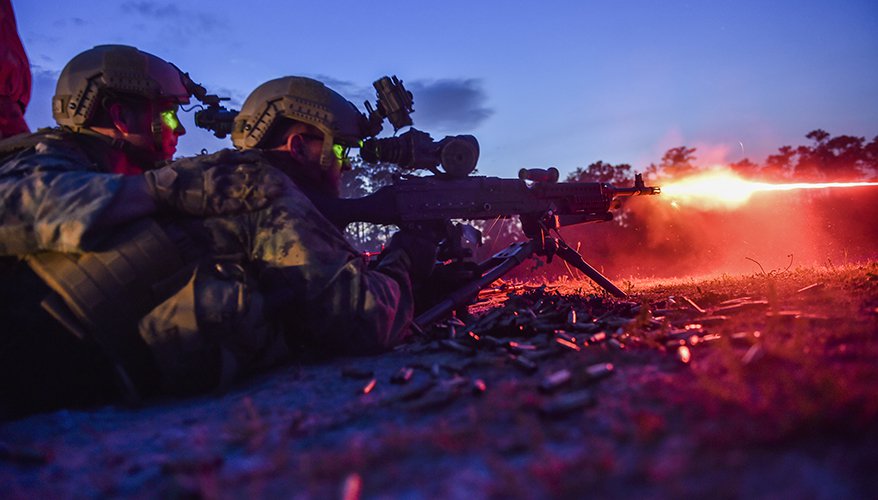 Special operators fire an M249 squad automatic weapon
Photo: Defense Dept.
TAMPA, Fla. — Special Operations Command is planning to release solicitations next year for machine guns that are expected to give warfighters expanded capability, a SOCOM official said May 24.
One is a lightweight medium machine gun that must provide commandos with a 2,000-meter engagement capability, be of comparable weight to the current M240B weapon and offer advanced barrel, suppressor and thermal mitigation technologies, said Lt. Col. Mark Owens, program manager for ammunition and weapons at program executive office SOF warrior.
"We're not looking for the same barrel technology in this body of weapons that we have seen in the last 50 years of machine guns," he said during a panel discussion at the National Defense Industrial Association's annual Special Operations Forces Industry Conference in Tampa, Florida. "We're looking for a barrel that has higher endurance, higher operational ability, greater availability for sustained fires."
There will be requests for proposals for the system's optics, pintle mount, tripod, suppressor and gun, he noted.

An RFP is slated for the second quarter of fiscal year 2019 with a contract award planned for the fourth quarter of fiscal year 2019, Owens said. The program executive office plans to use an indefinite-delivery/indefinite-quantity contract for the effort and has set aside $49 million in funding.

SOCOM is also looking for a new assault machine gun, he said. That system will need to provide operators with a 1,500-meter engagement capability and must be comparable in weight or lighter than the legacy M249 weapon.

"We're looking for something that has good fightable ergonomics, very highly reliable, built-in recoil mitigation technologies … [and takes] advantage of the huge ranges the 6.5mm Creedmoor offers," Owens said.

An RFP is tentatively scheduled for the second quarter of fiscal year 2019, with a contract award also tentatively scheduled for the fourth quarter of fiscal year 2019, he said. SOCOM will employ an IDIQ contract and has $49 million in funding for the effort.

Meanwhile, the command is adapting to a new strategic era as the Defense Department's primary focus has shifted from counterterrorism to great power conflict with China and Russia, officials have said.
Col. John Reim, program executive officer for SOF warrior, noted that the threat environment is evolving.
"Some of the tools that we've developed and perfected over the last 17 years aren't as relevant" in the coming years, Reim said. "We need your help with how do we address some of those emerging near-peer, peer-type threats." The command is also looking for ways to counter the commercial technologies that U.S. adversaries are leveraging, he noted.
PEO SOF warrior includes 10 program managers and about $1.8 billion in its portfolio. The office focuses on three "swim lanes," including mobility, survival equipment and lethality, Reim said.

"The lines between the swim lanes are getting increasingly blurred," he said. There are "lots of opportunities … that cross over between swim lanes, not only within SOF warrior but within the larger SOF … [acquisition] enterprise."


Topics: Special Operations, Special Operations-Low Intensity Conflict, Armaments