Army Developing Family of Explosive Ordnance Disposal Robots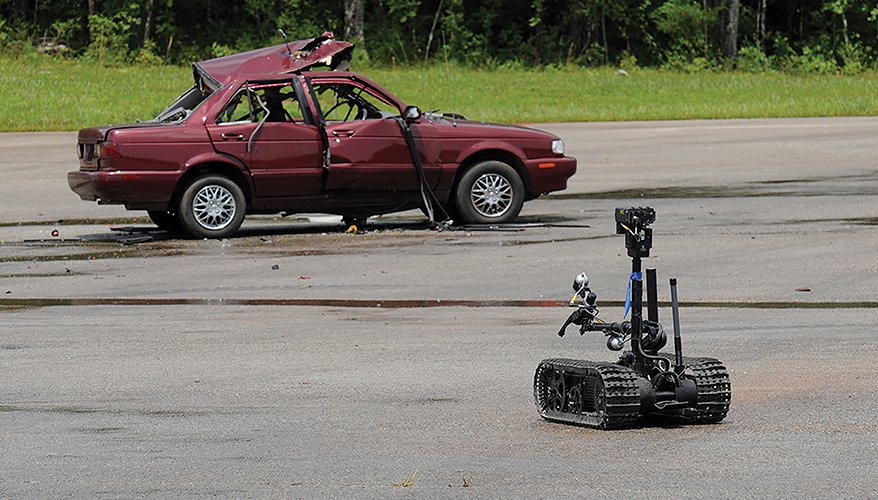 Photo: Army
The Army is establishing three major robotics programs of record to counter explosive devices.
As the service works to integrate more autonomous systems into its force, it has marked the common robotic system- individual, the common robotic system- heavy and the man transportable robotic system increment 2 as three programs to be part of a family of explosive ordnance robots with the same interoperability profile.
Endeavor Robotics and QinetiQ North America were recently awarded contracts for the engineering and manufacturing development phase for CRS(I), which is the lightest platform of the three.
The Navy is the executive agent in the military of EOD technology and was concurrently developing a similar family of three robots — the Advanced EOD Robotic System. Both Air Force and Army officials expressed frustration to National Defense in the past with the Navy's slow pace of development. The AEDROS program awarded a contract for a backpackable increment 1 robot after more than a decade of development, but the Navy last year canceled increments 2 and 3.
The Army's version is designed to be 25 pounds and able to fit in soldiers' rucksacks. CRS(I) is designed to have a suite of changeable payloads, according to an Army news release. The system is intended to be used for remote chemical, biological, radiological and nuclear defense (CBRN) detection work and to provide soldiers with a "safe standoff distance from potentially hazardous threats," the release noted.
Production is slated to begin in the second quarter of fiscal year 2019, and the first unit is scheduled to be equipped in the second quarter of fiscal year 2020. The Army plans to field 3,258 of the systems to infantry, engineer, EOD and CBRN units, the release stated.
Tom Frost, president of Endeavor Robotics, said the company's submission for the program meets the Army's requirement and is compliant with the service's interoperability profile. The system is "based on all the lessons learned that we've had over the years delivering over 6,000 robots," he said. Additionally, it is in a similar weight class as a system already developed by the company called the SUGV robot, which weighs less than 30 pounds, he noted.
"We've taken all those lessons learned and folded them into this new robot as an offering, and we spent millions of dollars in [research and development] to put this together to make sure that we've got the system that the Army can use," he said. Endeavor Robotics, formerly known as iRobot Defense & Security, also manufactures the ubiquitous PackBot.
As of press time, QinetiQ North America had not responded to a request for comment.
The service plans to conduct a 10-month "fly off" for the CRS(I) program before down-selecting for the production contract, Bryan McVeigh, the Army's project manager for force projection, said at the National Defense Industrial Association's Ground Robotics Capabilities Conference in Springfield, Virginia.
A Milestone C decision is scheduled for the second quarter of fiscal year 2019, according to McVeigh, and initial operational capability is planned for the third quarter of fiscal year 2021.
Maj. Mike Dvorak, robotics branch chief at the Army Capabilities Integration Center, said the service plans to have the capability production documents for CRS(I) completed by August.
The contract also includes a requirement for a universal common controller that will be able to operate multiple robots, McVeigh said. He wants the controller to be linked to both ground and air systems. Industry has shown him multiple times that it could be done, and the controller could be compatible with current systems, not just future platforms, he noted.
"I thought that was a stretch goal that wasn't going to happen under my watch," he said.
A decision on whether or not to use the controller developed under the CRS(I) contract or to obtain a separate unmanned aerial systems controller will be one of the "hardest choices I'm going to have to make in the next two months," McVeigh said.
"My back experience tells me that controlling unmanned air systems is far more difficult than controlling unmanned ground systems," he added.
The value of commonality "is almost immeasurable, but it's absolutely critical to how we go forward" and develop the robotics fleet, McVeigh said.

Kobra ground robot system (Endeavor Robotics)
As the service works to pursue these technologies, it will need to examine logistics issues such as how it will sustain such systems and perform parts resupply, he noted.
"This doesn't mean I'm stuck, that everything has to be the same," McVeigh said.
The service is also moving forward with a larger platform to help explosive ordnance disposal units, known as the common robotic system-heavy, or CRS(H), he said. The acquisition strategy for the program is still being developed, but the force projection office hopes to model it off the squad multipurpose equipment transport program, which is a system intended to act as a robotic mule that will haul soldiers' equipment.
To choose a vendor for SMET, the Army awarded contracts to a group of companies to participate in a series of tests. Using the other transaction authority provided by Congress, the service plans to move to a Milestone C decision after prototyping and downselecting to one vendor.
Similarly, the Army plans to conduct a "fly off" for CRS(H) platforms between September and October, according to McVeigh. A request for prototype proposals is slated to be released in the third quarter of fiscal year 2018 and the projected Army acquisition objective is 248 systems. The production contract award is scheduled for July 2019.
"We're going to put you through your paces. We're going to do an initial cyber assessment on your system," McVeigh said. The Army will also examine basic criteria such as the weight of the system, he noted.
One of the key requirements will be the ability to fit inside a mine-resistant, ambush protected vehicle, he said. "There's either going to be an MRAP there or there's going to be a mockup of an MRAP there to make sure that you can fit into it."
McVeigh said the initial phase of the "fly off" will likely include five vendors in total, and each of the platforms will undergo about a week of testing. The service will then pick two vendors for a six-week evaluation, four of which will involve cyber threat assessments, Army Test and Evaluation Command assessments and safety checks. During the last two weeks, EOD soldiers will put "this system through its paces, making sure they understand what it is you can do, what it can't do, and they're going to have a significant [role to] play in what we select going forward," he said.
The requirements for the program are being developed with input from industry and senior leadership, he noted.
"We looked at what are the right requirements for trading off to make sure that we maintain competition and balance that against user needs to execute the mission," he said. "Leadership was comfortable with us lowering down [some of the requirements] to make sure that we maintain competition."
One mandatory capability for the system is that it needs to be able to lift 100 pounds when fully extended, he said. The robot must weigh no more than 700 pounds without a payload and must be able to operate for more than seven hours.
Endeavor Robotics also plans to bid for the CRS(H) program. Frost said the company's "Kobra" system is well-suited to the requirements. According to the company's website, the system can lift up to 330 pounds, reach over 11-and-a-half feet and reach a sustained speed of 8 mph while carrying 150 pounds of payload.
"I think there's room for adding [more capabilities], depending on what the customer asks for," Frost said. "It's got the best mobility in its weight class and we can actually cross over Jersey barriers," he said referring to concrete or plastic barriers often used to separate lanes on roads. Additionally, it can go through doorways and has been proven to be rugged and reliable, he said. The system was used in Japan following the 2011 Fukushima nuclear disaster, he added.
The Army awarded the contract for the man transportable increment 2, or MTRS Inc II, to Endeavor Robotics in October 2017. MTRS Inc II is expected to meet the medium weight requirement for the set of systems. The total value of the firm-fixed price contract for engineering development and production is $158.5 million, according to an Army news release. Production is slated for fiscal year 2019 and the service plans to field 1,210 systems, the release said. Full-rate production is anticipated in the second quarter of fiscal year 2020, according to Endeavor Robotics.
Frost said the company offered its Centaur unmanned ground vehicle, which is a medium-sized tracked platform, for MTRS Inc II. The system's arm provides "5 degrees of freedom," meaning that it is highly dexterous and can "get that arm into very difficult to reach positions," Frost said.
"Think about [improvised explosive devices] and where they might be placed in a covert [location] or stashed under objects and in difficult to reach spots," he said. "That 5 degree arm enables you to get into those tight spaces and perform very effectively."
The robot also has an electro-optical suite that allows it to have cameras that operate both during the day and at night, and it can see out to long distances.
Topics: Army News, Robotics, Robotics and Autonomous Systems, Munitions Technology