Special Operations Command Needs New Tech to Take On Russia, China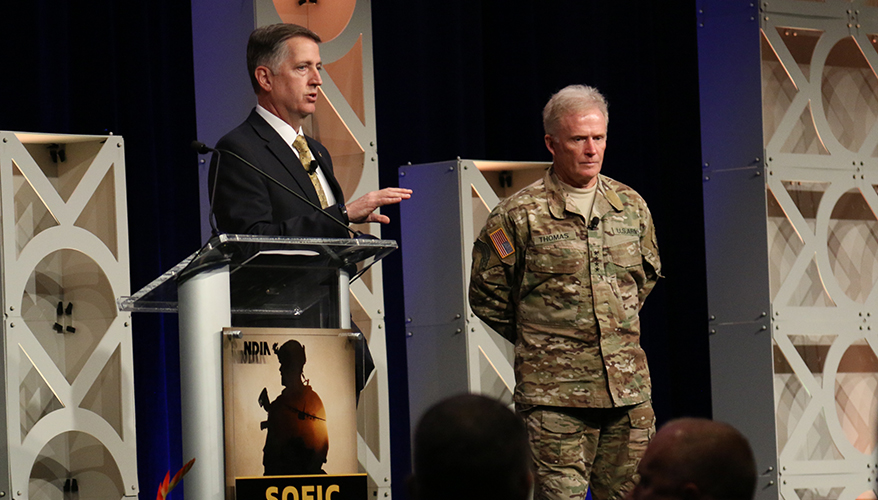 Special Operations Command Acquisition Executive Jim Smith (left) and Commander Gen. Raymond A. Thomas III at the 2018 Special Operations Forces Industry Conference in Tampa, Florida.
Photo: Melanie Yu / NDIA
TAMPA, Fla. — Special Operations Command is seeking new and improved technologies to enable a pivot toward combating near-peer competitors while maintaining its edge in the counter-insurgency fight, command leaders said May 22.
The Defense Department's 2018 National Defense Strategy outlines a need to prioritize the advancing capabilities of adversaries such as Russia or China over the counterterrorism efforts of the past two decades. SOCOM is embracing that strategy and looking to make current platforms fit into this changing environment, said Commander Gen. Raymond A. Thomas III.
"I think you will see some changes in terms of our platform focus," he said at the National Defense Industrial Association's annual Special Operations Forces Industry Conference in Tampa, Florida. Some pieces of equipment are "not fungible, they can't cross over, they can't survive in a near-peer environment," he added.
That doesn't mean SOCOM is ill-prepared to deal with near-peer competitors, he noted. "I'm excited by what the NDS entails because I would like to think that we are relevant to every threat that's described there," he added. "We do that [counterterrorism mission] expertly, but we have exquisite capabilities that I think are absolutely fungible to what the NDS entails."
Jim Smith, SOCOM acquisition executive, outlined a variety of technology needs that the command is seeking to become more lethal and resilient.
It is investing in new space capabilities to enhance its communications network, he said. The command has two cubesats currently in orbit, and will launch several more later this summer, he said.
Currently, the systems are picking up sensor data and piping it down to an operations center, he said. But SOCOM is interested in new payloads that can help find and fix targets for precision-guided assets, he noted.
"We would be interested in your ideas on payloads that would help us with that mission — how do we find and fix from the space domain?" he said.
SOCOM originally launched a constellation of about eight cubesats that were in orbit for three years; two satellites were recently launched for a two-year orbit and the forthcoming systems will join that constellation, Smith said in an exclusive interview with National Defense.
The command is partnering with commercial industry, the Air Force and international allies to launch these cubesats, and with academic institutes to develop new payloads, he noted.
Thomas and Smith provided insight on SOCOM's new hyper-enabled operator concept, which was revealed earlier in the conference in a speech by Lisa Sanders, director of SOCOM's science and technology office.
>> SOCOM Pursuing 'Hyper-Enabled Operator' Technologies <<
The idea first emerged in 2003, when an operator challenged then-Joint Special Operations Command Commander Gen. Stanley McChrystal to better provide his team with more networking, communications and situational awareness tools, Thomas said.
"I would offer [that concept] was one of the most prescient visions of what we are now calling hyper-enabled operator as we go forward," he said.
With that in mind, SOCOM intends to refocus its efforts to enable and reinforce "our primary weapon system and platform: our operator," he added.
SOF operators must increasingly make more timely and accurate decisions while operating in austere and remote environments, he noted. "In an increasingly data-driven, networked, miniaturized, automated world where goods, information and people move across the globe at a more furious pace, none of us can afford to ignore the implications on our operations."
Smith called the concept "a multi-pronged process to take all of the data that's available to that individual operator" — from partnered forces, sensors, communications channels or other sources — and turn it into decision-quality information, he said.
He told National Defense the concept is a "continuum" of capabilities and ideas that were developed for the tactical assault light operator suit and other high-priority capability needs. Examples include providing greater situational awareness to the operator through a new look-down display that is a key component of the TALOS design, and improved command, control, communications and computers capabilities, he said.
But the hyper-enabled operator concept will target a broader set of users than TALOS, he noted. While the suit is meant to provide a more niche capability, "now we're pushing it out to the entire force in the digital domain," to include logisticians, analysts, information support operators and commandos in the field.
The command also wants to take TALOS' idea of embedding operators within the acquisition process and apply it to the new concept, he said. "We've seen great benefits from that, so that will continue," he added.
SOCOM is also looking to invest in new precision munition technologies, Smith said.
"The expectation for SOF in this domain is very high," he noted. "The expectation is that we can hit what we want, where we want, when we want without damaging anything else in the area."
The command is seeking a capability that can loiter until "the fleeting opportunity presents itself," and does not have collateral effect on the surrounding area when it hits the desired target, he said.
"I also need that munition to be able to be called off-target at the last second if the situation on the ground changes," he added. The asset should also ideally be employable from the air, the sea and from the ground, he noted, adding "I would prefer to have one munition that does that from all three domains, but if we have to have a family of munitions, we're interested in that as well."
The command is also interested in new technologies that can assist with next-generation information support operations to ensure a message is being clearly conveyed to a given population.
"This is a core competency for us, the ability to tell our message in clear text to a population," Smith said. "How do you get access to that population in these contested environments we're talking about?"
He noted that adversaries have developed sophisticated tactics to subvert SOCOM messaging efforts to the point that "any advantage that we've had has potentially been eroded."
"We've got some near-peer competitors out there that have gotten very good in the social media domain in beating us to the punch in their message," he said.
This includes technologies that can help send messages in limited or denied connectivity environments, drone-supported broadcasts and more linguist expertise and regional dialect assistance, along with systems that are "demographic and culturally adaptive" as well as multi-spectrum and can provide real-time feedback for biometrics or data analysis, according to Smith's slide.
"What I'm challenging you with [is] … can I push the capability to [special operators] to target their messaging, and to get feedback almost real-time or near-real time of how that messaging is having an impact on the population?" Smith said. "Is our message being heard? Is it an effective means of communication?"
Special Operations Command is also placing an emphasis on equipment that is interoperable with international partners, he noted.
"If you've got a piece of equipment that's really expensive, exquisite, requires a lot of fine-tuning to keep it in the fight — if we can't export it because of some elegant technology that's part of it — it's not going to support partnered operations," he said. "What we need is affordable, exportable, interoperable equipment to really enable partner operations."
Smith also included the following areas in his list of SOCOM's technology needs: assured communications; assured maneuver; precision navigation and timing; counter-improvised explosive devices and counter-unmanned aerial systems; next-generation intelligence, surveillance and reconnaissance and expeditionary ISR; signature management; biomedical tools; and expeditionary logistics.
>> SOCOM's Top 10 Tech Needs <<
Topics: Acquisition, Combat Survivability