SOCOM Pursuing 'Hyper-Enabled Operator' Technologies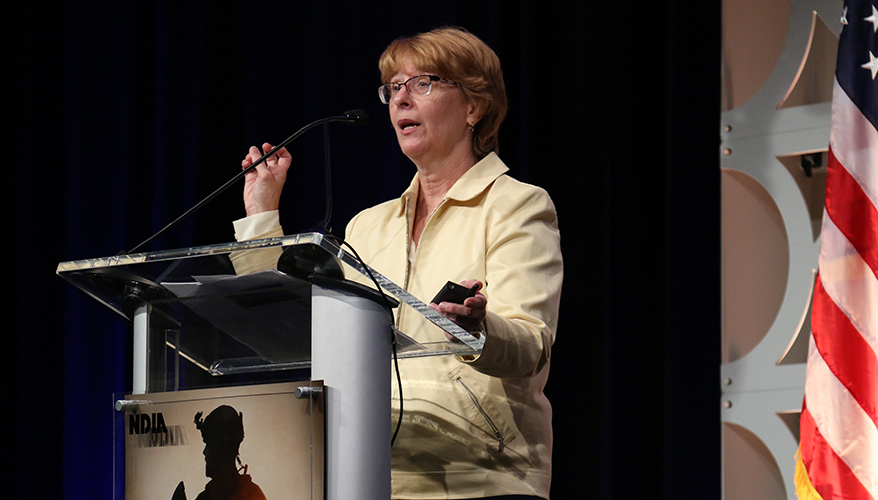 Lisa Sanders, SOCOM's science and technology office director, delivers remarks at the 2018 Special Operations Forces Industry Conference.
Photo: Melanie Yu / NDIA
TAMPA, Fla. — Special Operations Command is launching a new effort to develop "hyper-enabled operator" technologies that will give service members enhanced capabilities, said the director of the command's science and technology office May 22.

"The hyper-enabled operator is a concept, it is not a deliverable product," said Lisa Sanders during remarks at the National Defense Industrial Association's Special Operations Forces Industry Conference in Tampa, Florida. The ultimate is goal to make warfighters as effective as possible in achieving their missions, she said.

The concept includes four technology pillars: communications, computing, data/sensors and human-machine interfaces.

More effective communication devices are needed to connect operators on the tactical edge and provide them with up-to-date information, Sanders said.

Computing and sensing capabilities are also critical to improving situational awareness by pushing data to dismounted troops, she noted.

"Then the last piece is really, really important as we get to this" hyper-enabled operator, she said. An effective human-machine interface is needed to leverage the new communications, computing and data/sensing technologies.

"That interface needs to be tailorable, it needs to be adaptable," she said. "It cannot be the same for every person, it probably won't be the same at every point in the mission."

The command plans to develop these technologies under an aggressive timeline, Sanders said.
"There are going to be things that are going to spin out really quickly, that are available today," she said.

Equipment that includes commercially available technologies could be ready and in the hands of operators in as little as six months, she said. However, most will probably be developed in an 18-month to two-year timeframe, she added.

Other capabilities — such as machine learning — will take much longer to develop and field, she said.

"If I really need to understand how I'm going to use artificial intelligence … to provide a positive identification for either the hostage that I want to rescue or a building that I'm going to be in, [then] there are a lot of questions that have to be answered about how do I validate some of these tools," Sanders said.

Artificial intelligence presents many challenges, and it has taken major companies such as Google a large amount of time to develop AI-enabled technologies like self-driving cars, she noted. "That's because people are trying to understand what happens when things go wrong," she said.
"The normal way that we validate things like that is that we test every possible outcome and that's how we determine what's safe," she added. "But in the world of artificial intelligence you can't do that because every outcome is changing with every input that you put in."
SOCOM needs to work through some policy questions as it develops the technology, she said. In some cases, it could take 10 years for capabilities to get approved, she said.

"I do think you are going to see a fairly substantial amount of products that are coming out in the two- to five-year window of time, and then it's the ones that are policy constrained that are going to take us longer" to field, she said.

Special Operations Command plans to hold a technical experimentation event with industry in early November at Avon Park Air Force Range, Florida, that focuses on the four technology areas related to the hyper-enabled operator, Sanders said.

Separate from the hyper-enabled operator concept, the command's S&T shop is also looking at investing in technologies that could give dismounted troops more lethality and better navigation capabilities, she said. Biotechnology is another area of interest, she added.
Topics: Special Operations, Special Operations-Low Intensity Conflict