ROBOTICS AND AUTONOMOUS SYSTEMS
Gremlins Program Enters Demonstration Phase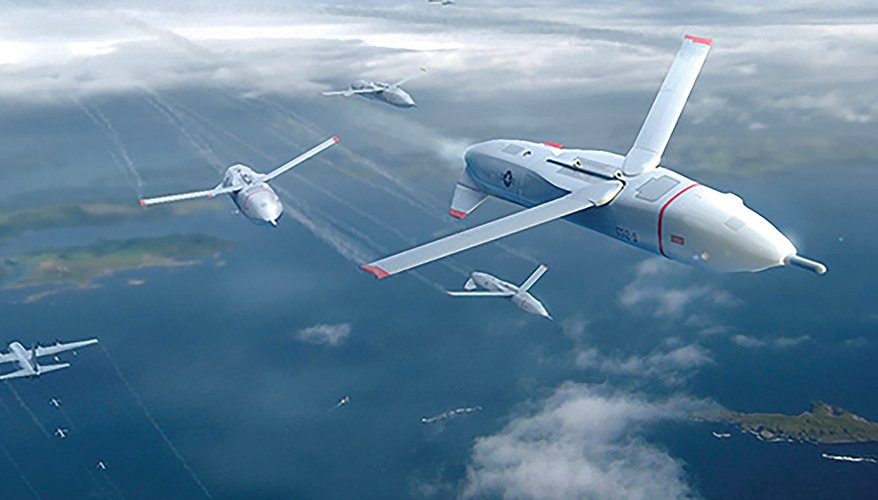 Artist's concept of the Gremlins program.
Art: DARPA
The goal of launching a series of small unmanned aerial systems packed with advanced payloads from a military aircraft to perform sensitive missions is a step closer to reality.
Dynetics, a Huntsville, Alabama-based defense contractor, has been awarded a follow-on contract for the demonstration phase of the Defense Advanced Research Projects Agency's Gremlins program.
The agency is looking to develop low-cost reusable drones — or "gremlins" — that could be launched from military aircraft and retrieved post-mission, according to Dynetics. The systems could carry a variety of high-tech payloads for distributed missions.
Phase one of the effort involved four companies and centered around developing a concept for the program, Tim Keeter, deputy program manager and chief engineer for the Gremlins program at Dynetics, said in a media call. Dynetics and General Atomics Aeronautical Systems were selected for the second phase contract for technology maturation in 2017. The phase three contract, which was awarded in mid-April, will last 21 months and is worth $38.6 million, according to Dynetics. The entire program will last 43 months and cost $64 million. DARPA did not reply to requests for comment.
Dynetics began flight and ground testing prior to the contract award, Keeter said.
So far, it has demonstrated that it can stabilize and deploy a docking system for the unmanned aerial vehicles, and has successfully performed "safe separation" from the aircraft.
In phase three, Dynetics will demonstrate "the ability to recover multiple air vehicles safely and in a fairly rapid fashion," he said. The goal is to accomplish four recoveries in under 30 minutes by the end of the contract, he added.
The company will use a C-130 transport aircraft provided by International Air Response during the testing period. The ultimate goal is to be able to launch the systems from a variety of military aircraft, he noted. Some testing will be performed at IAR's testbed in Mesa, Arizona, as well as test ranges along the West Coast, Keeter said.
Dynetics will take advantage of existing capabilities aboard the C-130 to launch the drones, but it will test a new recovery system involving a towed, stabilizing capture device that is deployed away from the aircraft. The returning UAV is docked onto the device — like in an air refueling operation — powered off, and then raised into the C-130 to be mechanically secured and stowed. This technology could be adapted for other aircraft bays or for under-wing recovery, he said.
The success of the Gremlins program could provide several benefits to military aviators, Keeter noted. Having small UAVs onboard means the services can use smaller airframes and don't have to stay as close to an air base as they might with a large system.
"You can load these on bombers or fighter aircraft or cargo aircraft and transport them a good long ways before they even begin their mission," he said.
Dynetics has also demonstrated that "selectively recoverable" operating systems launched ahead of manned aircraft can decrease cost per mission, Keeter noted.
The technology could also allow the services to employ multiple distributed high-fidelity sensors and send them out at the same time, he added. Dynetics is not developing that technology, but it is creating "the ability to host and carry those" sensors, he said.
"Specific sensors are going to depend upon the stakeholder, but we have designed a payload capacity that is very flexible," he added.
Dynetics is working with a team of industry partners to develop and demonstrate the Gremlins technology. Kratos Unmanned Systems Division is building the UAVs, while the Sierra Nevada Corp. is providing the precision navigation system used for returning and docking the air vehicle with the aircraft. Airborne Systems is producing a parachute recovery system. Williams International, Moog, Systima Technologies and Sierra Nevada/Kutta Technologies are providing various subsystems.
Topics: Robotics and Autonomous Systems, Robotics, Defense Innovation, Research and Development, Science and Engineering Technology