Annual SOFIC Conference Kicks Off in Tampa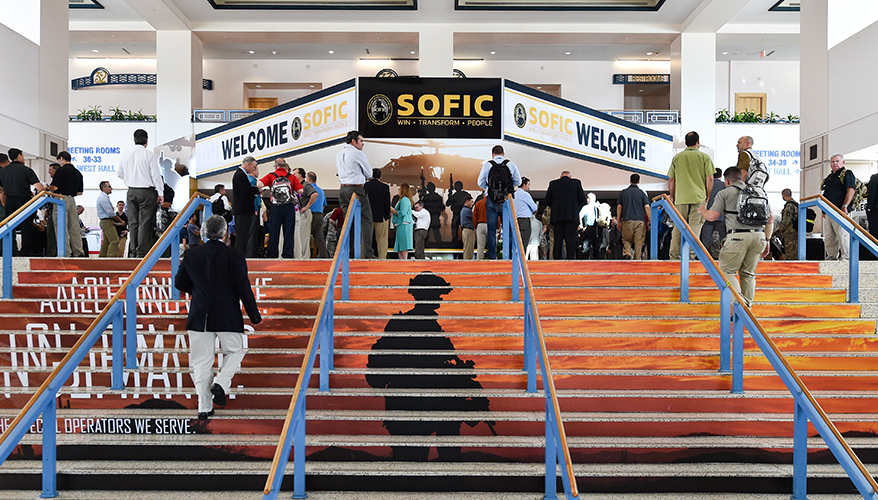 Photo: NDIA
Defense officials and industry have gathered in Tampa, Florida, to discuss technology needs as Special Operations Command adapts to an era of great power competition.
The Special Operations Forces Industry Conference — which is held annually in Tampa near the command's headquarters at MacDill Air Force Base — will feature high-profile speakers such as SOCOM Commander Gen. Raymond A. Thomas, III; James Smith, SOCOM's acquisition executive; and Undersecretary of Defense for Acquisition and Sustainment Ellen Lord. Program executive officers and program managers will also deliver presentations.
Nearly 12,000 attendees are expected to visit the Tampa Convention Center for this year's conference, which is hosted by the National Defense Industrial Association. The event will feature more than 425 exhibiting companies.
SOFIC is a way to connect special operators and industry to help drive innovation that can be put into the hands of the warfighter, said retired Air Force Gen. Hawk Carlisle, NDIA's president and CEO.
"Events like SOFIC facilitate rapid and clear communication between USSOCOM and industry, resulting in high-quality, cost-effective, innovative solutions and capabilities delivered to operators when they need it," he said. "Industry leaders can learn about requirements, hear directly from acquisition experts and develop a game plan to meet USSOCOM's needs both today and in the future."
Special Operations Command is expected to play a crucial role in the implementation of the Pentagon's new National Defense Strategy, which highlighted the need to prepare for great power conflict.
"Inter-state strategic competition, not terrorism, is now the primary concern in U.S. national security," the document stated.
The special ops community will be adjusting to this new era, officials have said.
"With the new NDS, we will be looking beyond U.S. SOCOM's lead role in countering terrorism, to recognizing [special operations forces] as a critical component in all aspects of warfighting," Assistant Secretary of Defense for Special Operations and Low-Intensity Conflict Owen West said in testimony to the House Armed Services subcommittee on emerging threats and capabilities.
Christine M. Klein, senior vice president for meetings and business partnerships at NDIA, said SOFIC provides industry an environment where they "can have candid conversations and create unique partnerships to meet the needs of the special operator."
More than 425 companies have set up shop in about 900 booths to display their products and services, she said. There are also exhibits outside of the convention center which include boat displays.
Additionally, U.S. special operators and international SOF partners will conduct a joint demonstration along the Hillsborough River adjacent to the convention center that will display various tactical capabilities on May 23.
SOFIC takes place May 21 through May 24. Follow National Defense Magazine on our website or on Twitter @NationalDefense this week for continued coverage of the show.

- Additional reporting by Jon Harper
Topics: Special Operations, Special Operations-Low Intensity Conflict