Navy, Marine Corps Aim to Bolster Spare Parts Supply for Aircraft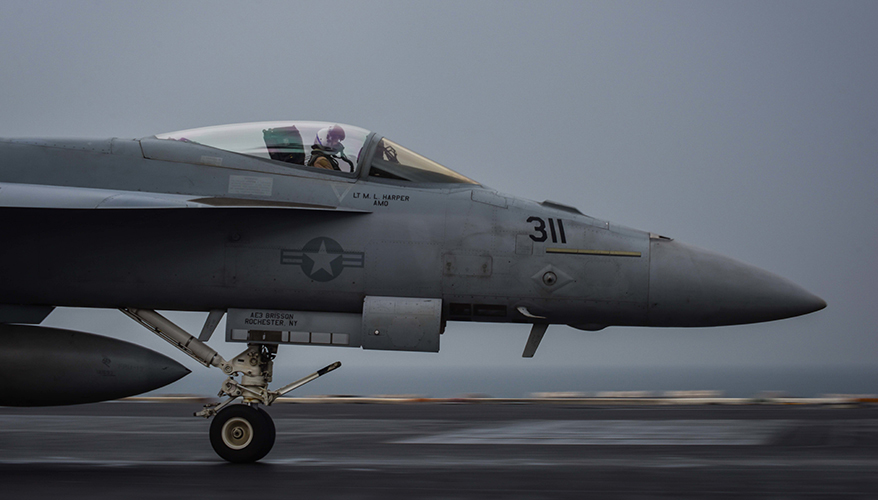 F/A-18 Super Hornet
Photo: Navy
Stable funding and a reliable stream of parts for maintenance will help the Navy and Marine Corps address readiness challenges including a spike in aviation accidents, service leaders said May 2.
While all of the services have experienced an uptick in aviation mishaps in recent years, the Navy and the Marine Corps have seen the biggest increases, according to data compiled by Military Times based on multiple Freedom of Information Act requests.

The Navy saw an 82 percent increase over the past five years, and Marine Corps accidents are up 80 percent over that same period, according to the data. A vast majority of those were identified as "Class C" mishaps, or more minor incidents causing between $50,000 and $500,000 in damages or resulting in non-fatal accidents and lost work days. However, some have been deadly. Two Naval aviators died in March when their F/A-18 Super Hornet crashed near Key West, Florida. A Marine Corps MV-22 Osprey crashed in Syria in September, marking the third major accident involving an MV-22 last year.
Marine Corps Commandant Gen. Robert Neller said there is no single issue that can be determined to have caused the spike, but a series of problems could have contributed in various ways.
"We need more [flight] hours. We need better parts support. We need new airplanes," he said during a briefing with reporters at the Pentagon. "We have got to improve our procedures, and we've got to stop doing stuff on the ground that causes us to lose otherwise perfectly good airplanes. ... It's a dangerous business."
Navy Secretary Richard Spencer said that having a more stable funding stream will allow the services to work better with industry partners to make sure repair parts are on hand when needed.
"We need to send the signal to industry that we need the parts on a consistent basis, so they make the investments to make the parts," he said. "The most important takeaway here is we have to have consistent funding to do our mission in the most effective and efficient manner."
Neller said financial pressure resulting from the Budget Control Act of 2011 and years of operating under continuing resolutions meant "we didn't fund aviation readiness to the amount that we probably should have. ... This didn't just happen overnight."
Over the last two years, the situation has been improving, Neller said.
"The number-one reason aircraft are not ready is because they are short parts, and now we're starting to get the parts," he said.
However, it takes more than one budget cycle to build up a robust inventory, Spencer noted.

There is not enough data to prove an exact correlation between a lack of funding and more aviation accidents, but having enough money to provide pilots with more training hours in the cockpit could only be beneficial, he said.

Neller said: "We want to be able to fly more. … If we fly more, we should become more skilled and we should have fewer Class Cs" that negatively affect airplane availability.


Topics: Air Power, Aviation, Marine Corps News, Navy News