Special Operations Command to Rebalance for New Strategic Era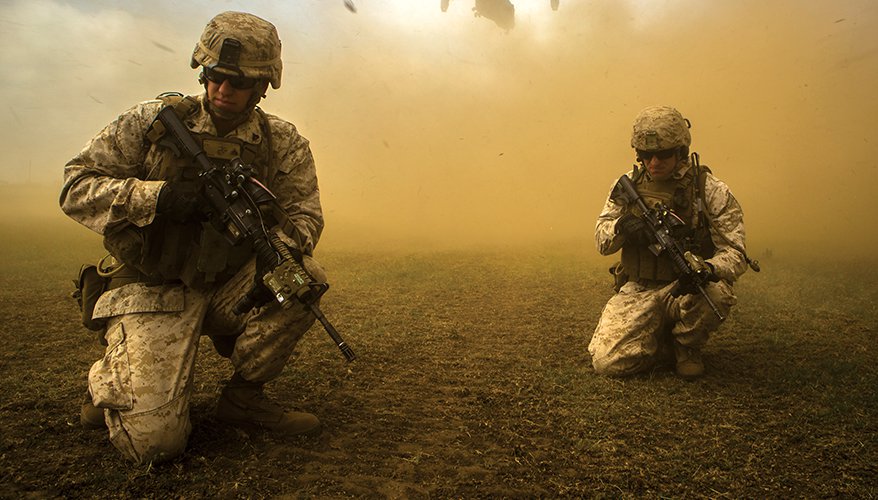 U.S. Army Rangers conduct a training raid in Europe during an exercise involving NATO nations.
Photo: Defense Dept.
After more than 16 years of hunting terrorists in Afghanistan, Iraq and other countries, U.S. Special Operations Command is expected to perform in an era of increasing great power competition.
The unclassified summary of the 2018 National Defense Strategy laid out the Pentagon's view of the evolving geopolitical environment.
"Inter-state strategic competition, not terrorism, is now the primary concern in U.S. national security," the document stated.
The special ops community has signaled that it intends to adjust to the new situation.
"With the new NDS, we will be looking beyond U.S. SOCOM's lead role in countering terrorism, to recognizing [special operations forces] as a critical component in all aspects of warfighting,"
Assistant Secretary of Defense for Special Operations and Low-Intensity Conflict Owen West said in recent testimony to the House Armed Services subcommittee on emerging threats and capabilities.
SOCOM Commander Gen. Raymond Thomas III told the subcommittee that his forces must be prepared to deal with near-peer competitors like China and Russia and "rogue regimes" such as North Korea and Iran, as well as non-state actors equipped with increasingly high-tech weaponry.
"There is a high demand for special operations-unique capabilities across the spectrum from peaceful cooperation through competition short of armed conflict, up to and including large-scale combat operations," he said in written testimony.
Seth Jones, director of the transnational threats project at the Center for Strategic and International Studies, and a former adviser and plans officer for the commanding general of U.S. special operations forces in Afghanistan, said the nature of geopolitical struggle in the coming years could provide a major role for unconventional units such as SOF.
"Based on the likely costs and risks of conventional and nuclear war with China, Russia, Iran and North Korea, much of the competition will likely be unconventional," he wrote in a recent CSIS report, "The Return of Political Warfare."
The term political warfare refers to the employment of military and other capabilities short of conventional war to achieve national objectives, he explained. It can include covert operations such as support to resistance groups.
The United States' adversaries are already engaged in political warfare, Jones noted. Russia utilizes sophisticated offensive cyber programs, covert action and psychological operations, and has been actively supporting foreign militaries in places like Syria and sub-state groups in countries like Ukraine, he said.
Iran is also conducting cyber attacks and aiding proxies to further its interests in places like Iraq, Syria and Yemen, he added.
In the Pacific, China is creating artificial islands and using fleets of fishing vessels to solidify its assertion of territorial and resource rights throughout the region. Beijing is also using cyber tools against the United States, its allies and private companies, he noted.

A U.S. Naval Special Warfare operator in Ochakiv, Ukraine, during a multinational exercise (Navy)
"Even organizations that already engage in some types of political warfare such as U.S. Special Operations Command … will need to continue shifting some of their focus from counterterrorism to political warfare against state adversaries," Jones said.
Such steps could include: providing more aid to the Baltic nations to conduct an effective resistance campaign against unconventional action by Moscow; aiding proxies in countries like Syria and
Yemen to counter Iranian-backed organizations; and improving the border security capabilities and overall effectiveness of Ukrainian military and police units against Russian-backed rebels, he said.
The role of SOF in conflicts like the one in Ukraine would most likely be foreign internal defense, also known as FID, said Steven Bucci, a former Army Special Forces officer and a visiting fellow with the Heritage Foundation think tank in Washington, D.C.
"I would not foresee … [putting] American special operators into eastern Ukraine to hunt down Russian-supported separatists," he said. "I don't think the Ukrainians would want us to do that, but they probably wouldn't mind having some American advisers there to help them do that job."
Thomas said special operators are uniquely capable of effectively competing below the level of traditional armed conflict, including countering Russia's use of indirect actions and unconventional warfare techniques.
They already work with many European nations such as the Baltic countries, Poland, Romania, Ukraine and Georgia, and assist in strengthening host nation capabilities including the development of their own special operations forces, he noted.
"Congress' recently approved authority for Section 1202 funding will provide us greater agility in approaching this nuanced challenge," he said, referring to a provision in the 2018 National Defense Authorization Act which allows the Pentagon to spend funds to provide support to foreign forces, irregular forces, groups, or individuals who are supporting or facilitating SOCOM's irregular warfare operations.
The command is already engaged in "a variety of activities" to counter Iranian influence and disrupt their actions, Thomas said without elaborating. It is also looking at how to best respond to the growing threat posed by North Korea including its nuclear weapons and ballistic missile capabilities.
"We are examining our force structure and capabilities on the [Korean] Peninsula and across the region to optimize support" to U.S. and allied forces, he said.
Increasing the command's ability to conduct counter-WMD operations will be "a core investment" in the coming years, SOCOM Chief of Staff Maj. Gen. Jim Slife said at the National Defense Industrial Association's annual Special Operations/Low-Intensity Conflict Symposium in Arlington, Virginia.
Special operators can make major contributions to a large-scale conventional war effort, Bucci noted.
"The special reconnaissance part is huge for any sort of conventional operation," he said. "Direct action is another one. There are times when you can't just strike a target with a drone or with an aircraft. You need somebody to go in" and take down a command-and-control node or seize a key piece of terrain or infrastructure, he said.
Special operators could be deployed behind enemy lines to work with resistance forces like they did in World War II. Or they could embed with allied nations' militaries like they did during Operation Desert Storm, he added.
"In many cases the use of U.S. special operators in conjunction with those foreign forces stiffens the spines of those elements and makes them far more effective in combat," he said.
While there will be more emphasis on other roles and missions, SOCOM's counterterrorism efforts will continue, Bucci noted.
"The special operations community has always done them," he said. "Obviously since 9/11 they got much more attention, but … that element of it is not going to go away."
However, there will be a requirement for them to do those other missions more often than they have been doing them of late, he added. Those involve "critical skill sets that they need to stay proficient on, and those things have frankly slipped a bit because they just haven't been doing them," Bucci said. "With the new revisions you will see a more balanced approach."
To deal with the new strategic environment, SOCOM is interested in acquiring a variety of new technologies. (Read our Special Operations top 10 list)
"Based on the command's interpretation of departmental guidance to include the recently released National Defense Strategy, we recognize that our future special operations force must be more lethal and resilient to … counter emerging threats and operate against near-peer adversaries," Slife said.
The command needs to procure capabilities necessary for denied battlefields of the future including submersibles, terrain following/terrain avoidance all-weather radar, advanced electronic attack capabilities and countermeasures, unmanned aerial systems and precision munitions, he added.
Areas of focus for research and development will include cyber, next-generation low-observable infiltration platforms, airborne high-energy laser applications, automation and machine learning, he said.
Thomas noted that additional dedicated cyber resources will be required to allow SOCOM to compete with adaptive adversaries.
Anti-aircraft systems will be another critical capability when special operators are going up against advanced enemies, Bucci said.
"Depending on who we're fighting, they're also going to have to have some sort of air defense capability," he said. "It has been a long time since anybody in the American military, when they heard an airplane coming through the air, had to worry that it wasn't theirs," he noted.
Shoulder-launched Stinger missiles — which were used to great effect by U.S.-backed resistance groups against Soviet aircraft in Afghanistan in the 1980s — could be a solution because they are portable, he said.
"But frankly when you're doing stuff behind enemy lines in a special ops kind of mission, your biggest air defense technique is not being seen," he said. "You're kind of in deep kimchi if you've got to pull out the Stinger and fight off the enemy aircraft coming at you."
Thomas said SOCOM will continue to streamline the acquisition process and pursue fast prototyping, experimentation and fielding of needed capabilities. The command will also extensively leverage commercial-off-the-shelf systems "to ensure we have rapid solutions to the problems our operators face," he added.
Preparing for a wider range of missions requires more than buying new equipment. Special operators must also adjust their training, Bucci said.
"It's just a matter of them putting those kind of training events back on their schedules, whereas before that wasn't the priority. They were focused on more of the CT missions," he said. "It will require new training but it's not going to require new training infrastructure or schools or anything else," he noted.
As part of their training, special operators will need to put more emphasis on operating in situations where their communication systems and other capabilities will be under electronic attack, he added.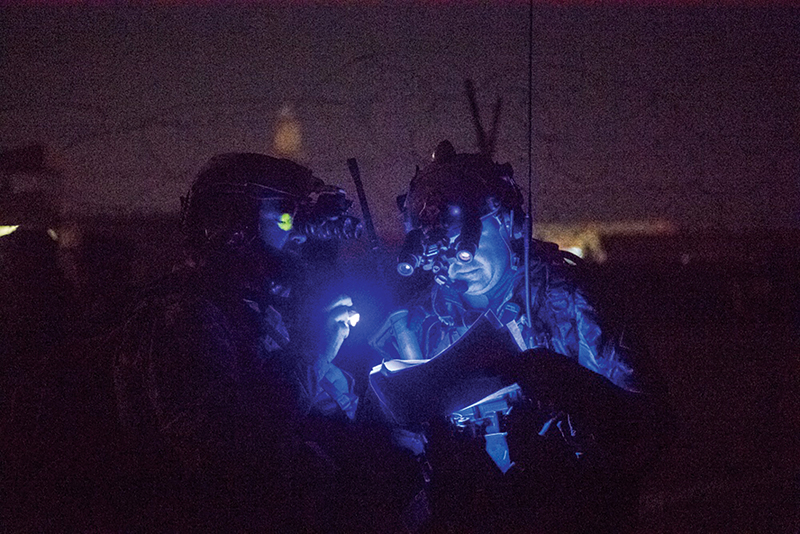 U.S. airmen with Air Force Special Operations Command discuss results of an airfield survey. (Air Force)
"They do have to be prepared to deal in an environment where that kind of stuff is jammed," Bucci said. "Some of the … more casual use of communications gear will have to stop and they will have to go back to doing what we used to consider normal [operational security] and communication security."
SOCOM officials declined to be interviewed for this story. A command spokesman noted that much of the implementation guidance that the command has received related to the new National Defense Strategy is classified.
While a rebalancing towards non-CT missions will necessitate some cultural change for Special Operations Command, it will not be a Herculean task, Bucci said.
Special operators have had to undergo strategic shifts in the past, he noted. The post-Vietnam era saw a reorientation from irregular warfare to preparing to support conventional operations in places like Central Europe or the Middle East. After the terrorist attacks of Sept. 11, 2001, counterterrorism became the primary focus.
But institutional knowledge of other mission sets is still strong among senior leadership who were in uniform before 9/11 reshaped U.S. foreign policy, he said.
"It doesn't mean it's not going to be painful. It will be. Anytime you change anything in a big organization, particularly a mission or the priorities of those missions, it takes a little while to shake things out and to get everybody on board and to really return to levels of past proficiency," he said.
"But it's not like the capabilities and the knowledge are not already resident in those organizations," he added. "The process has begun and it is continuing and I think we will be served pretty well" by the rebalancing.
Topics: Special Operations, Special Operations-Low Intensity Conflict, Land Forces