Strong Military Spending Propels Industry Mergers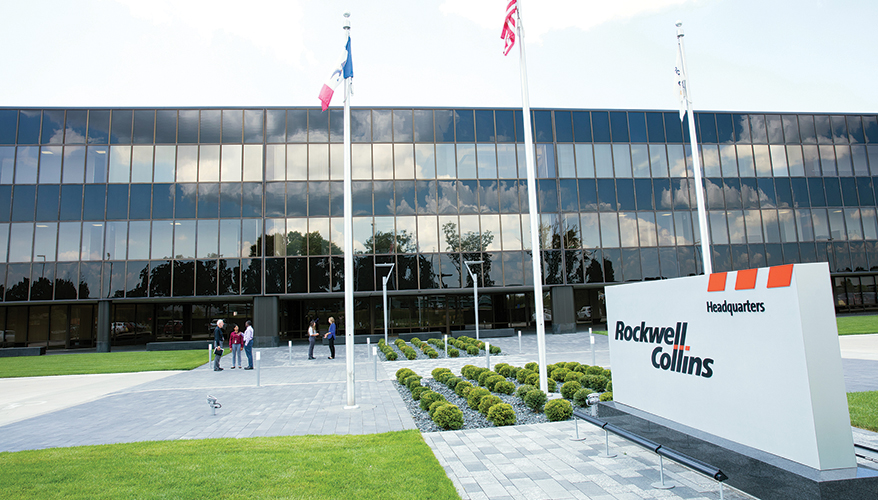 Photo: Rockwell Collins
Expected boosts in defense spending are encouraging companies to broaden their portfolios through mergers and acquisitions to better provide high-end capabilities to the U.S. military, according to a recent report.
The analysis by Capstone Headwaters, "Aerospace & Defense Outlook: Mergers and Acquisitions Update 2018," notes that the amount of movement within the aerospace and defense world increased by 2 percent in 2017, compared to a 16 percent decline the prior year.
As the Trump administration settled in after the inauguration, "many in the aerospace and defense sector seemed to wait for greater clarity in defense spending before moving on major acquisitions early in 2017," the report said.
Several large transaction announcements followed, the biggest being a $30 billion acquisition of Rockwell Collins by United Technologies Corp., the report said. UTC — which is also the parent company of Pratt & Whitney — will benefit from Rockwell's experience in communications as well as aviation and avionics systems, pending government approval.
Boeing announced its acquisition of advanced aerospace and autonomous systems manufacturer Aurora Flight Sciences in October 2017. Additionally, Airbus and Boeing both aim to secure their dominance in the aviation market by merging with smaller regional aircraft manufacturers, with Airbus recently committing to a 50 percent stake in the Bombardier CSeries program and Boeing announcing plans to increase ties with Brazil-based Embraer.
Many of these decisions reflect priorities laid out in the fiscal year 2019 presidential budget request, including: ground forces; space systems; missiles and munitions; and research, development, testing and evaluation. Merger and acquisition activity has aligned with those priorities, according to the report, citing Northrop Grumman's $9.2 billion acquisition of Orbital ATK to gain launch and propulsion, missiles and space systems capabilities, pending government approval.
The U.S. military and other government agencies are also stepping up spending in information technology services, leading companies to expand their portfolios to include high growth areas such as: cybersecurity; cloud computing; data analytics; and command, control, communications, computers, intelligence, surveillance and reconnaissance, or C4ISR.
Cybersecurity in particular has seen "exceptional growth" as breaches become more common and the world increasingly relies upon internet-connected devices. "M&A activity followed suit with an almost 50 percent increase in the number of cyber deals and doubling in the value of transactions as startups mature," the report said.
As emerging capabilities such as hypersonics, autonomy and directed energy become bigger priorities in the Pentagon, large primes are investing more in internal research and development to meet the demand. "Where capability gaps fall short, filling these gaps via acquisitions of innovative, often middle-market, companies provides one pathway to strategic growth," the report said.
Topics: Contracting, Defense Contracting, Acquisition, Business Trends