Special Operators Seek New Tech to Remain Stealthy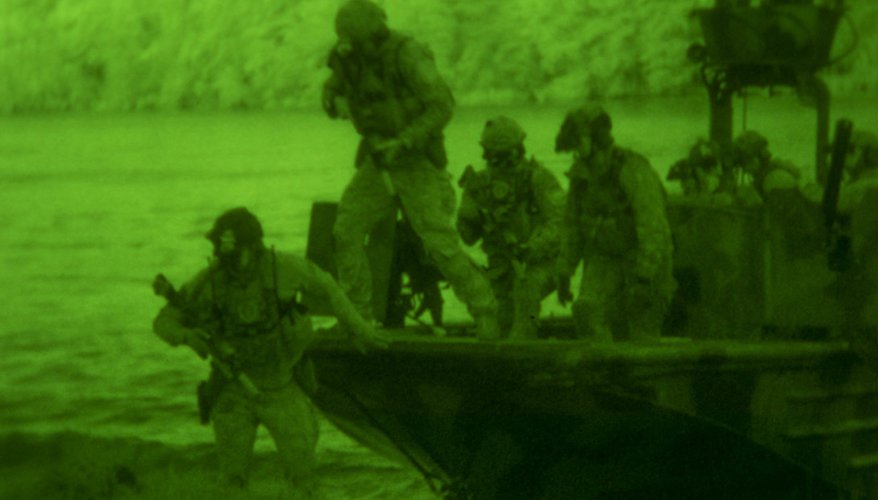 Photo: Defense Dept.
This is part 7 of a 10-part series covering U.S. Special Operations Command's Top 10 technology needs leading up to the Special Operations Forces Industry Conference in Tampa, Florida, May 21-25, 2018. Today: Signature Management.
Today's special operators must prepare for combat situations around the globe and against adversaries with increasingly sophisticated technology. Special Operations Command is working to provide commandos with products that help to reduce signature footprints through camouflage, signal reduction and other means, while remaining cost-effective and lightweight.
A 2018 SOCOM report, "Science and Technology – Preparing for the Future 2020-2030: Signature Management," identifies several possible issues that operators may encounter.
"Consider the notional mission for a small group to insert into hostile territory from the sea, cross overland, strike a target and extract by air to a friendly location, all within one cycle of darkness," the report said.
Special Operations Command is seeking industry's solutions for: transporting vessels and individual operators while undetected by radio frequencies, electro-optical/infrared, and acoustic or magnetic sensors or mines; transitioning from sea to land spaces, where different thermal signatures could increase probability of IR detection; and minimizing detection at longer ranges for individuals, communication signals, or physical equipment.
The report noted that in some instances, operators must accept "an undesirable level of risk" that they will be detected and the mission could be compromised.
"For this reason, any new technologies that allow the warfighter to avoid threats, skip mission steps, or reduce the likelihood of detection are of interest to SOCOM," it said.
Saab Barracuda, a subsidiary of Saab Defense and Security USA that focuses on signature management, has long been developing multi-spectral camouflage nets that provide commandos with a secure cover while resting or holding in place.
The company, which is based in Lillington, North Carolina, is now offering U.S. forces a mobile camouflage system that fits directly onto vehicles to help prevent detection across the electromagnetic spectrum, said Kevin Dunham, director of business development for Saab Barracuda.
Once installed, the cover helps to mitigate visual, near-infrared, short-wave infrared, thermal infrared and radar signatures, and can be customized for any vehicle with colors and patterns to adapt to a variety of theaters, he added.
"It fits perfectly to the vehicle like you're putting on a suit, but it doesn't interfere" with any of the systems or features, he said. Users can also add a multispectral solar shading system that offers shade and other protection from the elements while in use, according to the company.
Several countries around the world, including the United Kingdom, Sweden, Denmark and Germany, have begun to use the mobile camouflage on their tanks and fighting vehicles, and U.S. forces are starting to take note, Dunham said.
Saab is offering a variety of camouflage nets to SOCOM, he noted. In late March, the company received one of three awards for the prototyping stage of an indefinite-delivery/indefinite-quantity contract for the Army's next-generation ultra-lightweight camouflage net system, or ULCANS increment 1 program. HDT Expeditionary Systems and Fibrotex USA also received prototype awards.
Saab is the incumbent competitor, having provided the Army with ULCANS nets for several decades. But the specifications are greater for the next-generation system. It includes a requirement for reversible nets with distinct colors and patterns on each side, along with an additional requirement to produce a battlefield-specific camouflage net in a short period of time, Dunham noted.
Since Saab provides camouflage systems to militaries around the globe, it can find a color to match any terrain that operators could encounter, he said. "We have a library of over 3,000 different colors that we can pull from. … Give us a 10-digit grid coordinate in the world [and] we can get a color that matches that specific terrain," he added.
The contract, which is worth $480 million over the next 10 years, is expected to be awarded within the second quarter of fiscal year 2019, after testing and evaluation is completed this summer, Dunham said. Once awarded, those nets will be issued to SOCOM as well as the Army via the service's product manager force sustainment systems office in Natick, Massachusetts, he added.
Meanwhile, Saab is also developing smaller-sized nets to cover personnel or equipment systems, he noted.
"We have had people ask us for a personnel-sized net that two people can lay under," he said. The company now offers a product that folds into the size of a computer tablet — "something that you pull out on the go" to hide from an enemy drone, he added.
Dunham noted that operators are now seeking solutions to better camouflage their unmanned aerial vehicle launch systems. Saab is working on a net to help cover that launch system as well as the vehicles when they are not in flight, he said.
SOCOM's Top 10 Technology Needs

Part 1: SOCOM Iron Man Suit Prototype Delayed a Year

Part 2: Special Operations Command Beefing Up Communications
Part 3: SOCOM Investing in New Tech to Counter Drones
Part 4: SOCOM Tapping into Biotechnology

Part 5: SOCOM Replenishing Precision-Guided Weapon Stockpiles
Part 6: SOCOM Setting Records for Unmanned Systems Procurement

Part 8: Commandos Need Lightweight, Energy Efficient Equipment

Part 9: Special Operators Pursuing New Position, Navigation and Timing Capabilities

Part 10: Special Ops Command Aims to Convert M4A1 Carbine
Topics: Special Operations, Special Operations-Low Intensity Conflict