Air Force Preparing for Hypersonic Tests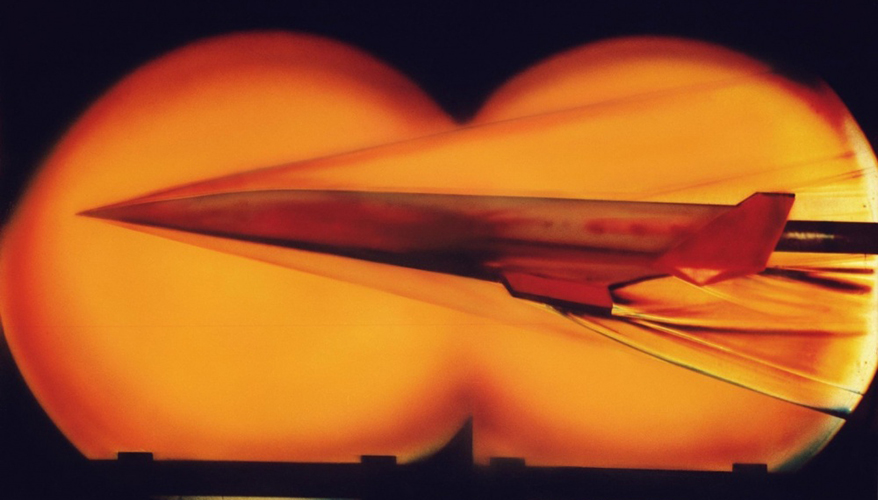 A hypersonic craft undergoing tests.
Photo: NASA
The Air Force is gearing up for hypersonic tests as the Defense Department seeks to keep pace with China and Russia, Gen. Ellen Pawlikowski said May 15.
The Air Force Materiel Command commander said the service has been working collaboratively with the Defense Advanced Research Projects Agency on efforts to develop new missile technologies that travel faster than Mach 5 — or five times the speed of sound — and at least two flight tests are currently scheduled in support of those efforts "within the next couple of years."
The service has been hard at work understanding and developing hypersonic missiles and flight vehicles, Pawlikowski told reporters at a media breakfast in Washington, D.C. Russia and China have touted their own recent tests, prompting Pentagon officials and U.S. lawmakers to express concern about falling behind peer adversaries.
The Air Force is also investing in ground testing to develop hypersonic technology. It is revitalizing test centers at the Arnold Engineering Development Complex at Arnold Air Force Base, Tennessee, that will help the service gather important information from ground tests and reduce the need for risky and relatively costly flight demonstrations, she said.
"Flight tests of any kind are much more expensive … and [it is] much harder to control the environment than in a ground test facility," she said. Enhancing the facilities at Arnold will enable the Air Force to build better models and allow for quicker and more effective platform design, she noted. The Air Force Research Laboratory and NASA are involved in the testing plans at the complex.
Recent hypersonic efforts have focused on understanding "the ability to get to that speed and then understanding that speed," Pawlikowski said. The service is also working to hone the precision guidance technology "to make sure you're hitting the right things," she added. "There is some investment we have in understanding the end-game seeker technology … which also has to survive that environment."
The Air Force has been working to better understand the materials needed for a missile to withstand the high temperatures inherent to traveling at such speeds, she said.
Meanwhile, the service is looking at increasing rapid prototyping and experimentation as it develops its fiscal year 2020 budget request, Pawlikowski said. William Roper, the service's new assistant secretary for acquisition, technology and logistics, is coordinating a variety of prototyping projects that will be evaluated over the coming months to determine whether they can move forward, she said.
The service is "wide open" to using prototyping and experimentation to address a variety of capability gaps or needs, she said. "I think Dr. Roper has basically said, 'Hey, if you've got something you think is a candidate, let's look at it and bring it forward.'"
However, the Air Force still needs to get more comfortable with the idea of an experiment that may never turn into a full-fledged program, Pawlikowski noted. "One of the keys to prototyping is you may not buy it, and that's a hard thing for us … to go in and say, 'We're going to spend money to go do this, and we may not do anything with it afterwards.'"
The service dipped "its big toe in the water" with the light attack experiment that was launched last year to find an off-the-shelf, low-cost aircraft that could perform close-air support missions in areas such as Iraq and Afghanistan, she said.
The effort, also known as OA-X, cost the Air Force $6 million to perform a series of tests on four aircraft last summer at Holloman Air Force Base, New Mexico. The second phase of the experiment began May 7, with pilots flying the Sierra Nevada/Embraer A-29 Super Tucano and the Textron Aviation AT-6B Wolverine aircraft during a three-month, live-fly demonstration, according to the Air Force. The service has not made a decision as to whether it will purchase any aircraft at the end of the initiative.
Pawlikowski said to expect more small-scale experimentation to occur in the near future as the Air Force pursues new capabilities. There could be more more funding for prototyping efforts in the 2020 budget, she noted.
The service has yet to make a major investment in prototyping, she said.
"The question now … is when are we going to take that first big plunge and invest some real dollars into a prototype, with the understanding that we may not buy anything when we're done?" she said. When that day comes, it will require the cooperation of industry partners who will have to accept the possibility of building a system that may not ultimately be purchased, she added.
"The key to this is to be willing to go out and do something and not spend two years figuring out what the requirements are before you do it," Pawlikowski said.
Topics: Air Force News, Research and Development