SOCOM Setting Records for Unmanned Systems Procurement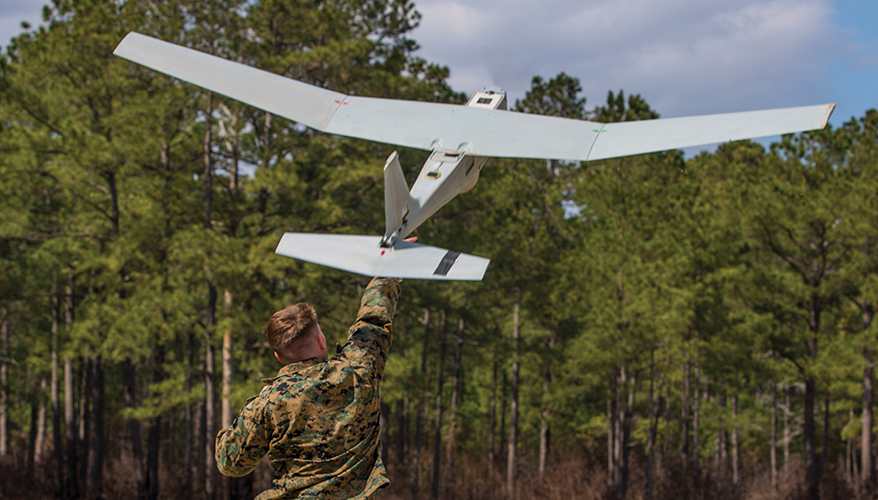 RQ-20B Puma
Photo: Defense Dept.
This is part 6 of a 10-part series covering U.S. Special Operations Command's Top 10 technology needs leading up to the Special Operations Forces Industry Conference in Tampa, Florida, May 21-25, 2018. Today: Expeditionary ISR.
The U.S. military is broadly embracing commercial off-the-shelf unmanned aerial vehicles that can carry intelligence, surveillance and reconnaissance payloads in small packages and at a lower cost. And Special Operations Command is no exception.
The command requested over $74 million in the fiscal year 2019 presidential budget to procure a wide variety of unmanned systems from both traditional industry partners and commercial vendors. That includes $10 million for 527 nano-sized vertical takeoff-and-landing UAVs. The desired systems vary in size, from tiny quadcoptors to medium-sized drones.
SOCOM included funding for 56 unmanned tethered aerial systems, in what is likely the first bulk purchase of tethered drones by any service, according to a recent report by the Center for the Study of the Drone, a research and education initiative at Bard College in New York. Other requests include six medium-sized long-range/long-endurance systems; 385 short-range/short-endurance and micro vertical takeoff-and-landing drones; two AeroVironment RQ-20B Puma vehicles; and four Lockheed Martin Stalker unmanned systems, according to the report.
The diversity of systems included in SOCOM's budget request is worth noting, and underscores the command's interest in experimenting with new technology proliferating in the commercial sphere, said Dan Gettinger, the center's co-director.
He pointed to the recent ThunderDrone UAV experiment, run by the command's innovation hub SOFWERX with assistance from the Air Force, where a range of systems were demonstrated and evaluated over several months for potential future use.
"That embodied the same idea, that you have to put some of these advancements in commercial and civilian UAS into military applications," he said.
SOCOM's growing interest in smaller, off-the-shelf drones for expeditionary ISR reflects a trend across the services, Gettinger noted. His organization found the number of systems the Defense Department requested to buy in 2019 to be three times that of the previous year, and about 12 times as many as in 2017.
Many of the systems are from traditional defense firms — such as the Puma or AeroVironment's RQ-11 Raven hand-launched UAV. But the amount of small- and medium-range systems that SOCOM is eyeing reveal for the first time "the next-generation of small UAVs" to be used within the command, he added.
Developers of small UAVs have "the most to lose and the most to gain" by the military-wide increase in drone usage, he noted.
The 2019 budget request contains "one of the best deals for AeroVironment that we have seen in many years" due to procurement renewals for the Puma and Raven products across SOCOM, the Air Force and the Army, as well as over 1,600 Switchblade loitering munitions requested by the Army, Navy and Marines, he said.
Special operators are clearly still interested in utilizing traditional small, fixed-wing unmanned aircraft, Gettinger said. However, the lower price tag for quadcopters and other commercial products is certainly appealing if these systems have enough capability, he noted.
The uptick in UAV procurement could be due to the recent proliferation of affordable, easy-to-use commercial drones, he said.
Special operators are also increasingly preparing for future conflicts in megacities with populations of over 10 million.
"In an urban environment, you can envision small quadcopters searching buildings, or doing other types of things that a fixed-wing UAS just couldn't do," Gettinger said. "Preparing for that conflict is going to be one of the larger order factors … driving the proliferation of small UAS in this budget request."
Special operators must also adapt to the Defense Department's pivot to prioritize great power competition with near-peer adversaries over the counterterrorism mission that has been at the forefront for the past few decades. Pushing more advanced ISR technologies down to the squad level through small unmanned systems could benefit that mission, he added.
SOCOM's Top 10 Technology Needs

Part 1: SOCOM Iron Man Suit Prototype Delayed a Year

Part 2: Special Operations Command Beefing Up Communications
Part 3: SOCOM Investing in New Tech to Counter Drones
Part 4: SOCOM Tapping into Biotechnology

Part 5: SOCOM Replenishing Precision-Guided Weapon Stockpiles
Part 7: New Tools Wanted to Fill Signature Management Gaps

Part 8: Commandos Need Lightweight, Energy Efficient Equipment

Part 9: Special Operators Pursuing New Position, Navigation and Timing Capabilities

Part 10: Special Ops Command Aims to Convert M4A1 Carbine
Topics: Robotics and Autonomous Systems, Robotics, Special Operations, Special Operations-Low Intensity Conflict