New Design to Reduce Weight of Handheld Shields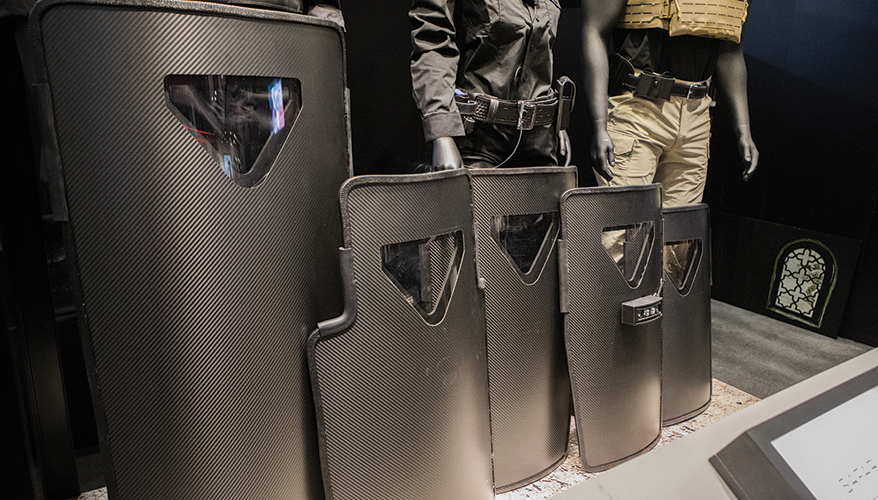 Protech Tactical X series of lightweight shields
Photo: Safariland
Honeywell has partnered with a designer of body armor and tactical protective gear to develop a new design for its Spectra Shield ballistic protective material which can reduce the weight of handheld shields by up to 20 percent.
Jacksonville, Florida-based Safariland is using the Spectra Shield material to more thoroughly integrate the lens cap made from ballistic glass onto the shield's frame, according to the company. The lens cap is typically installed and then bolted in, but the new streamlined design can help eliminate points of weakness coming from drill holes and seam lines.
The company debuted the new Protech Tactical X series of lightweight shields at the annual SHOT Show in January, according to a press release.
"When we challenged ourselves to develop a lighter ballistic shield … we knew we had to use Honeywell Spectra Shield because it was the most optimal material to help us meet our goals," said Todd Mackler, Safariland vice president for armor. Traditional ballistic handheld shields can weigh more than 20 pounds.
Honeywell has provided ultralight ballistic composite materials for body armor and other forms of tactical protection since the late 1980s, and is continuously collaborating with customers to develop improved products and performance improvements, said Lori Wagner, armor marketing manager for Honeywell Packaging and Composites.
"The advancement which is really unique is the ability to mold this ballistic glass directly into the Spectra Shield material, and that hasn't been done before," she said. "It eliminates the defects that are caused by drilling and having to bolt materials in, and ultimately provides a superior product at a lesser rate."
In the past, the glass was drilled into the frame using heavy metal bolts, which meant designers had to reinforce the frame to keep it durable and rigid, she noted.
Honeywell's Spectra fiber is 15 times stronger than steel, and has up to 60 percent more strength than alternate fibers, according to Honeywell. The Spectra Shield products are used globally for bullet-resistant vests, breastplates and helmets, as well as armor for vehicles and helicopters.
Topics: Land Forces, Combat Survivability