SOCOM Replenishing Precision-Guided Weapon Stockpiles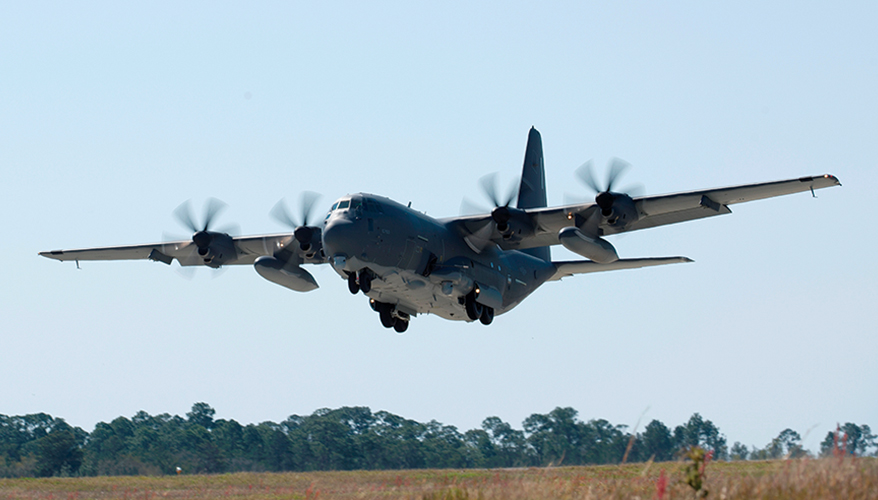 AC-130J
Photo: Defense Dept.
This is part 5 of a 10-part series covering U.S. Special Operations Command's Top 10 technology needs leading up to the Special Operations Forces Industry Conference in Tampa, Florida, May 21-25, 2018. Today: Precision Strike.
Special Operations Command is seeking its biggest procurement package for precision-guided munitions in several years, as it works to replenish stockpiles after years of counterterrorism missions and to equip its platforms for future high-end conflicts.
The command requested over $309 million in base and overseas contingency operations funding for precision-guided munitions in fiscal year 2019, up from around $75 million in both 2017 and 2018.
That funding would go towards purchasing 329 AGM-176 Griffin air-to-ground missiles and 476 small-glide munitions, and modifying 84 small diameter bombs and "precision-guided munitions maritime systems," according to budget documents.
This increase reflects a trend across the Defense Department to replenish stocks depleted in the counterterrorism campaign over the past several years, said Susanna Blume, a senior fellow in the defense strategies and assessments program at the Center for a New American Security, a Washington, D.C.-based think tank.
"It is not a decision that is unique to SOCOM; all of the services have increased their investments in precision-guided munitions in this budget request," she said.
The command plans to award a sole-source contract to Dynetics, a Huntsville, Alabama-based defense contractor, to deliver up to 4,600 munitions through calendar year 2022, according to a recent notice on FedBizOpps. The indefinite-delivery/indefinite-quantity contract is expected to be awarded this July. Dynetics' standoff precision-guided munition can be carried on AC-130 gunships or unmanned aerial systems, according to the company.
Additionally, the command plans to procure over 3,300 Griffin missile systems through calendar year 2022, via an IDIQ contract that is expected to be awarded to Raytheon in July. Actual munition quantities for both orders will be determined on a delivery order basis, according to the notices.
SOCOM also requested nearly $227 million in fiscal year 2019 funds to procure and install five precision strike packages onto MC-130J special operations tankers as part of the AC-130J recapitalization program that will replace legacy AC-130H/U aircraft, according to budget documents. The kits will provide SOF platforms with close-air support and armed reconnaissance capabilities, along with precision-guided munitions and other weapon systems.
Special Operations Command is following the overall Defense Department effort to shift its focus to maintaining a technological edge in an era of great power competition, and there is a role for precision-guided munitions in higher-end conflicts with near-peer adversaries, Blume noted.
While airborne munitions continue to be in high demand, Marine Corps Special Operations Command is beginning to consider ground-launched precision-guided weapons. MARSOC Commander Maj. Gen. Carl E. Mundy, III, said his component is working to increase its precision strike capabilities and push them down to the squad level.
"Right now, if you think strike, you tend to think of something that flies. But ground-launched precision strike has as much utility going forward in the future," he said at the National Defense Industrial Association's annual Special Operations/Low-Intensity Conflict conference. "We see ourselves being involved in that going forward."
MARSOC is considering pairing a ground-launched munition with a small unmanned aerial system and deploying them in distributed environments, Mundy added.
Lt. Gen. Kenneth Tovo, Army Special Operations Command commander, said at the conference that all components are pursuing additional precise strike capability, but noted that SOCOM also needs to invest in artificial intelligence tools that can help leaders make the critical decision to order a strike.
"The reality is, we have got a lot of kinetic lethal capability," he said. "It really comes down to how do you get a speed of decision-making increase, so you can sort through all of that data, get to a point of understanding soon … and apply that lethal capability."
SOCOM's Top 10 Technology Needs

Part 1: SOCOM Iron Man Suit Prototype Delayed a Year

Part 2: Special Operations Command Beefing Up Communications
Part 3: SOCOM Investing in New Tech to Counter Drones
Part 4: SOCOM Tapping into Biotechnology
Part 6: SOCOM Setting Records for Unmanned Systems Procurement

Part 7: New Tools Wanted to Fill Signature Management Gaps

Part 8: Commandos Need Lightweight, Energy Efficient Equipment

Part 9: Special Operators Pursuing New Position, Navigation and Timing Capabilities

Part 10: Special Ops Command Aims to Convert M4A1 Carbine
Topics: Precision Strike, Special Operations, Special Operations-Low Intensity Conflict