Pentagon Supporting Manufacturing Needs to Build Critical Capabilities (UPDATED)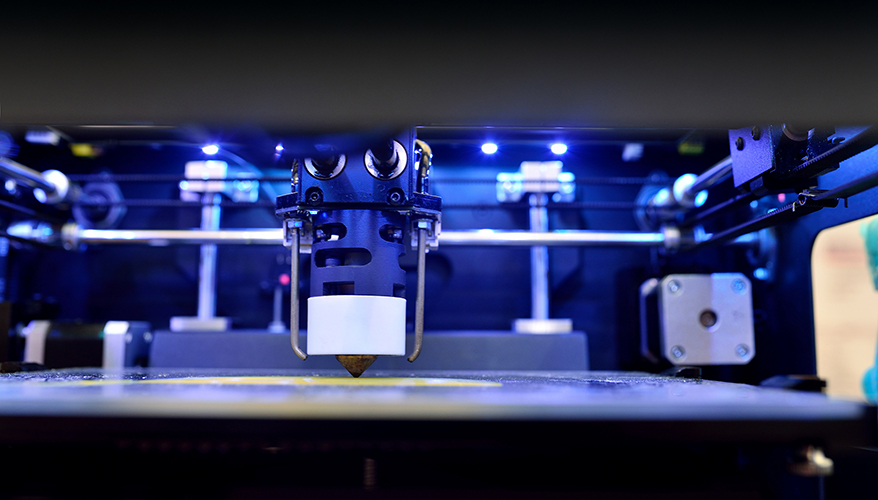 Photo: iStock
A small office within the office of the secretary of defense is looking to support the manufacturing required to build the Pentagon's biggest capability needs, including directed energy tools, hypersonics and fuse technologies, while promoting and encouraging U.S.-based manufacturing.
The OSD Manufacturing Technology, or ManTech program works to smooth technology transition for acquisition programs across the services, said Jason Jouet, deputy director of manufacturing technology in the office of the deputy assistant secretary of defense for manufacturing and industrial base policy.
"Our program looks to develop cross-cutting defense-critical manufacturing needs that are beyond the ability of a single service or industry to address," he said May 8 at a breakfast event hosted by the National Defense Industrial Association.
The Defense Department annually spends about $12 billion on science and technology initiatives and $153 billion on acquisition projects, Jouet noted. Working with national and military laboratories, academic institutions and the commercial sector via the Defense Department's manufacturing institutes, ManTech can help coordinate a scientist's need for electronics, composites or metal manufacturing to bring their vision to a technology readiness level fit for consideration, he said. The program has individual components programs at the service level, along with the Defense Logistics Agency and the Missile Defense Agency.
"My vision is ManTech becomes the go-to vehicle for technology transition to acquisition," he said. "I want acquisition program managers to have needs and recognize ManTech's ability to bring technologies that are developed out of [the Defense Advanced Research Projects Agency] and say, 'Hey, this is the technology we need, and we need to go to ManTech to help us resource it." The office also works with a variety of other prototyping offices and S&T demonstration programs, such as the Small Business Innovation Research program and the Joint Capability Technology Demonstrations program.
The OSD ManTech program typically invests in specific technology projects for near-term, highly critical mission sets, but also supports technology initiatives that serve to advance manufacturing techniques and policy, Jouet said. Its fiscal year 2018 budget was $23.8 million, and it is operated under the defense-wide manufacturing science and technology program. DMS&T also operates eight manufacturing institutes, or public-private partnerships that were stood up between 2012 and 2017 to help connect small manufacturing firms with the tools and resources they need to develop capabilities for the military and commercial sectors. In total DMS&T received $136.16 million in 2018. The program currently operates under the Office of Manufacturing and Industrial Base Policy, but it was announced on April 30 that the program will operate within the office of the assistant secretary of defense for research and engineering, though the moving date is to be determined, Jouet noted.
Its fiscal year 2019 portfolio includes efforts to support of the Pentagon's most critical technology needs. One area is manufacturing technology for components on directed energy capabilities, such as the automated assembly of certain monolithic spectral beam combiners for laser weapon systems, according to slides provided during the presentation.
It will also be involved in an initiative to employ advanced manufacturing of carbon-carbon composites for hypersonic applications, along with other critical needs that "enhance readiness, reduce cost, and/or increase capability."
The Defense Department is also helping to sustain U.S. manufacturing through the DoD Institutes program, supporting small businesses who are working to keep key manufacturing sectors in-country, Jouet said.
The eight public-private partnerships cover a wide span of defense industrial manufacturing needs, including: additive manufacturing; digital manufacturing and design innovation; lightweight alloys and metal production; photonic integrated circuits; flexible hybrid electronics; advanced fabrics and textiles; advanced tissue biofabrication; and advanced robotics for manufacturing.
Through startup funding from the Defense Department, these entities are expected to help strategically align resources to address these targeted technology spaces, Jouet said.
"The government funds them for nominally $20 million a year for five years to establish a facility, grow membership, and establish programs. … But then the government steps away and the institute should be self-sustaining," he added.
Some of the entities assist with policy crafting. The America Makes National Additive Manufacturing Institute in Youngstown, Ohio, seeks to help answer the "big, hard and hairy meatball questions" about 3D printing: how to certify and use the manufactured parts as well as the machines that build them, Jouet said. "How do we certify the powder? How do we certify the machine the way they are supposed to?" he said.
Others, such as AIM Photonics in Albany, New York, have their own development facilities or foundries where institute members can use their equipment and space to develop their projects. "The community foundry is there, so they've got this facility that all of the members can use to some degree to test out and develop the technology that they wouldn't normally be able to" due to cost restrictions, he noted.
Results are already coming in. The Detroit-based Lightweight Innovations for Tomorrow, or LIFT, recently worked with the Michigan National Guard to retrofit a number of Humvees with new braking and stability control systems to help reduce fatal rollovers by 74 percent, Jouet said. LIFT provided funding to the systems' developer, Ricardo Defense Systems, a Detroit-based subsidiary of Ricardo plc.
"Not only did they reduce the fatal rollovers, they improved the stopping ability of that Humvee by eight truck lengths," he added. "If I was a race car driver and you gave me eight car lengths more braking, that's amazing."
Twenty-seven total research-an- development projects have been completed to date through the institutes, with 162 projects ongoing, Jouet said. Some examples include a 3D-printed air duct that is now certified for use on certain military aircraft.
"That part was no bid, or a 26-week turnaround. … America Makes made that in two weeks," he said.
The Manufacturing Technology program interacts and works with joint technology working groups within the Defense Department, as well as the institutes, to help coordinate efforts and avoid duplication across the services, Jouet noted.
It is also looking to work with directors of prototypes to understand manufacturing needs. "It's one thing for the [Joint Capability Technology Demonstration program] to come up with a thing called Kestrel Eye to provide surveillance," he said, referring to an electro-optical microsatellite that could provide affordable and persistent tactical space-based imagery to the Air Force.
"It's demonstrated, but you've got to manufacture the satellites; you've got to manufacture the control systems," he added.
A major challenge has been to bring more awareness to the defense-wide manufacturing science and technology program and the resources it offers through the ManTech program and the DoD institutes, he noted.
Clarification: This story has been updated to clarify several quotes by Jason Jouet.
Topics: DOD Policy, Defense Manufacturing, Advanced Manufacturing, Manufacturing Technology