ROBOTICS AND AUTONOMOUS SYSTEMS
Navy Leadership Embracing Unmanned Systems for Future Combat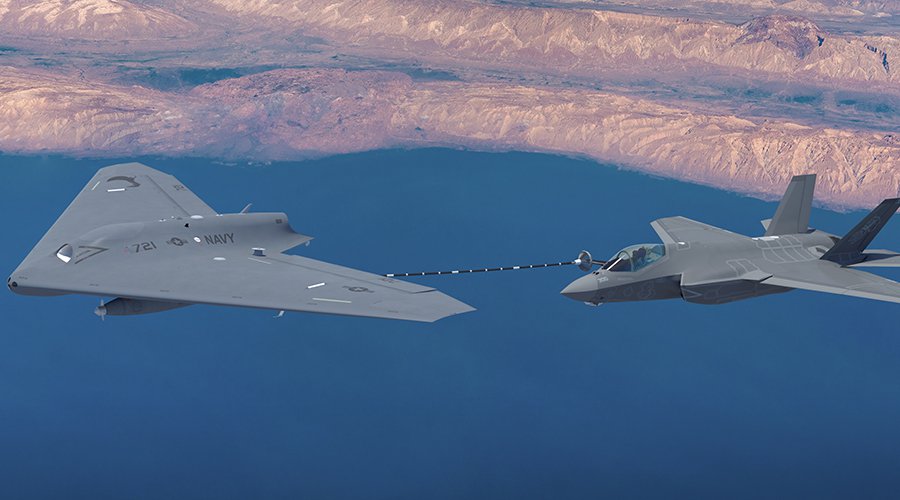 Concept art for Lockheed Martin's proposed MQ-25 unmanned carrier-based tanker aircraft, refueling an F-35 joint strike fighter
Image: Lockheed Martin
NATIONAL HARBOR, Md. — The Navy is investing in an array of remotely piloted platforms —from tiny quadcopters to gargantuan tanker aircraft — to meet mission needs on land, at sea and in the air, service officials said April 9.
Unmanned technologies are "absolutely intrinsic to how we're going forward" in the Navy and Marine Corps, said Vice Adm. William Merz, deputy chief of naval operations for warfare systems during a panel discussion at the Navy League's annual Sea-Air-Space conference in National Harbor, Maryland.
The service's program to develop the MQ-25 Stingray unmanned carrier-based tanker aircraft is being conducted through the recently established maritime accelerated capabilities office, which speaks to the urgency to get the platform fielded, and also the sophistication of the technology, he said.
"It's tough technology," he said. "There are three major elements to that aircraft. One is just flying it, one is communicating with it and one is bringing it back aboard the ship."
Lockheed Martin, Boeing and General Atomics Aeronautical Systems are vying for the MQ-25 contract, which the Navy expects to award this summer.
Merz called the program "a very positive step in extending the reach of the air wing," and noted that as the F-35B — the Navy variant of the joint strike fighter — comes online and the MQ-25 is developed, employing those two platforms together "is going to be very informative on how we piece this [unmanned air fleet] together going forward."
The Navy is also continuing to study potential "next-generation air dominance solutions," which may or may not necessarily be a manned aircraft, Merz said. The service began an analysis of alternatives in early 2016 to determine what could succeed the F/A-18 Super Hornet and the E/A-18G Growler.
"It will probably be some collection of manned and unmanned as we go forward," he noted.
The service also continues to explore undersea and surface drones, he added. "We have a lot of moving parts right now. … I think we're only beginning to scratch the surface of that collective capability."
Meanwhile, the Marine Corps of the future will be fully utilizing remotely operated capabilities that work on land, at sea and in the air to assist with situational awareness and logistics needs, said Gen. Glenn Walters, service assistant commandant.
"Unmanned is one of those places we see as a growth industry," he said.
The service plans to invest in an air platform that can be deployed from a ship or operated on shore, and small quadcopters will soon be ubiquitous across the squadrons, he added.
"Right now in the Marine Corps, every squad leader or sergeant is going to have his own small UAV," to peer around city corners or over a hill for adversaries, he said. Service officials recently announced the 2017 purchase of over 800 systems for squad use at an annual Association for Unmanned Vehicle Systems International conference in National Harbor.
Additionally, troops will be able to quickly fix any damaged system with inexpensive 3D printers that are already being used at the battalion level, he added.
"Marines will crash these little quadcopters, but the good news is they go back and they print the little parts again and deploy [it] back in. … They're doing that now," he said.
The service is also looking for remotely operated ground vehicles could help unburden warfighters on the battlefield, Walters added. "We never seem to take less stuff, so do we have something that can carry our stuff for us?" he said.
He expects "the fundamental composition of the Marine Rifle Squad will change this year" thanks to unmanned technologies, though he did not provide details.
These remotely operated platforms and others could provide the Navy with safer, more agile solutions to gathering massive amounts of data for intelligence, surveillance and reconnaissance purposes as the U.S. military focuses on maintaining a technological edge with peer competitors Russia and China.
Vice Chief of Naval Operations Adm. William Moran, speaking at the keynote luncheon, told contractors "those that deliver agile and innovation solutions, that deliver speed and orientation, decision and action, will be valued more than others" as the service works to maintain its edge in a world with growing threats.
"We know there are fierce technological and geographical races occurring around the world," he said. "We all have to act with a sense of urgency."
Harnessing technologies including predictive analytics and artificial intelligence, and networking the service's capabilities to boost resilience will also help to reduce casualties in battle, he noted.
"We know how to fight; these technologies need to enhance how we fight smarter," he said.
Topics: Navy News, Unmanned Air Vehicles, Unmanned Ground Vehicles, Unmanned Surface Vehicles, Unmanned Underwater Vehicles