Expanding the Fleet: Navy Charts Course for 355 Ships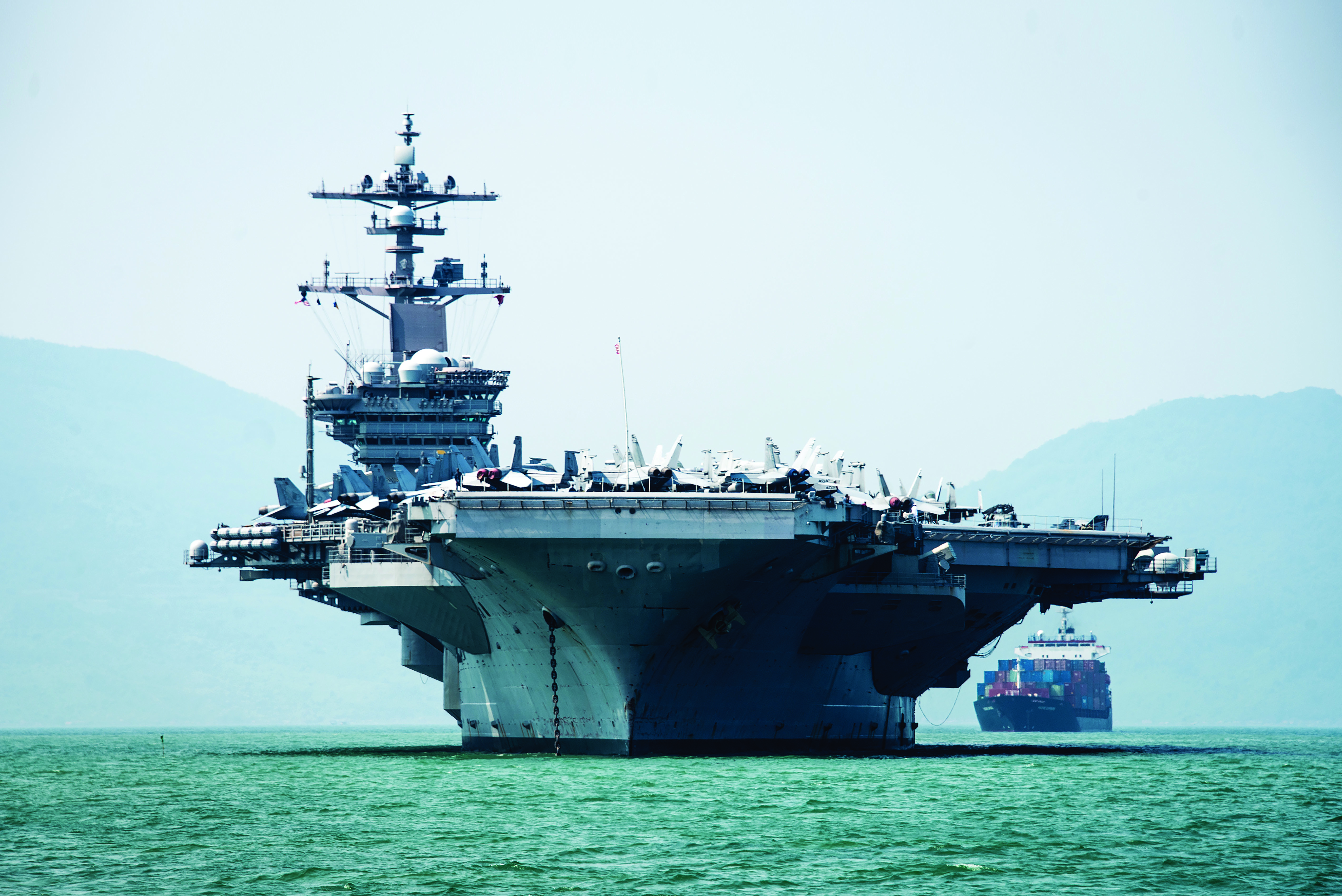 USS Carl Vinson (CVN 70)
Defense Department
The Navy's new shipbuilding plan is under fire from those who say it is not aggressive enough in pursuing the goal of a 355-ship fleet.
The long-term roadmap for fiscal years 2019 to 2048 was released in February. It is the first 30-year shipbuilding plan put forth since the Navy and Congress determined that the service needs 355 ships to achieve its strategic aims.
Tom Callender, senior fellow for defense programs, naval warfare and advanced technologies at the Heritage Foundation — a Washington, D.C. think tank — said he was "underwhelmed" by the new force structure blueprint.
"It was much less aggressive than what I had anticipated," said Callender, who previously served as director for capabilities in the capabilities and concepts directorate of the office of the deputy undersecretary of the Navy for policy.
The service plans a major push to beef up the fleet over the next five years, increasing the number of battle force ships from about 280 to 326 by 2023. It added 11 to the future years defense program, or FYDP, relative to the previous plan and identified additional vessels for service-life extensions, Deputy Assistant Secretary of the Navy for Budget Rear Adm. Brian "Lex" Luther noted during a briefing with reporters when the 2019 budget request was released.
However, Callender said that the growth would then stall and the fleet size would actually drop to 313 vessels by 2028 before it starts increasing again.
"If you look at what happens with the force structure layout, that's a false peak because right after that we start to decommission a lot of ships," he said.
The service is taking "a conservative approach" to shipbuilding, but it needs to be more insistent about increasing its capacity, he added.
Sen. Roger Wicker, R-Miss., chairman of the Senate Armed Services seapower subcommittee, said the Navy's proposal is insufficient.
"We like the first few years of the 30-year shipbuilding plan," he said at the McAleese annual defense conference in Washington, D.C. "Then suddenly there's a dip. We don't like that dip, and so we're visiting with the leadership of the administration about that, with the uniformed and civilian leadership from the Pentagon" to address those concerns. "If we can get to 326 [by 2023] we need to keep that momentum," he added.
Perhaps most surprisingly, the Navy would not reach the national objective of 355 ships until the 2050s under its so-called "steady, sustainable growth" path. It would also not meet the requirement of having 12 aircraft carriers until 2060 or later.
In 2048, at the end of the 30-year planning period, the service would have only 335 battle force vessels in its inventory. Wicker said that scenario is unacceptable. "The 'steady as she goes' approach does not match the urgency … that we're hearing from members of the Pentagon," he added.
House Armed Services Committee Ranking Member Rep. Adam Smith, D-Wash., took a different tack, saying the idea of achieving a 355-ship Navy is "pure fantasy" because it doesn't match up with fiscal realities.
Bryan Clark, senior fellow and naval analyst at the Center for Strategic and Budgetary Assessments — a Washington, D.C. think tank — defended the new shipbuilding blueprint.
It "did a pretty good job capturing the costs that would be incurred and building a plan that was pretty achievable given the amount of money that the Navy may get a hold of," he said.
It also appears to be a bureaucratic cry for help, he suggested.
"It looks like a plan that the Navy is using to make a case to Congress that they need more shipbuilding funds because it doesn't get to 355, so it doesn't reach their requirement," said Clark, who previously served as special assistant to the chief of naval operations.
The outline also pointed out ways to achieve more aggressive growth, he noted. The service said it could potentially reach 355 ships in the 2030s if significantly more resources were provided and the industrial base responded accordingly.
The plan "identifies a lot of places where they could add ships if they had the funding to do so and the industrial base could support additional shipbuilding," Clark said. "That was really telling."
The Navy estimates that its steady growth path would require an average of about $20 billion in shipbuilding funds annually over the next five years as well as money for service-life extensions.
"Beyond the FYDP, additional funding would be needed to sustain steady growth and to account for the serial production of the Columbia-class" ballistic missile submarine, the plan stated.
The document did not provide an estimate for the additional resources that would be required to achieve a 355-ship Navy in the 2030s and maintain those levels under a more aggressive approach.
The Congressional Budget Office estimates that ramping up to 355 ships over the next 20 years could cost upwards of $26 billion annually — not including associated increases in operation and support costs. That would be more than 60 percent above what the Navy has received on average for shipbuilding in recent decades, and more than 25 percent higher than the amount appropriated in fiscal year 2017, according to CBO.
Some observers have suggested that the Navy should lay out a plan that gets to 355 much sooner and then expect Congress to fund it. But Clark said it was wise for the service not to take a "maximalist" approach.
"The problem I see with that approach is you sort of articulate a plan that might be so maximalist that everybody just kinds of throws up their hands and says, 'We can't achieve it, there's not enough money, so why should we even bother trying,'" Clark said. "Whereas the plan they've laid out is … the most the Navy thinks it can get given current circumstances, and then it identifies very clearly where congressional plus-ups could be added to increase or accelerate the fleet's expansion."
The service indicated in its shipbuilding proposal that fiscal realities prevented it from swinging for the fences.
"The Navy realizes that a plan to achieve today's warfighting requirements in three decades represents an unacceptable pace in the context of the current and predicted security environment," the document stated. However, "it is a realistic plan that reflects the imperative to remain balanced across the [service's readiness, capability, capacity and manning priorities] in an era of unpredictable and restrictive funding levels."
The document noted that the plan allows for "responsive scalability."
"By setting the conditions for an enduring industrial base as a top priority, we are postured to aggressively respond to more investment in any year," it added.
Callender said he expects congressional authorizers to green light spending for additional ships, but it's uncertain if appropriators will follow suit when faced with competing budget priorities.
Funding isn't the only consideration that the Navy is taking into account. The health of the industrial base also looms large in the shipbuilding plan.
"An efficient and supported industrial base is a fundamental requirement to achieving and sustaining the Navy's baseline acquisition profiles," the document stated. "Our shipbuilding industrial base and supporting vendor base constitute a national security imperative that is unique and must be properly managed and protected."
A steady growth path will encourage industrial efficiency and agility, and keep skilled workers on the job, it added. "This should provide clarity and confidence that will inform industry investment in capital improvement and expansion, research and development and a world-class workforce."
Clark said the Navy's proposal is well within the capacity of the industrial base. However, an accelerated path to reach 355 ships in the 2030s would be much more challenging.
When it comes to construction of new ships "you will start to run up against the limits of what the current infrastructure is able to support," he said. Additionally, the places where life-extension work is performed are "pretty much maxed out as it is" doing maintenance on the existing fleet, he added.
"There's a couple reasons why I think that accelerated plan may not be executable," he said. "It's partly money, but it's also just infrastructure and capacity both in the private and public shipyard complexes."
National Defense reached out to some of the nation's largest shipbuilders to get their reaction to the new shipbuilding plan.
Austal USA is building littoral combat ships and expeditionary fast transports for the Navy, while designing a new advanced frigate.
The company has invested hundreds of millions of dollars in its facilities, Austal USA spokesman Craig Savage said in a statement. These investments provide immediate capacity to support aggressive growth of the U.S. Navy fleet, he said.
"We are encouraged by the desire to grow the overall fleet size but have concerns that the timing and mix of small surface combatants will negatively impact the shipbuilding industrial base," he added.
The service's plan calls for building only one small surface combatant per year in fiscal years 2019 to 2021, and two small surface combatants per year in fiscal years 2022 to 2048. That might not be enough work for Austal and the Lockheed Martin-Fincantiere Marinette Marine team to each maintain their small surface combatant production lines, Callender noted.
George Moutafis, vice president of programs for Fincantieri Marine Group, said the company has invested more than $200 million in its shipyards since 2010.
"With the investments in facilities and resources already in place or in process, we are positioned to take on the upcoming small surface combatant requirement of our Navy," he said. "The concern we have is in regard to the path to get there." The current plan for littoral combat ships is insufficient to maintain the industrial base until the Navy transitions to the FFG(X) guided missile frigate, he added.
A spokeswoman for General Dynamics declined to comment about the shipbuilding plan specifically, but pointed to remarks made by company CEO Phebe Novakovic during a quarterly earnings call with analysts in January.
"In response to the significant increased demand from our Navy customer across all three of our shipyards, we are investing in each of our yards," Novakovic said.
The company will spend $1.7 billion in capital expenditures at Electric Boat over the next several years in anticipation of increased production on the Block V Virginia-class submarine and the new Columbia-class ballistic missile submarine, she said. It is also investing over $200 million at Bath Iron Works and NASSCO to meet the Navy's demand for more destroyers and auxiliary ships, she added.
Additionally, the company has hired and trained 4,600 workers over the last two years, she noted.
Huntington Ingalls Industries spokeswoman Beci Brenton said the company is pleased that the shipbuilding plan shows an increase in force levels. HII builds aircraft carriers and Arleigh Burke-class destroyers, among other vessels.
"The most cost-effective way to increase the size of the Navy is to make multi-ship purchases and maintain hot production lines," she said in an email. "This approach provides stability for our supply chain to better plan and invest in workforce and facilities. It would also allow us to purchase materials in quantity, and to plan and phase work to maximize learning."
Block buys, multiyear procurements and cost-sharing arrangements would be the best way for the Navy and lawmakers to encourage industry to enhance their infrastructure, Clark said.
"Those are the ways you're going to get industry to really feel comfortable making investments because … all the shipbuilders have been burned by making investments in their shipyards and the Navy then turning around and making them drive down the costs of their ships," he said.
In those situations, "they never recoup those investments because their profit margin is so small."
Callender said that Congress has been supportive of block buys in the past including for Virginia-class submarines. The funding stability and predictability that they provide doesn't just help the big shipyard owners, but also smaller vendors that provide essential components for the vessels, he noted
Topics: Navy News, Shipbuilding, Defense Department