Air Force Accelerating Acquisition with AFWERX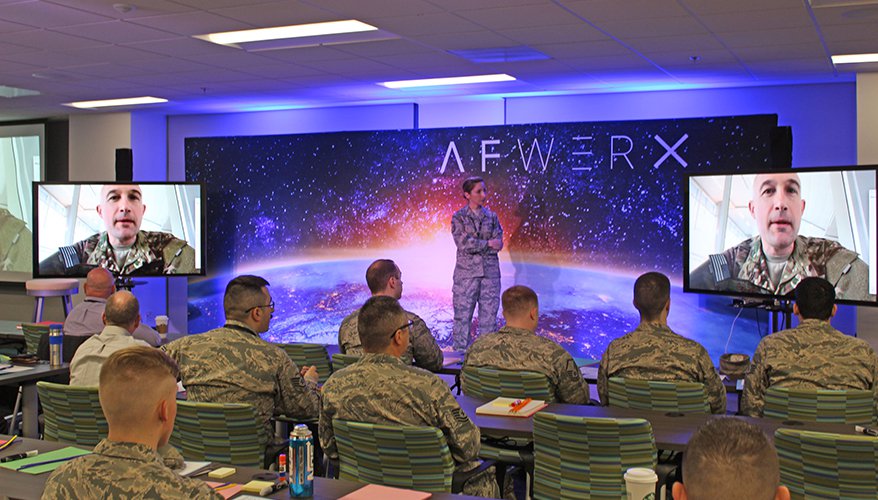 AFWERX's Las Vegas facility
Photo: AFWERX
The Air Force is working to better promote dialogue with industry, academia and nontraditional partners while developing much-needed capabilities more quickly and flexibly. Last year, it set up AFWERX, an initiative that includes more accessible offices and programs to encourage innovation within the ranks.
The goal is to show potential partners that "the Air Force is open for business," said the organization's director Brian "Beam" Maue in an interview with National Defense. In the months since its 2017 inception, the Air Force has opened facilities in Las Vegas and Arlington, Virginia, that include technical centers, "maker spaces" with basic manufacturing tools and meeting areas to help partners — be they high-tech entrepreneurs or spare-time garage tinkerers — pitch their ideas to the service.
Air Force Secretary Heather Wilson first announced the creation of AF­WERX in 2017 at the annual Women in Defense conference in Washington, D.C. Women in Defense is an affiliate of the National Defense Industrial Association.
Wilson compared it to Special Operations Command's SOFWERX facility, which was founded in 2016 in the Ybor City neighborhood of Tampa, Florida, to facilitate cooperation with industry partners near SOCOM's headquarters at MacDill Air Force Base.
Like SOFWERX, the Air Force's innovation effort is supported via a partnership intermediary agreement with Defensewerx — formerly known as the Doolittle Institute — a nonprofit organization based in Fort Walton Beach, Florida, that supports rapid innovation within the Defense Department.
Shortly before the initiative was launched, Maue spent a month in Tampa observing how the SOFWERX team operated and interacted with colleagues and potential partners. But the sheer size of the Air Force's footprint compared to SOCOM means "we do a little bit more than SOFWERX," he said.
The Air Force combined several new and existing innovation vehicles under the AFWERX umbrella, Maue said. The new hubs are intended to bring all of the tools and resources under one roof. One office is based in Las Vegas for proximity to Nellis Air Force Base, local academic institutions and a growing commercial sector, and the other is headquartered in the Crystal City neighborhood of Arlington, Virginia, close to the Pentagon and Washington, D.C.-area universities and industry partners.
Community development at both the physical and virtual levels is critical, he noted. The team hosts a "First Fridays" broadcast on Facebook with rotating weekly topics of interest, and the Las Vegas hub encourages industry representatives to stop by and showcase new concepts, he added. "If it's interesting … we'll do a follow-up interview. If not, it's OK, [we will] take it and put it into our database" in case the technology becomes useful later on, he said.
The Air Force has for several years run the Spark program, which focuses on developing collaborative partnerships between the military's operational experts and leaders in industry, academia and other government agencies. But AFWERX would like to increase its visibility and use by creating a virtual "innovation cell" with an office on every Air Force base that would easily connect all partners on a given effort, Maue said.
"We ultimately want … a virtual hub where people can collaborate, just get on the [internet] and start working with the Air Force, as well as with the public at large," he added.
Another new AFWERX tool is the Spark Tank competition, which provides airmen with a platform to present ideas to senior leadership for support and mentorship, Maue said. Six finalists recently traveled to Orlando, Florida, for the Air Force Association's annual Air Warfare Symposium and gave a three-minute pitch to a panel including Wilson, Air Force Chief of Staff Gen. David Goldfein, Chief Master Sgt. Kaleth O. Wright and several industry representatives, he said.
One of the efforts that was approved for pursuit is the Brass to Bucks program, presented by 1st. Lt. James Eimers of the 90th Munitions Squadron at Air Force Global Strike Command.
The Air Force handles about 65 million expended brass munition casings for recycling annually, but the current process of manually sorting the casings to be sent off is time-consuming and monotonous. By purchasing two spent brass sorter machines worth $700,000 to place at a centralized base and coordinating with the Defense Logistics Agency, the service could generate up to $5 million in revenue per year and save $700,000 annually in direct labor costs, Eimers told the panel at AFA.
"If we decided to expand this across the DoD, we could be looking at potential revenue increase of $57 million with nearly $6 million in direct labor cost being saved annually," he added. Air Force leadership ultimately approved the idea for further exploration.
The Brass to Bucks program is an example of how AFWERX and its collaborators could help the service and the Defense Department writ large save millions of dollars in time and labor costs, Maue said.
Capt. Steven Lauver, a service pilot and co-director of AFWERX's technology accelerator, said a key goal is to "harness and enable the brilliance and creativity that exists both inside … and outside the Air Force."
He noted that technology is evolving ever more rapidly, and is being driven primarily by the private sector. AFWERX wants to connect the innovators who are developing that technology with military users beyond the Air Force, if the capability is relevant, he said.
"Consumer drones have just exploded over the last couple of months and it's driven by private money," he said. "Private industry is going to continue to heavily influence the face of warfare, and our key competitive advantage is going to be, how quickly can we adapt and adopt that technology?"
AFWERX has been searching for new unmanned aerial vehicle technologies. It has assisted SOFWERX on the "ThunderDrone" series of rapid prototyping events, or RPEs, that ran from late 2017 through early 2018. It will participate in the next stage, titled "Game of Drones," that is set to take place this summer. (See story on page 57)
AFWERX also staged its own RPE-like technology accelerator effort, where 166 companies applied to meet and pitch their ideas for autonomous technologies to service officials over three months.
Ten businesses were ultimately selected to participate in the accelerator's final demonstration event, which took place in late April in Boston, Lauver said.
Maue and Lauver noted that although AFWERX has focused much of its efforts to date on drone, counter-drone and artificial intelligence technologies, the team is not restricted to any specific capability areas.
The team also works to find outside funding for its technology accelerator events, and maintains a slim budget for operations and maintenance, employee travel and prize money, Maue said. Just under $10 million in research, development, technology and evaluation funds is requested for AFWERX-related activities in the Air Force's fiscal year 2019 budget request, according to service documents. An additional $3.3 million is budgeted from partnership intermediary agreement contributions. The Air Force allocated about $6.5 million for AFWERX activities in the 2018 budget request, split between RDT&E funds and partnership intermediary agreement contributions.
The initiative is also taking advantage of "other transaction authorities" and other congressionally approved methods to speed up acquisition and testing, Maue said.
The technology accelerator program was funded through a number of different agencies, including the Defense Threat Reduction Agency and the office of the secretary of defense, according to an Air Force spokesperson.
The AFWERX team is careful not to encourage too narrow of a focus for its partners to develop solutions. While the April technology demonstration day was initially meant for counter-UAV technologies, it ultimately was expanded to include all autonomous capabilities, Lauver noted.
"Sometimes it's hard for these young companies to work with us if our requirements are too narrow, and sometimes there's a tech solution that exists outside of what we thought" was needed, he said.
While AFWERX seeks to make a difference in Air Force capability acquisition in the near term, Maue sees the biggest payoff three years down the line, "when the virtual tool comes together [and] when there's an office at every base."
"When [conversations with] every airman begin with, 'I have an idea — oh, I should go to my Spark cell office,' that will be very different from where we are right now," he said.
Despite the desire to move fast, many new initiatives take time to show real results, said Andrew Hunter, director of the Defense-Industrial Initiatives Group at the Washington, D.C.-based Center for Strategic and International Studies.
Rapid acquisition efforts can easily fall apart because "a baseline becomes pretty meaningless pretty fast" when the goal is to be more flexible and speedy, he added.
The overall goal of organizations like AFWERX and SOFWERX — to reach out and work more collaboratively with nontraditional vendors and innovators — is "absolutely an important and key initiative" for the Defense Department to pursue, Hunter said.
When sequestration hit in 2013, the acquisition workforce was focused on one goal: cost control, he said. "They received that message and worked hard on it … perhaps to the exclusion of focusing on innovation," he added.
Over the past several years, proponents of moving more quickly and creatively began to enter the higher ranks of the Defense Department, Hunter noted, including: former Defense Secretary Ashton Carter; William Roper, who led the Strategic Capabilities Office before becoming the Air Force's assistant secretary for acquisition, technology and logistics this past January; and James "Hondo" Geurts, who kickstarted SOFWERX as Special Operations Command's acquisition executive and is now Roper's counterpart for the Navy.
Carter "tried to shift the needle" to prioritize innovation and collaboration, Hunter said. "But it has definitely shifted over harder when you have folks like Roper and Geurts in those top leadership positions."
Hunter, who previously served as director of the Pentagon's joint rapid acquisition cell, said that a key tenet he observed while quickly fielding mission-critical capabilities to warfighters in Iraq and Afghanistan was that authority should be delegated to the lowest level possible to promote rapid action. But not all decisions can be made at the squad or wing level, he noted.
Hunter cautioned against service leaders and innovators being too quick to cast off bureaucratic restraints.
"I do sense a little overconfidence that simply delegating authorities is going to solve all our problems," he said. "Bureaucracy … is definitely an issue, but fundamentally, what makes acquisition hard is not just — or by any means mostly — the bureaucracy.
"I think we have to be prepared for the fact that it's still going to be hard," he continued.
But if solutions such as AFWERX are able to streamline cost and scheduling for even small capabilities, it can make a significant difference within the Defense Department, Hunter said.
Topics: Air Force News, Research and Development, Defense Innovation