Marine Corps Commandant Gung-Ho About Unmanned Systems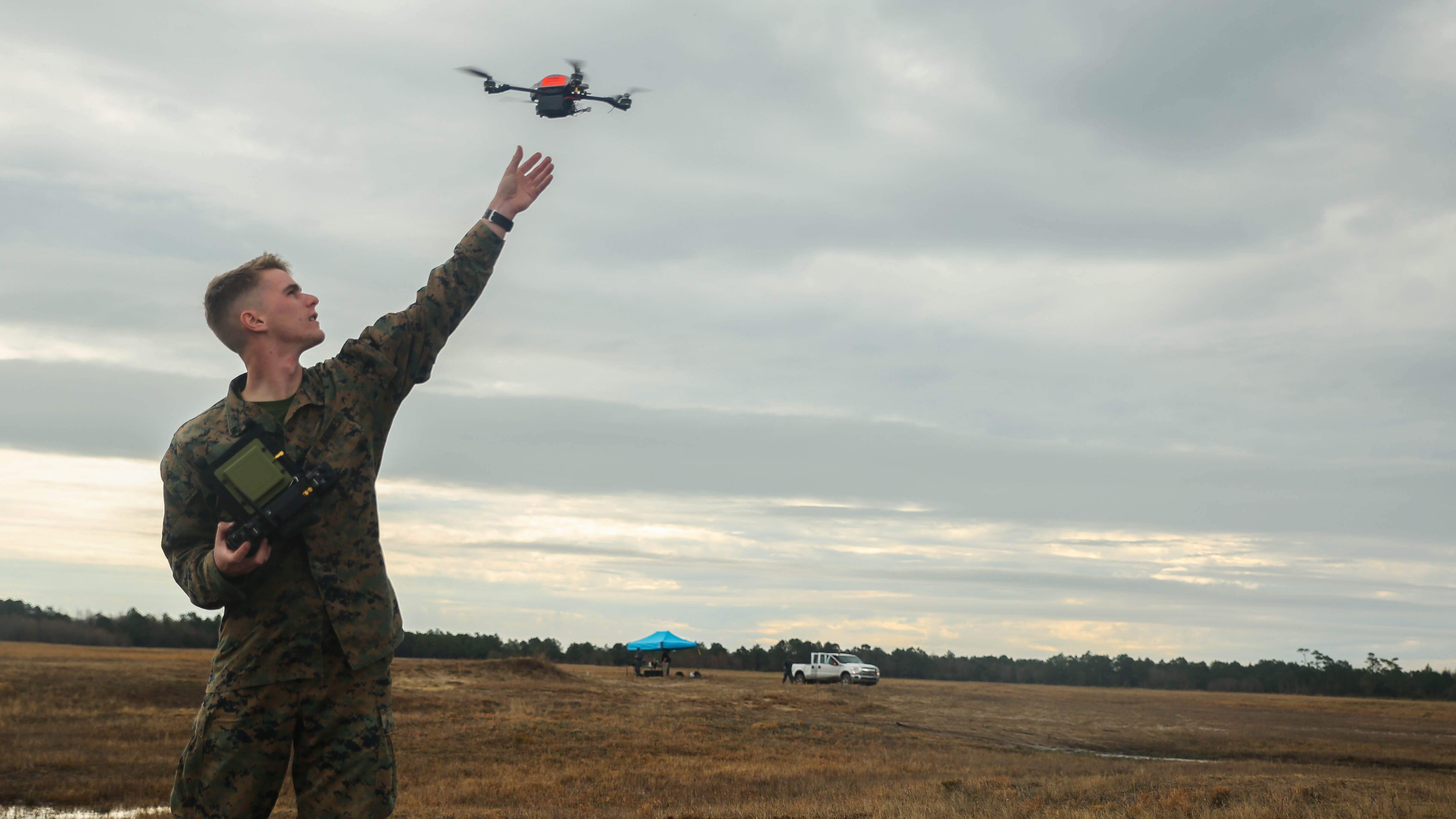 A Marine with Task Force Southwest catches the Instant Eye small unmanned aerial system following a flight at Marine Corps Base Camp Lejeune, North Carolina.
Marine Corps
The Marine Corps plans to leverage unmanned systems to enhance the lethality and survivability of its infantry units, according to the service's commandant.

"I think the accuracy of the weapons — because of autonomy and different things — is going to get much much greater," Gen. Robert Neller said April 26 at the Brookings Institution in Washington, D.C.

The Marine Corps has already begun pushing more unmanned systems to lower echelons by adding a quadcopter into every rifle squad, he noted. At the end of 2017, the service decided to purchase over 800 small drones as a result of information gathered from various experiments, and it began fielding them earlier this year.
One of the advantages of unmanned platforms is they can reduce the risks that warfighters face. Robotic systems and advancements in communication technologies are expected to provide Marines, Army soldiers and special operators with more standoff capabilities, he added.
"I don't want a human being to be the first one in the room," Neller said referring to infantry squad operations that require U.S. forces to enter buildings. Autonomous systems can also be used for reconnaissance missions usually delegated to service members, he noted.

The military is interested in using robotic mules to carry equipment and reduce the logistical burden on dismounted troops, he added.

However, human beings are still critical on the battlefield and warfighting won't be delegated to machines anytime soon, he emphasized.
Troops are often more agile than robots, he noted.

"One of the advantages of being a human being and being in the infantry is, ain't no mountain high enough, ain't no valley low enough, ain't no river wide enough to keep me from getting to you," Neller said. "I've got my feet [to navigate difficult terrain]. … I'm amphibious because I swim."
Robotic systems aren't the Marine Corps' only technology needs. Moving forward, some of the service's top modernization priorities include: resilient command-and-control systems; electronic warfare and cyber capabilities; long-range precision fires; and air defense. Air defense requirements include protection against ballistic missiles and ways to counter unmanned aerial vehicles, he noted.
Because many of these priorities are similar to those of the Army, the Marine Corps is also "watching and following" the other service's progress in these areas, he said.
Last year, the Army announced plans to pursue six primary modernization efforts: long-range precision fires; next-generation combat vehicle; future vertical lift family of helicopters; network command, control, communication and intelligence; air and missile defense; and soldier lethality.

"We'll follow them, whether it be long-range precision munitions or armored vehicles," Neller said. "We have a board where we meet monthly at the general officer level and we talk about those things, and we want to get the most scaled, cost-effective program that we can. And so we're very transparent with what we're doing and what they're doing."
The Marine Corps has already started experimenting with the High Mobility Artillery Rocket System, a weapon first created for the Army that launches rockets from vehicles.


Topics: Marine Corps News, Robotics, Robotics and Autonomous Systems, Emerging Technologies