Report Highlights Importance of Human-Machine Teaming for Ground Forces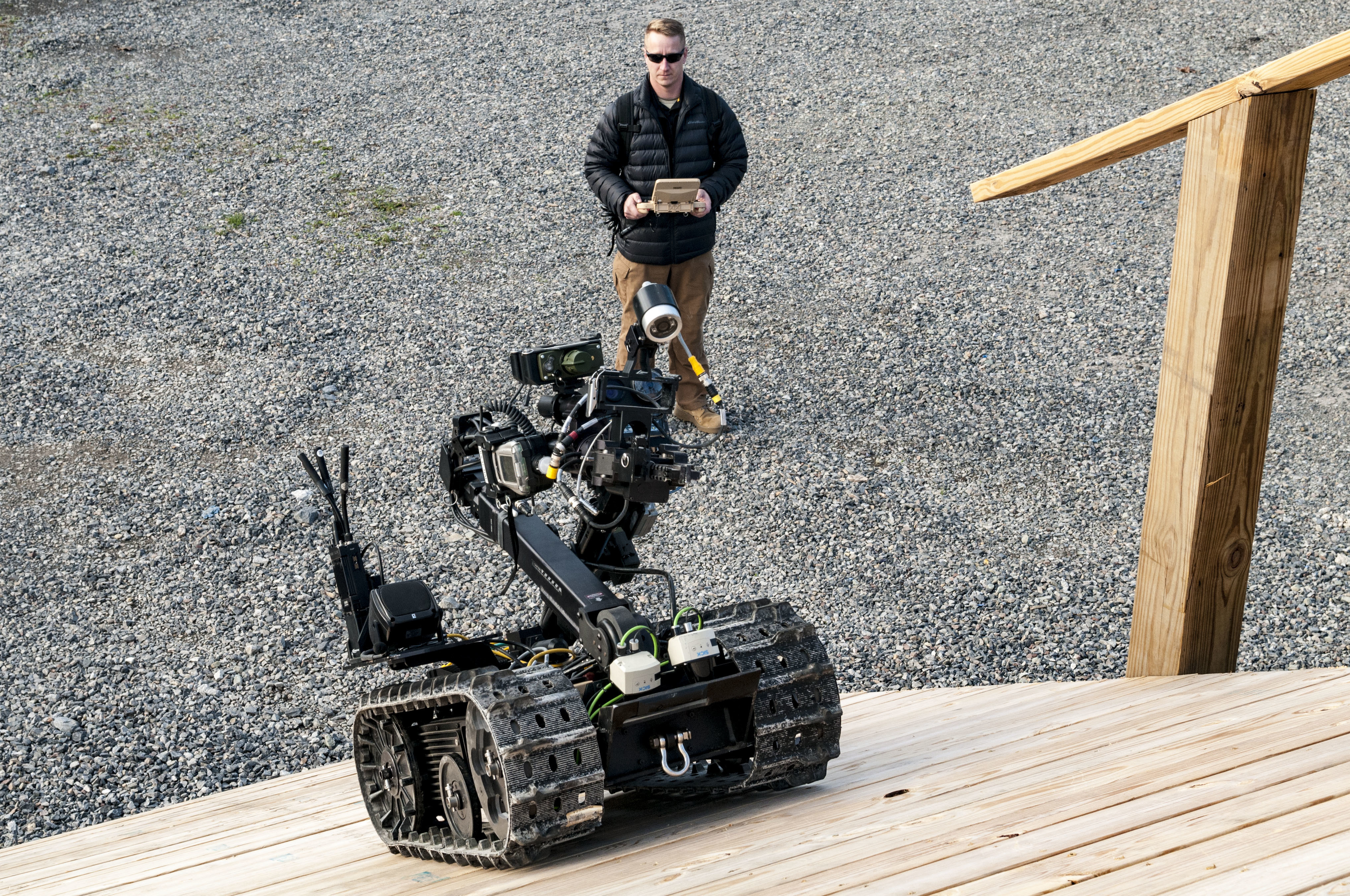 Sgt. Robert Davis of the 32nd Civil Support Team, Maryland Army National Guard, controls a TALON robot.
Defense Department
Incorporating human-machine teaming can help ground forces gain advantage on the battlefield and increase the efficiency of military activities, according to a study released April 25.

"Human-Machine Teaming for Future Ground Forces," released by the Center for Strategic and Budgetary Assessments, provides a "roadmap" for leveraging future platforms for ground forces, the paper notes. Robotics, artificial intelligence and augmentation technology is expected to rapidly advance, the study states, and investments made by the private sector are expected to subsequently inform how the military leverages this technology.

"Advances in machine learning and AI represent a turning point in the use of automation in warfare," Maj. Gen. Mick Ryan, commander of the Australian Defence College and author of the report, said during a CSBA event. "Like robotics, this is a field in which rapid advances … will provide the opportunity for military organizations to rethink as they conduct the planning, information gathering, and analysis, logistics and strategy development in war."

Several factors are driving changes in ground forces according to the study. For instance, China and Russia are expected to improve their ground forces, which heightens the importance of preparing for both large-scale and small-scale operations. New technologies may also affect global employment and displace people from multiple industries.

By incorporating autonomous systems, ground forces can boost their military power without increasing their end strength. This can help countries with smaller populations gain advantage on the battlefield, the study notes.

However, there are ethical considerations to human-machine teaming as well. The study notes that some experts argue autonomous systems may be ethically preferable because, unlike humans, they will not have a self-preservation instinct and will not be affected by emotions such as hysteria. Additionally, "they are likely to be able to process more incoming sensory information than humans without discarding or distorting it to fit preconceived notions," the paper states.

Ryan noted the importance of "having consensus with our people" prior to employing lethal autonomous systems, but cautioned that adversaries may be less hesitant to employ these platforms on battlefields.

"I don't see this really as a military decision. I see this is a political decision, and one that our communities need to be comfortable with," he said. "While we have the time now to think through the ethical and the technological [implications] at the same time, I think we should be doing that."

When using these technologies for military operations, there are three "key endeavors," Ryan's study states. These include human-robot teaming; teaming humans and AI; and human augmentation. Systems will also have varying levels of autonomy and the capability to be used for a range of missions.

But there may be challenges when incorporating these concepts, the report notes. Using robotics and artificial intelligence may make it easier for other nations to engage in war, heightening the importance of ensuring that they comply with restrictions placed on these technologies.

"Recent initiatives in the United Nations to review the use of lethal autonomous weapons may see the rise of new international conventions and norms that govern their application in conflict," the paper says.

Ground forces should also focus on adjusting their operating concepts, not just advancing their technology, the the study notes.

"Any strategy that is founded solely on the technology of human-machine integration is likely to fail," it states. "A strategy for building human-machine teams must achieve a convergence of technology, operating concepts, and new organizations."

Additionally, it is "critical" that research, experimentation and planning is conducted in the next five years in order to inform long-term goals. Monitoring developments in technology, designing human-machine teams and experimenting with concepts should be three "key" short-term lines of effort. Experiments could start off with the incorporation of robots on the battlefield and gradually integrate manned-unmanned teaming concepts, the study states.

In the mid-term, ground forces will need to make decisions on the shape, size and look of its human-workforce. Employing lethal autonomous systems will be another area of consideration, and investments will need to be made to begin integrating changes, according to the paper. Military education will need to be adjusted to incorporate more technically oriented subjects as well.
Topics: Robotics, Robotics and Autonomous Systems, Research and Development