Air Force Leaders Declare 'Time' the Ultimate Enemy of Space Systems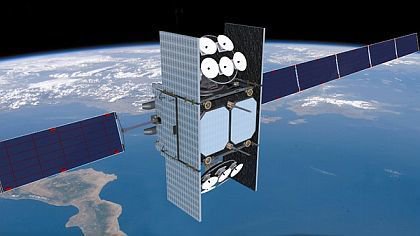 Rendition of Wideband Global Satellite (WGS) in orbit.
Defense Department
COLORADO SPRINGS, Colo. — Military leaders have grown impatient with the slow pace of developing, acquiring and launching space systems.

Space is now a warfighting domain, and taking a decade or more to field new capabilities is no longer acceptable, Air Force leaders said April 17 at the Space Symposium in Colorado Springs, Colorado.

"We will quickly become obsolete if the time constant at which we build satellites is so much longer than the rest of the world [and] ... we are building antiquated things before they even launch," said William Roper, assistant secretary of the Air Force for acquisition, technology and logistics. The old acquisition system is not going to give the nation the national space security system it needs, he added.

"The age of 10-year programs is for the most part over in the Air Force," Roper said. The whole acquisition workforce and bureaucracy will have to change its mentality and understand the value of time, he added.

The government will have to learn how commercial industry is rapidly developing and acquiring space systems, he said. Commercial space systems will not be able to provide every capability the military needs, so the Defense Department must go faster, he noted.
"Historically, we have not been very good at that because we expect to have them in orbit for a very long time." That encourages a low-risk approach and the tendency to try to launch perfect systems, Roper said.
"We say we value time in the government, but we really don't," he said. There are a hundred different ways to track funding, but he knows of nothing that tracks time. "I can't tell you where we are wasting it. I can't give you a lot of incentives if you are faster than the baseline schedule that we teed up."

The Pentagon needs to start "paying for time," he added. "We need to pay to be faster than our enemies."

Leanne Caret, president and CEO of Boeing defense space and security, and executive vice president at the company, said the development of an average commercial communications satellite from contract to launch takes about two-and-a-half to three years. An equivalent military spacecraft takes six years.

"It doesn't mean that the commercial processes are any less robust, it's the methods and the procedures," she said. The military acquisition system leads to longer, more complicated contracts, more stringent test policies and oversight, she added.
"With technology changing at the pace that it is, we don't even know what the desired end-state is by the time we are fielding products," she noted. The military needs to partner with industry to manage risk and see how they should approach the problem together. She is encouraged about plans coming from Roper's office that will take spiral development approaches, she added.

However, going faster usually means taking on more risk, and the military acquisition system is risk averse, said Gen. John Hyten, Strategic Command commander. This is ironic, he noted. In warfare, it is understood that there is risk involved. But when it comes to the military acquisition system "I am not allowed to assume any risk," Hyten said.

Roper acknowledged that it is frustrating for businesses with good ideas to get their good ideas in front of the Air Force. The service does not have many "front doors," he said. When someone does catch its attention, the fastest it can get a check in their hands is two months. Roper wants to do better than that.

Congress has given the Defense Department new authorities to do cost-sharing, other transaction authorities and other contract vehicles to do prototyping, which Roper believes is key to diminishing risk in technology development and can "steal years away" from a program's development timeline. That "shows you there is a lot of fluff we can take out of programs if we get more interested in bending metal now as opposed to studying things for a long time," he said. Expect more prototyping, he added.

Another way to speed up acquisition is to make sure the requirements and the acquisition personnel are in the same room at the same time. Roper compared it to a company chief operating officer and chief executive officer never communicating. "It makes no sense," he said. He said in the future the acquisition community will act more like a board of directors than a bureaucracy.

Gen. John W. Raymond, Air Force Space Command commander, said the Air Force has made great strides in moving acquisitions faster. The Operationally Responsive Space Office was recently renamed the Space Rapid Capabilities Office.

"Renaming is good, but it is not sufficient and now we are in the process of building that capability to be an exact clone of the other rapid capabilities offices we have in other domains," he added. The new office will have the needed resources, leadership and authorities needed to accomplish its mission, he added.
Topics: Space, Air Force News, Defense Department, Defense Innovation