ROBOTICS AND AUTONOMOUS SYSTEMS
Russia Rolling Ahead with Unmanned Ground Combat Vehicles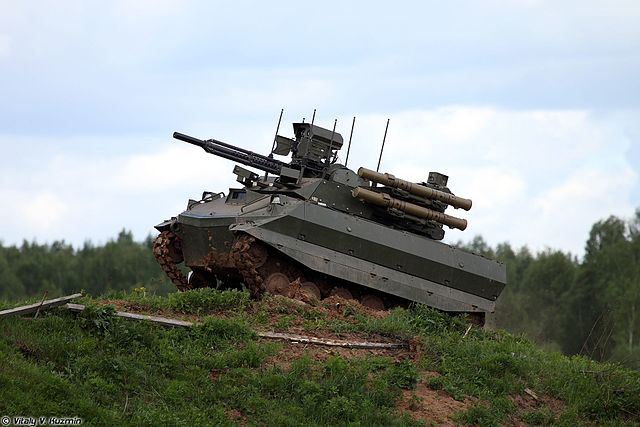 Uran-9 unmanned ground vehicle.
Vitaly V. Kuzmin
Russia is moving forward with efforts to develop semi-autonomous unmanned ground vehicles that could be used in combat against U.S. and NATO forces, according to one expert.
The country has already openly displayed its interest in autonomous technology, as evidenced by its use of de-mining robots in Syria. The systems were widely reported to have successfully helped Russian soldiers clear out improvised explosive devices and unexploded ordnance from recaptured areas.

"Syria was a major laboratory ... for the Russian military technologies," said Sam Bendett, a research analyst in the Russian studies program at the Center for Naval Analyses. "Clearly Syria was a big success and Russians are keen to build on that," he said April 11 at the National Defense Industrial Association's Ground Robotics Capabilities Conference and Exhibition in Springfield, Virginia.
In the development of larger unmanned systems, Moscow is "slightly ahead" of the United States, he noted.

"If you compare … you will not see large systems on the American side. You won't see large, tank-sized devices. You'll see mostly midsize to small UGVs, which operate extensively and successfully," he said. "Russians are thinking extensively about how they are going to fight their war."

Bendett said the United States' high-tech weapons currently provide NATO with an advantage over its former Cold War adversary.
"Anything that can move that fight away from Russian borders as [far as] possible to the territory of the potential enemy is a go, essentially, in the minds of the" Russian Ministry of Defense, he said.
Many of their unmanned systems projects are is still in the experimental stage, he noted. "We can see what they are experimenting with and we are trying to discern from what they're actually showing out there what their [concept of operations] might be."

According to Bendett's presentation, Moscow's UGV development efforts include: the Vihr combat vehicle, which has its own small unmanned aerial system; the Uran-9 combat vehicle; the Soratnik combat vehicle; the Prohod-1 de-mining system; the Argo amphibious vehicle; and the Nerehta development, test and evaluation platform for artificial intelligence technologies.

But with the exception of the Uran-9, which has a 30 mm cannon and is the largest Russian UGV of its kind, "almost everything else almost essentially just carries a machine gun," Bendett said. "How effective is that going to be in combat?" he asked.
Additionally, Russia is still finding ways to overcome vulnerabilities that are common to robots developed by other countries, he said.

"Right now, every single UGV out there … is very vulnerable to small fire, to grenades, to [rocket-propelled grenades], to large caliber machine guns," Bendett said. "If it falls in a ditch, it sometimes cannot get out," he noted.

"Within the Russian MoD, the debate is, 'are these going to be expendable devices, fire and forget? Or are [they] going to develop some kind of a retrieval mechanism so that [they] can retrieve more expensive, larger, heavily armed and more capable UGVs?" he added.


Topics: Combat Survivability, Combat Vehicles, International, Land Forces, Robotics and Autonomous Systems