Exclusive: Q&A with Sen. James Inhofe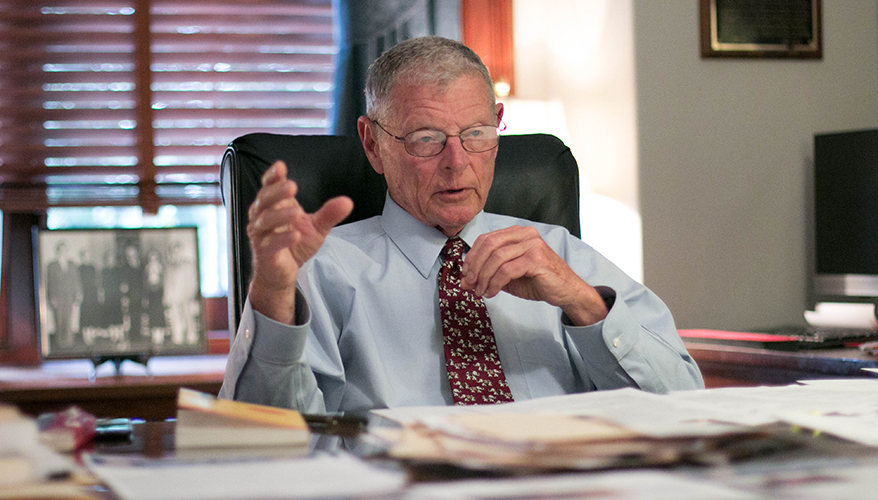 Sen. James Inhofe
Photo: Melanie Yu / NDIA
Sen. James Inhofe, R-Okla., is a senior member of the Senate Armed Services Committee and an influential voice on defense issues in Congress. He is currently leading committee hearings while SASC Chairman Sen. John McCain, R-Ariz., deals with personal health issues. On April 18 Inhofe will receive the National Defense Industrial Association's Dwight D. Eisenhower Award at a dinner in Arlington, Virginia. The award is given annually to "an American citizen who has made an outstanding contribution toward increasing public awareness of our national defense needs," according to NDIA.

National Defense interviewed Inhofe in his Senate office April 9 to discuss a wide range of defense issues. The following Q&A has been edited for length and clarity.
Q: Acquisition reform has been a major focus of the congressional Armed Services Committees the last couple years. Do you think additional legislative steps need to be taken to speed up the pace of procurement and make it easier for industry to do business with the Pentagon?
A: I've been in the Senate on that committee for 24 years, but I was on that committee in the House for eight years before that. This was a problem back then. This is not a new problem. And every time a new administration comes in they want to do something with acquisition reform. This is the first time I think it's really going to happen because we have a president who has a background where he looks at these things and says, "This is ridiculous." As fast as technology moves, by the time that you get something on board that is as good as potential adversaries have … it's outdated. It's no longer state of the art. It takes too long to get these things.
I really believe that we're going to see real reforms. Rather than to go into it legislatively, I would rather wait and see if this administration can do it because I've had personal conversations with the president and this is something that he really wants to do.
Q: So you think Congress should hold off on pushing new acquisition reforms in the near term and let the White House take the lead?
A: I would rather [lawmakers] give the White House a chance to do it. But if they're going to do it anyway I want in on it because we've dealt with this issue for a long period of time. … It's not a big secret that Sen. McCain is not a real fan of [President Donald] Trump, and yet acquisition reform has been something that [McCain] has been a leader in. … So I don't know how that's going to play out.
They [China and Russia] have a qualitative and a quantitative edge over us. … They don't have the problem of crossing all the T's and getting everything done before they can use something, a new technology. They just make a decision and do it.
Q: As you begin work on the fiscal year 2019 National Defense Authorization Act, what are your top priorities?
A: Missile defense has to be at the top because … there's a growing number of countries that have the capability of killing an American city. So that has to be the number one thing.
The second thing is… maintenance and modernization. That's where we fell so far behind with the Obama administration. … Even though it's already being addressed now by this administration, we have to get that formalized and do a better job.
China and Russia have better artillery than we do. … They have a longer range than we do. So that has to be corrected and that's what we are going to be doing as a third priority for the defense authorization bill.
Q: Do you have any thoughts about the recent bipartisan budget deal for fiscal years 2018 and 2019?
A: I hated to vote for that budget … but it broke parity [and allowed for greater funding increases for defense versus non-defense programs]. That's the most important part of it. … [President Barack Obama's] policy said you can't do anything in sequestration for the military that you won't do for all the other non-defense agencies.
Q: Now that topline funding has been agreed on for fiscal year 2019, do you think we can expect to get full-year appropriations by the start of the fiscal year? Or do you think there's going to be another series of continuing resolutions?
A: The Democrats are going to be for the CRs [so] it's going to be very difficult for us to do because of the Senate rules.
Looking up through the November election you have …. eight or nine endangered species on the Democratic side, and of course a lot of them are in strong Trump states and strong national defense states. So it could very well be that we get some votes from the Democratic side [for an appropriations bill that provides the agreed upon funding for the military]. … That's wishful thinking maybe.
Q: The recent budget agreement lifted the Budget Contract Act spending caps for fiscal years 2018 and 2019. But they are slated to go back into effect in fiscal years 2020 and 2021. Do you have any concerns about that?
A: Here's the problem that you have. We're pretty well taken care of through FY 18 and FY 19 but all that ends. And so we're going to have to plan on that because nothing would be worse than to go through what we've gone through to take care of the problem that we have with the military.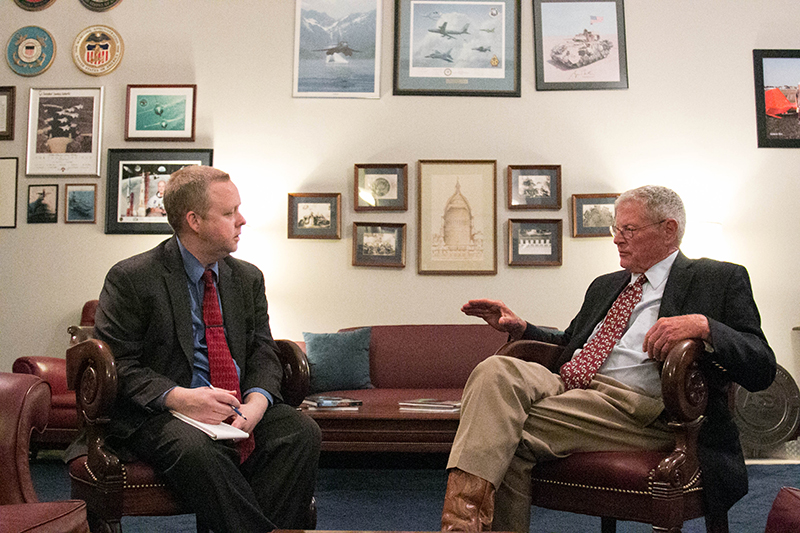 National Defense reporter Jon Harper interviews Sen. James Inhofe in his Senate office. (Photo: Melanie Yu / NDIA)

Q: Do you anticipate that there might be another two-year budget deal for 2020 and 2021 where the BCA caps are lifted to a certain degree?
A: The reason it's so hard to answer that question is because the elections are going to be taking place. … If the Republicans remain in control I'd say that there's a good chance that fiscal year 2020 on is going to be very similar to the current buildup … because we have broken parity and that's huge. And that was one of the things that was in this budget deal that made it just absolutely necessary from a defense perspective to vote for it.
Q: Do you have any concerns about the health of the defense industrial base?
A: Yeah. I can remember particularly in my House years … we had so many huge defense contractors and it had been that way for a long period of time. But now there's a fraction of the number of defense contractors that are out there, so it puts [the government] in a position where we don't have the bargaining power that we had back in those days. And so yes, I think our industrial base is in a very difficult position right now for us. It's in a position where it's more favorable to defense contractors than it is to our military. … There's just no competition out there.
We're kind of held hostage if you look at a major system that might disappear. … I haven't heard of a legislative fix to something like that … and I don't know of anyone who's really proposing it.
Q: The Air Force is trying to kill off the JSTARS recapitalization and use other systems to fulfill that battle management and command-and-control mission requirement. Do you think that's a good idea?
A: Here's the problem as I see it. The ones who are trying to make the changes are the professional military people … [but] it's a natural thing that politics enters into it. That is to be expected. And so there are some members of the Senate and members of the House who have programs that are prominent in their — I'm trying to say this nicely — in their states or their districts. … I would lean toward giving more weight to the commanders and the Pentagon … [but] I don't know who's going to win on that.
Q: Long-range precision fires is one of the Army's top modernization priorities. Is that an area where you see more investment needs to be made? Is that one of your top priorities?
A: Yes. And it is being made right now. Artillery and the long-range fires — that's [based at] Fort Sill. It happens to be located in Oklahoma. … And yet we still have two giants [China and Russia] out there that are outranging us and out-rapid firing us. But that's one of my interests, … that's one that is a priority of mine.
Q: Do you anticipate that President Trump will continue to push for high levels of defense spending throughout the rest of his administration?
A: Yes. … He'll use the power of the White House, and of course if we [Republicans] have the majority it's going to continue to be that way.
Q: Kratos Defense recently announced that it is opening up a production facility in Oklahoma for unmanned systems. Is that an area of technology where you expect to see budget growth?
A: I do. … To be competitive with the other superpowers we have to do it. We don't have a choice. … Our opposition has drones and we want to have better drones than they do.
Q: Pentagon leaders currently want to always have a man in the loop when it comes to using unmanned systems to apply lethal force. But in the future China and Russia might not have the same qualms about delegating that kind of authority to their unmanned systems. For tactical and operational reasons as the speed of warfare increases, do you think the Defense Department might eventually need to take a similar step and delegate that lethal authority to machines as artificial intelligence technology improves?
A: I think the answer is yes. … There's a low tolerance to discovering that China and Russia have something we don't have or something better than we have … so I think that will take care of itself.
Q: The Trump administration's Nuclear Posture Review is proposing a new sea-launched cruise missile and smaller-yield warheads. Do you get a sense that there's support on the Hill for funding those new capabilities, or do you think there will be too much political opposition?
A: It depends. … If the Republicans maintain their majority status, I think that we'll be able to do that.
Q: Current modernization plans for the nuclear triad are projected to cost more than $1 trillion when operations and maintenance costs are factored in. Do you think that there will be enough political support to fully fund those efforts?
A: The problem that we have with our triad system is it's been around forever. … You could argue that [China and Russia's] triad systems are actually more modern. … If that is true then there should be, of all places where the public would be behind us, a demand to be superior in the triad system.



Topics: Defense Department, Advanced Weapons, Technology Tomorrow