Revitalizing the Air Force's Aging Four Horsemen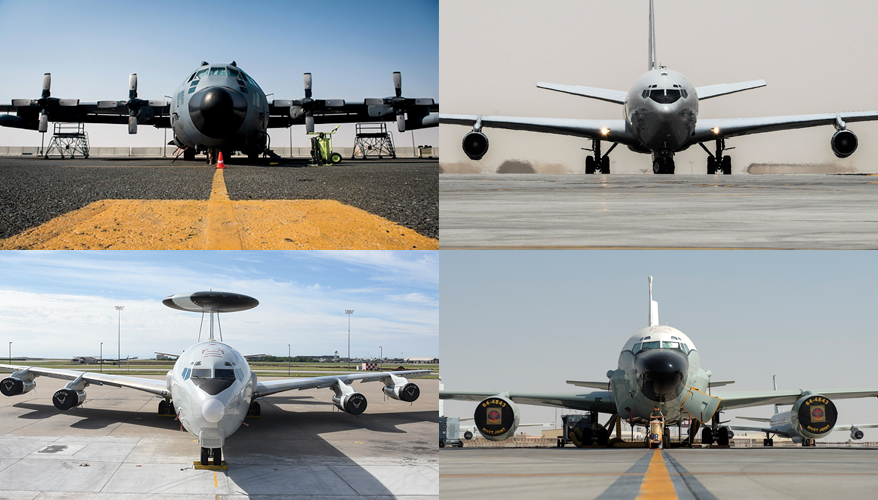 Clockwise: Compass Call, JSTARS, AWACS & Rivet Joint
Photo: Air Force
Today's battlefield requires a fully interoperable grid and near instantaneous data sharing. Intelligence, surveillance and reconnaissance information sharing and exploitation with strike platforms has become a mainstay of the modern battlefield.
Sensor system architecture on ISR platforms is a composite of numerous subsystems interleaved into an integrated modular avionics suite. Their information products empower warfighters with a technological battlefield advantage.
It is assumed that as systems age, they become obsolete. In many cases, that is correct, but not for Compass Call, JSTARS, AWACS and Rivet Joint, the U.S. Air Force's four horsemen of the battlefield. In fact, field commanders and intelligence organizations over the years have come to depend more heavily on these four sensor systems for situational awareness in the airborne, ground and surface environments.
As these four assets move through the decades, their importance grows, but their platforms age — exceptional daily maintenance and timely depot refurbishments have their limits. Thus, mission readiness is jeopardized. The recent Air Force decision to rehost the Compass Call system on a newer platform opened discussion on all four assets.
Here are some optimal strategies for recapitalizing each of the four horsemen.
Compass Call, a tactical command, control and communication countermeasures system, identifies opposing forces' lines of communication and disrupts those links, nullifying the opposition's ability to issue orders and allocate power.
The agility of combatant forces is severely hampered with the loss or degradation of communications necessary to reposition forces and employ alternative engagement tactics. Compass Call has proven its worth since initial operating capability was achieved in 1983. Whereas its value grows with each deployment and mission and the system of systems value increases with each passing year, the host aircraft become more difficult to maintain. Some aircraft have been flying for half a century and present tremendous maintenance challenges.
For the Compass Call rehost, the Air Force required the principal sensor system provider to identify an appropriate new platform. To reduce development expenses associated with moving to a new platform, the Air Force stipulated that the platform should be commercially available and capable of being missionized for military and system application.
This acquisition strategy was used previously for the Joint Surveillance Target Attack Radar System (JSTARS): the sensor system provider led the effort to host the most advanced air-to-ground sensor system on a stripped-down C-135 aircraft. The sensor system provider, as the prime contractor, installed the system, configured the cabin, placed the antennas and much more. This successful experience accommodating a sensor to a new platform may very well be the precedent for Compass Call.
Yet this approach to acquisition generates complaints. Aircraft manufacturers protest that the sensor system provider will not look objectively at all available commercial platforms, that previous business relationships will taint the evaluation, and that unique aircraft features will not be valued appropriately. In response, the Air Force agreed to oversee platform selection to ensure fairness and proper assessment of potential platforms, but aircraft manufacturers remain uneasy with this acquisition strategy.
Some manufacturers are reluctant to share their proprietary design information and necessary interface control documentation with the sensor system provider, which makes it difficult for the sensor system provider to assess aircraft capabilities.
By holding this information close, aircraft manufacturers believe they are ensuring they will play a pivotal role in the rehost effort; however, competitors that offer full disclosure may have an advantage in the acquisition process. In the final analysis, aircraft companies' concerns are unwarranted: aircraft manufacturers by necessity will play a critical role in the rehost effort because so many tasks, such as power budget, antenna placements, electromagnetic interference, cabin layout and weight and balance fall into their portfolio of responsibilities.
Recently, the Government Accountability Office dismissed protests from Boeing and Bombardier and awarded L3 Technologies the role of system integrator, as such allowing L3 to select the airframe for the Compass Call sensor suite. Indications are that L3 has chosen the Gulfstream G550 aircraft as the new host platform. This seems logical: when the sensor system is the primary consideration and there are no plans to change it out, the sensor system provider can lead the acquisition. However, when the platform is centric, for example, in bombers, fighters and cargo aircraft, it is reasonable to assume the aircraft manufacturer will be prime.
"As these four assets move through the decades, their importance grows, but their platforms age."
Success of the Compass Call acquisition strategy hinges on its ability to use documented established costs applied to a green aircraft and assurance that "existing systems/subsystems" will be rehosted. The only variable cost should be that of integration onto the new platform, which by no means is a simple cost to forecast. But, assuming the initial contract for the first rehost effort is a mix of fixed price and cost-plus, follow-on contracts should convert quickly to all fixed price.
The successful JSTARS acquisition strategy, and subsequent selection of E-8, which served as the catalyst for Compass Call, is now over 20 years old, and the host aircraft is significantly older.
However, now as in 2007, the Air Force in the fiscal year 2019 budget request has decided once again to cancel the JSTARS recapitalization program in favor of a network of existing and new sensors linked to a ground command-and-control element.
The composition of the network with an explanation regarding how the ground moving target track functionality will be ensured has not been fully defined, but nonetheless, appears to be the path chosen.
With a must-address threat from North Korea, expanding Russian influence in the Middle East and Eastern Europe, and growing Chinese hegemony in the Pacific, is this the right time to bench proven technology for a notional sensor network? This is a question the Air Force needs to answer.
More than 10 years ago, U.S. allies and international partners realized the airborne warning and control system, or AWACS, was vital to their air forces; however, the aircraft and systems were reaching their operational limits and a next-generation system was required.
The principal AWACS contractors and the Royal Australian Air Force sat down with a clean sheet of paper and specified what the next system should look like. After years of development and the many inherent challenges of pushing the state of the art, Boeing and Northrop Grumman produced one of the most sophisticated airborne early warning and control (AEW&C) systems: E-7 Wedgetail.
AWACS recapitalization, in essence, has occurred outside of the U.S. Air Force. This upgrade to a sophisticated electronically scan-controlled radar hosted on new 737 platforms is in the inventory of several air forces around the world, and is proving its worth in the field. Approval to export this advance development effort has perhaps yielded a recapitalized AWACS to the benefit of a strained
U.S. Air Force budget. With risk retired and a business relationship already established, the Air Force has a logical starting point for recapitalizing its own AWACS fleet.
With Compass Call aligning its acquisition strategy with that of the successful procurement of JSTARS, which is commencing its own recapitalization cycle, and the AWACS next-generation system already fielded by foreign air forces, the only true unknown in rehosting the four horsemen is Rivet Joint.
Although all four systems are unique, the Rivet Joint electronic surveillance system is probably the most complex. Its peacetime and wartime missions are to serve the intelligence and operational commander's needs. According to Air Force data sheets, several variants of the RC-135 are tailored to specific mission needs. What is concerning is the number of flight hours — some as high as 50,000 — on the platforms and that electronics suites were procured when analog governed systems configurations.
Rehosting the immense Rivet Joint sensor system, with its numerous subsystems, will require considerable planning to ensure no loss of operational performance on a new platform. The sensor system provider, acquisition authorities and operators must work collectively and quickly to establish an appropriate acquisition strategy.
Assuming the Compass Call acquisition strategy succeeds, it would not be surprising to see Rivet Joint recapitalization plans following a similar path soon. Because of the system's intricacy, complexity and density, the Air Force should not delay starting the acquisition process.
With the focus on reducing schedule and cost risks, commercial aircraft present the logical options, but in some cases smaller cabins with less crew space could affect the system's ability to counter large opposing-force engagements. Furthermore, aircraft platforms inherently last multiple years, but electronic suites in many cases follow Moore's Law, and need to refresh on a more frequent basis by the system provider while mapping to the overall strategy of reducing eventual recapitalization risks.
Just as Knute Rockne's four horsemen made gridiron success possible for Notre Dame in 1924, the Air Force's four horsemen of the battlefield make victory possible for our troops today.

John C. Johnson (jjohn4236@yahoo.com) is a retired Air Force colonel and former vice president and general manager of the electronic systems sector at Northrop Grumman.