ROBOTICS AND AUTONOMOUS SYSTEMS
Company Takes New Approach to Counter Drones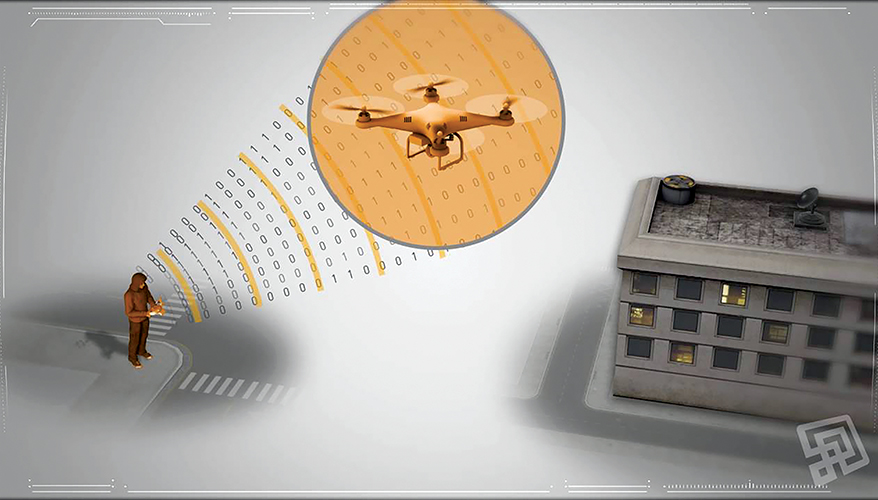 Photo: Department 13
A Maryland-based defense company is partnering with Raytheon to sell a counter-drone system to U.S. special operations forces and other defense agencies.
Department 13 recently announced the collaboration for the sales of its existing Mesmer system, a non-jamming software-based platform that uses protocol manipulation to take control of an unmanned aerial system and land it safely. The technique allows the user to identify threat signals before entering a given area, said Jonathan Hunter, CEO and chairman of the board of Department 13. It also allows for greater ranges than traditional jamming methods, he added.
"We're affecting radios … two, three, four kilometers away, as opposed to normal jammers [that] do not get that range," he said.
Most transmitters are constantly communicating on a radio frequency that is essentially "waiting for a connection, a handshake, to occur," he noted. Mesmer detects that signal, identifies it as a threat protocol that is being sought, and then sends a command out to mitigate the protocol to disable the drone, he added.
It only takes a few moments for the system to track and identify the enemy drone, then with just a click of the button the asset is neutralized and the user can move onto the next target, Hunter said.
The system offers an alternative solution to jammers for U.S. military forces to counter unmanned aerial systems in various areas around the globe, he noted. "When you're doing secure operations in the middle of nowhere, [if] you turn on a jammer you basically tell the enemy, 'Hey, the Americans are here,'" he said.
The technology for Mesmer stems from work the company did under a 2014 contract with the FBI to counter improvised explosive devices, in partnership with the Johns Hopkins University Applied Physics Laboratory, he added.
Nine Mesmer units have been sold to three separate customers on three continents, he added. The U.S. government is not currently a customer, but the company is actively pursuing that opportunity, he said.
"I would say we went a long ways … with our announcement about our relationship with Raytheon," he noted. The company is actively conducting trials for the Pentagon in the first quarter of 2018, he added.
Department 13 continues to develop Mesmer so that it can be integrated onto a vehicle or small enough to be carried by a soldier, as a small sensor or in a backpack, Hunter said. Future efforts also include coordinating multiple units to increase the range and affect more target radios, he added.
Under the partnership, Raytheon could add complementary sensor capabilities, increase situational awareness and add command-and-control systems to allow Mesmer users to deploy large multi-node anti-drone systems, according to Department 13.
The company will participate in the SOFWERX-funded ThunderDrone competition this quarter as well as attend the National Defense Industrial Association's Special Operations Forces Industry Conference in May, Hunter said.
Topics: Counterterrorism, Robotics, Robotics and Autonomous Systems