Air Force Vice Chief: Service Must Shrink Requirements Timeline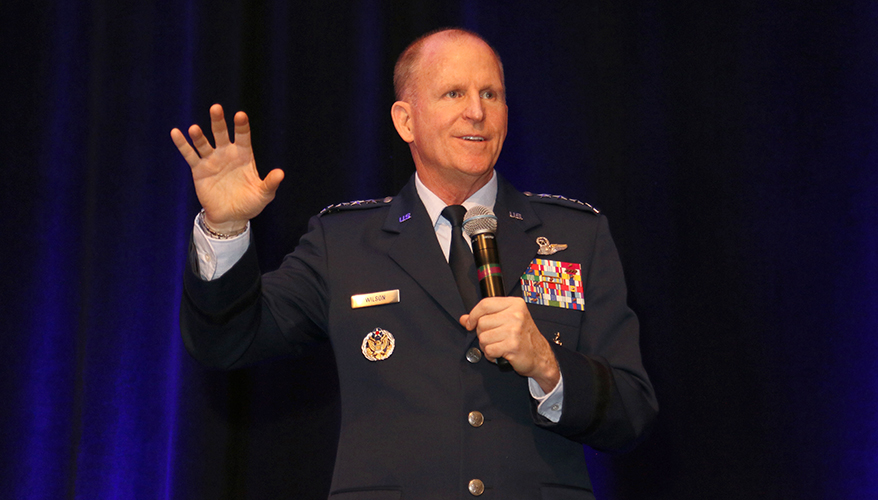 Gen. Stephen W. Wilson
Photo: NDIA
As adversaries such as China and Russia continue to invest in new capabilities that can challenge the United States' military overmatch, the Air Force is looking at ways to speed up technology development, said the service's vice chief of staff March 7.

One way is to streamline the cumbersome requirements process, said Gen. Stephen W. Wilson. Currently, the service has to go through capabilities-based assessments, analysis of alternatives, initial capabilities documents and other steps before it can begin a program.

The Air Force has "got to change the front-end piece on the requirements," he said during remarks at the National Defense Industrial Association's Cyber-Enabled Emerging Technologies Symposium in McLean, Virginia. "It takes way too long before we even start into the acquisition process."

The United States used to be able to move quickly on acquisitions, he said. Wilson pointed to the development of the Lockheed SR-71 Blackbird long-range reconnaissance aircraft in the 1960s as one example.
Those working on the project didn't have the benefit of modern computers to assist them. The design was complex and the titanium used to build the aircraft was still new technology, he noted.
"The requirements document was eight pages, the program was led by a major, the team was nine people," he said. "It went from idea to bend metal to produce the first airplane in 22 months. ... How do we get back to that?"
It's not just the requirements process that is cumbersome, he said. Contracting and testing processes also need to be improved.

"It's all those pieces," he said. "[We] can't do them how we've been doing them. … I have got to be able to pack them in together with a small, empowered team."

Wilson said the Air Force's Rapid Capabilities Office is one place where the service is streamlining those processes well, he said. "How do we do that more broadly across our Air Force?" he asked.

Russia and China are developing new technology quickly, he noted.

"They are moving at speed and scale unlike anything I've seen in my time in service," he said. "We need urgent action. … We just can't be complacent and be sitting back in this great power competition."

He noted that China has stated it wants to be the global leader in artificial intelligence technology by 2030. It is also investing in hypersonics and quantum computing. "Those are definitive areas that … [Chinese President Xi Jinping] has laid out with milestones to be able to march to," Wilson said.

Russia is developing sophisticated electronic warfare and information operations capabilities, he noted.

The military will have to look to industry and academia to help it meet these challenges, he said.
Topics: Cyber, Cybersecurity, Infotech, Information Technology