NDIA PERSPECTIVE DEFENSE CONTRACTING
Getting 'Left of Boom' on Sexual Misconduct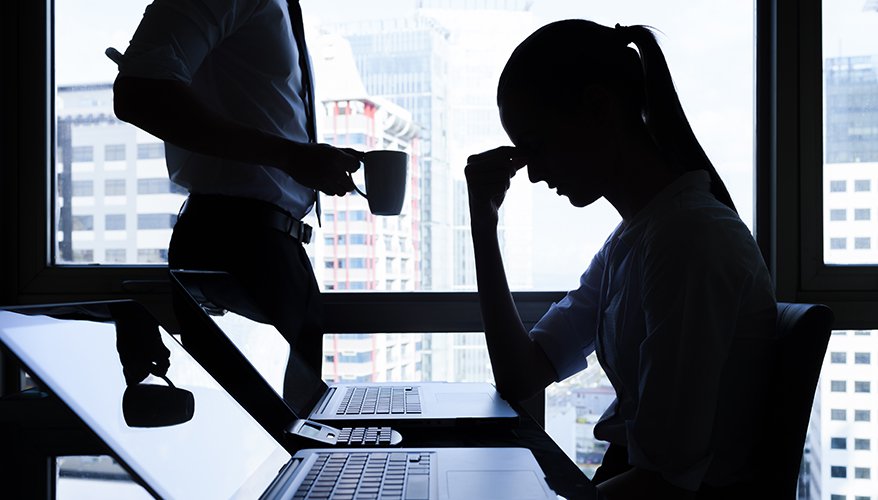 Photo: iStock
The defense community must tackle the threats sexual assault and harassment pose in the same way it attacked the threats posed by improvised explosive devices, by targeting the threat prior to an explosion. We need to get left of boom.
When IEDs began killing Americans in Afghanistan and Iraq, the defense community, government, industry and academia coalesced. Together they developed solutions, tactics, techniques and procedures to find, fix and finish bomb-making networks before they could plant explosives targeting the coalition.
The defense community quickly tackled the threat because — although the attacks were tactical — leaders understood large numbers of coalition IED casualties would drive strategic challenges to maintaining support for operations.
Today, the defense community faces another threat with strategic implications. Each instance of sexual harassment and assault is both a tactical attack against an individual and an operational attack against a specific organization's culture, reputation and ability to achieve results. Aggregated, these attacks pose a strategic threat discouraging the best talent from participating in efforts to solve America's largest security challenges.
It can be difficult to quantify the threat due to the diffuse nature of the defense community. However, a broad 2014 RAND Corp. workplace study provides some insight into the scope of the problem.
The study found 7 percent of active duty men and 22 percent of active duty women experienced harassment over the previous 12 months, and 1 percent of men and 4.9 percent of women had been sexually assaulted. Additionally, respondents reported supervisors or unit leaders committed 60 percent of the harassment incidents.
The #metoonatsec letter, signed by 223 national security and defense professionals, also illustrates the scope of the threat. The signatories either experienced workplace harassment and/or assault or know someone who did. Since women make up 51 percent of the population, they comprise 51 percent of the potential talent available to solve the nation's toughest national security and defense challenges. Sexual assault and harassment in national security workplaces limit women's contributions, thereby weakening America's defense. We cannot allow this level of threat to continue within the defense community.
"When the burden of working in a toxic culture … becomes too great, talented people leave. In the worst case, they sour on the defense and national security sector altogether."
The same defense community partnership that previously targeted IEDs now needs to build and execute a coordinated campaign to tackle this strategic threat left of boom. This partnership can lead the development and implementation of training, reporting and accountability processes to prevent and deter sexual harassment and assault.
Failure to act puts our warfighters at increased risk because the defense workforce will lack the full strength of American intellect, ingenuity and initiative to attack the toughest threats.
This challenge is not easy. There is an insidious nature to sexual harassment. It can begin as playful banter or sophomoric humor. Yet, these are the seeds that grow into threats, placing many in danger, ruining careers and corporations and putting national security at risk. Many people either don't recognize these early indicators or choose to ignore the behavior when they see it.
At the low end of the spectrum, sexual harassment also involves stereotyping and treating people in ways that marginalize their contributions. If you've ever participated in a meeting where women were either not in the room or at the table, not allowed to express their ideas, or where men appropriated women's ideas, you've seen harassment.
If you didn't immediately recognize, highlight and correct it, consciously or unconsciously, you normalized this behavior. An organization which accepts harassing behavior implicitly creates conditions for more damaging behavior further up the spectrum. Put differently, "if we walk by a problem, we've set the new standard."
The power dynamics of sexual harassment exemplify Thucydides' maxim, roughly translated, "[T]he strong do as they wish, while the weak suffer as they must." Culprits harass because they can, because they occupy positions of power and use that power to degrade and dominate subordinates. Victims frequently choose to remain silent because they need their jobs, or they feel silence protects their careers. They may also fear others in the organization will not believe or support them.
When the burden of working in a toxic culture, a culture tacitly condoning the powerful targeting subordinates, becomes too great, talented people leave. In the worst case, they sour on the defense and national security sector altogether, and we permanently lose the very talent whose ideas and ingenuity may have unlocked the answers to our most wicked problems.
Strategically, the defense and national security community cannot afford to lose access to large segments of America's talent. To strengthen the defense industrial base and workforce, the defense enterprise must attract, develop and retain the nation's best talent. We need to create a culture where everyone respects the dignity and value of everyone else, and where the powerful do not and cannot threaten or oppress their subordinates.
To attract the best talent, the defense community needs a national effort like the anti-IED campaign to help us get left of boom — to prevent and deter sexual harassment and assault. Our ability to maintain a competitive edge, to successfully solve the complex defense and national security challenges we face, depends on our success.

Rachel A. McCaffrey is executive director of National Defense Industrial Association affiliate Women In Defense.

Topics: Defense Department, Defense Contracting, Business Trends