Early Warning Tools Needed for Chem-Bio Defense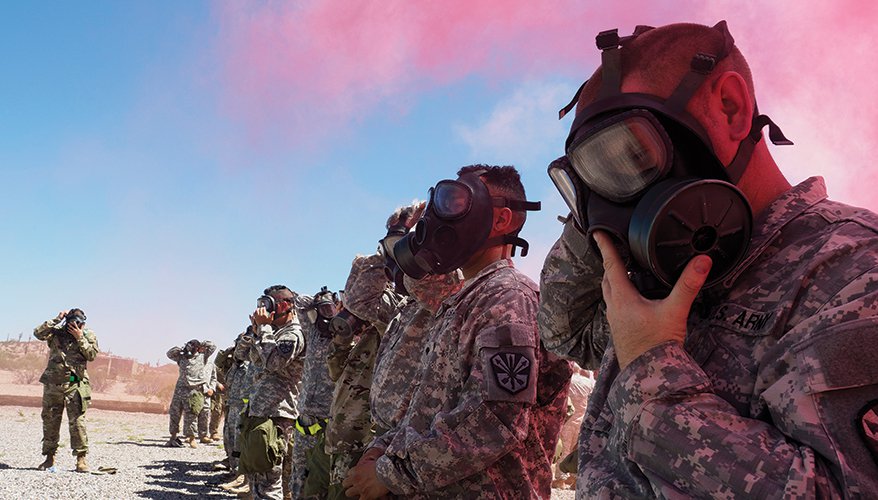 Photo: Defense Dept.
The U.S. military is in need of new tools that can provide early warning for chemical and biological contamination on the battlefield and connect to commanders' networks, one defense official said.
Integrated early warning is "probably our No. 1 priority," said Ronald Hann, director of the chemical and biological technologies department at the Defense Threat Reduction Agency. "If we can know where an attack is at, we can avoid it, we can make sure people are protected."
This information could come in a combination of sensors, networks, artificial intelligence technologies and big data, he said at a recent National Defense Industrial Association event. That would allow troops to know an attack has occurred, then alert people nearby and help them get somewhere safe, he noted.
Some of the tools that were developed in the past are not connected to data networks used by commanders in the field, he noted. "Having a separate standalone system doesn't necessarily help a commander, because you still have to have a person standing there and monitoring a separate system, and then come over to another [commander] and try to visualize" what to do next, he said.
Future systems could be part of the Army's Nett Warrior integrated dismounted leader situational awareness platform, he noted. The agency is looking at applications that could go on an Android-based device "that would go straight from [science and technology] development through the cyber component to ensure everything is going to work and can't be spoofed, right into the Nett Warrior future systems," he said.
He added that commanders use about 17 separate common operating pictures across the theaters. "How do we make sure that we're integrating all our … early warning programs into those?" he said.
The U.S. military also needs help transferring data from chemical and biological sensors to the commanders' common operating pictures, Hann added.
"We don't own that data transfer part within our program. That's a significant problem for us," he said. "What that means then is every sensor that we have on the battlefield that's a chem-bio sensor has to be monitored by a person. … That dramatically slows down" reaction time.
Hann referred to the popular augmented reality game "Pokemon Go," noting that its map overlay technology could be useful in this area. Troops could be traveling in a convoy down one road and receive a contamination notice through their devices, which would then provide an alternative route.
"You don't even have to go into contamination; the AI in the system did it for you," he said.
Topics: CBRN, Chem Bio Protection