AMC Commander: Logistics, Sustainment Considerations Critical for Modernization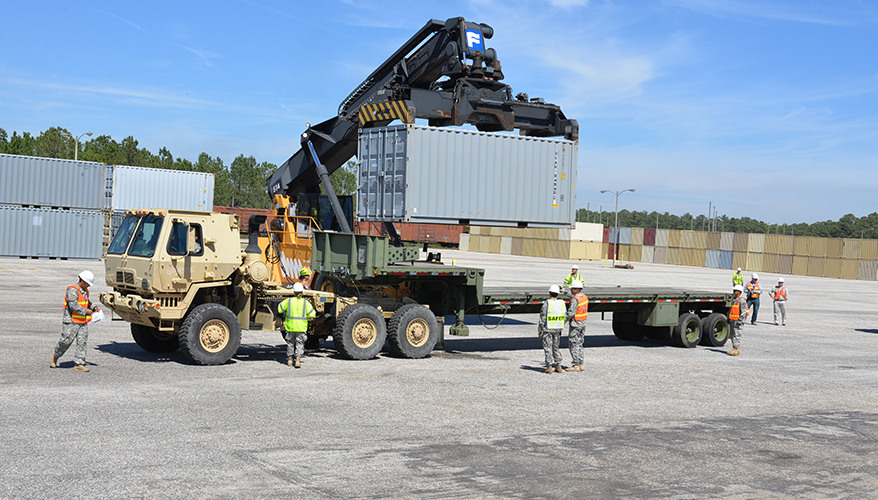 Photo: Army
HUNTSVILLE , Ala. — The Army must focus on logistics and sustainment considerations as it seeks to modernize the force and counter advanced adversaries, a top service official said March 27.
Eight cross-functional teams have been established to help the Army pursue its top modernization priorities and speed up the technology development process. They are focused on: long-range precision fires; the next-generation combat vehicle; future vertical lift; network command, control, communication and intelligence; assured position, navigation and timing; air and missile defense; soldier lethality; and the synthetic training environment.
Gen. Gustave "Gus" Perna, commander of Army Materiel Command, said he is working to ensure that the new cross-functional teams are integrating logistics and sustainment considerations "early in their decision-making process, not at the end."
"I work horizontally through the … CFTs to ensure that they are thinking about this capability," he said at the Association of the United States Army's Global Force Symposium in Huntsville, Alabama. "What we need to do is come together — the industrial base and Army Materiel Command and [the office of the assistant secretary of the Army for acquisition, logistics and technology] — in executing this," he said. A collective effort would "ensure that the sustainment and logistics of the force is thought about early," he added.
Perna encouraged industry to partner with these organizations to further the service's modernization efforts and provide ways to logistically support new equipment on the battlefield. Part of this involves changing the "status quo" and cutting through bureaucratic red tape that prevents the Army from delivering capabilities at quick speeds, he noted.
"Our enemy is not constrained by our bureaucracy or our funding," he said. "Our enemy is producing innovatively to defeat us on the future battlefields. So the question is: are we going to admire the problem or are we going to do something about it?"
The Army's new Futures Command, scheduled to be fully operational by next summer, will allow the service to be bold and innovative in pursuing new capabilities, he said.

"It's going to provide us agility," he said. "It's going to allow us to be adaptive. It is about giving us the advantage and the enemy the disadvantage. It will allow [Forces Command] to focus on training and readiness. It will allow AMC to focus on sustainment and logistics. … The simplicity is brilliant."


Topics: Army News, Logistics, Logistics and Maintenance