Army Speeds Up Manned-Unmanned Combat Vehicle Test Schedule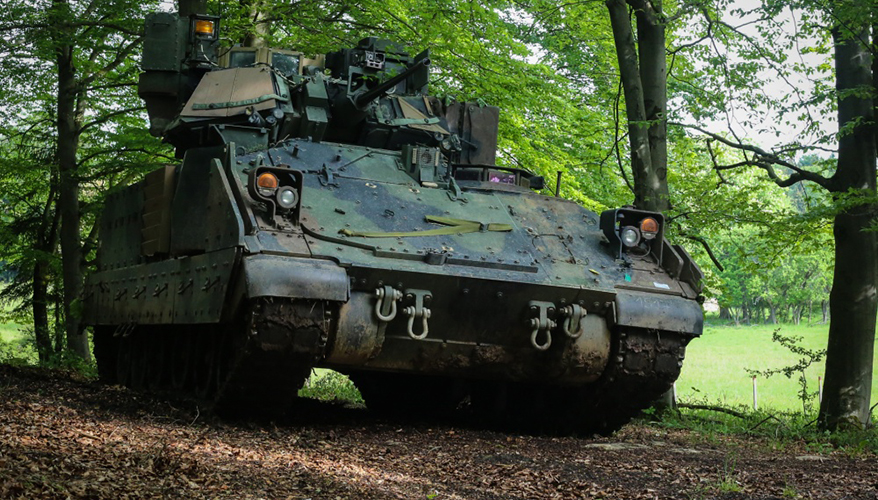 Photo: Army
HUNTSVILLE, Ala. — The Army plans to field its first series of experimental robotic combat vehicles as early as 2019, service officials said March 26.

The work will involve creating manned and autonomous prototypes designed to work together, according to Brig. Gen. David Lesperance, the director of the next-generation combat vehicle cross-functional team. The Army has long cited the need to develop new combat vehicles while it relies on incrementally upgrading its current systems for near-term use.

"Imagine making contact with the enemy with an unmanned robot and allowing a decision-maker to understand quicker and then make a better decision out of contact. Then move to a position of advantage to deliver decisive lethality in a way that we do not do now in 100 percent manned platforms," he said March 26 at the Association of the United States Army's Global Force Symposium in Huntsville, Alabama.

The service has already begun the first phase of the work, which involves developing two manned fighting experimental prototypes and four unmanned platforms, he noted. The vehicles are scheduled to be delivered in the fourth quarter of 2019, he said.

"They'll go through an official safety certification test through [Army Test and Evaluation Command] and then in first quarter of '20, issue those to units for extended experimentation and evaluation, which includes both live-fire and force-on-force maneuver events," he noted.

A second phase will include a set of "purpose-built" vehicles to be delivered to ATEC in 2021. Testing those systems with units is scheduled for the second quarter of 2022, he said.

This step will be different in that it is focused on examining what ideas industry has to offer for the platforms, said Col. James Schirmer, project manager for armored fighting vehicles.
Rather than provide companies with a "traditional prescriptive list" of what it wants, the service intends to "draw a larger box and see what industry can provide," he said.

"Phase one focuses on manned-unmanned teaming and starting to solve some of the technical problems about how a crew controls a vehicle that's distant … what sort of displays do we use, how do we make this feasible. Phase two will be the art of the possible for the whole system," he said.

Phase three will involve delivering prototypes in the first quarter of 2023 for ATEC testing. They will be sent to units for further testing in in the fourth quarter of 2023, Lesperance said.

"And this is a seven-manned fighting vehicle, 14 robotic combat vehicle unit set that has the potential not only to be used at home station, but also to be taken by a unit to go to one of our combat training centers for more rigorous, realistic combat training center rotational ... stress," he said.

Both the manned and unmanned systems will need to be operationally adept in dense, urban environments, Gen. Robert Abrams, Forces Command commander noted.

"It's got to be 10 [times] better than our current fleet and guarantee our overmatch into the future," he said. Besides autonomy, the service is also examining ways to integrate directed energy, vehicle protection suites, and advanced armor, he noted.
Topics: Army News, Robotics and Autonomous Systems, Robotics