New Undersecretary Griffin Asserts Role as Pentagon's R&D Leader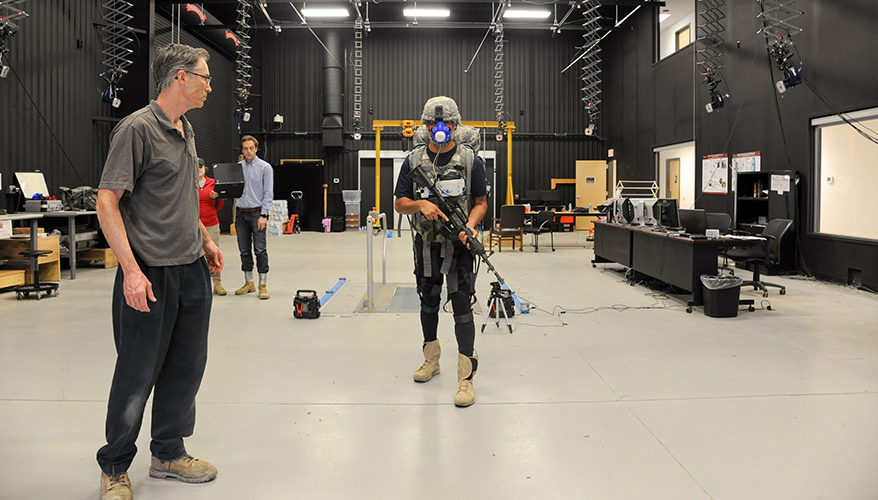 Researchers evaluate a DARPA Warrior Web prototype.
Photo: Defense Dept.
AUSTIN, Texas — The Defense Department's new Research and Engineering office will take a more assertive role in setting the direction of U.S. military technology development, a senior official from the new organization said March 20.

The undersecretary of defense for research and engineering "will set the technical direction for the department, not just recommend," a slide displayed at the National Defense Industrial Association's Science and Engineering Technology conference in Austin, Texas, stated.

A proposed reorganization of the Pentagon's research-and-development enterprise would also place organizations such as the Defense Advanced Research Projects Agency, Strategic Capabilities Office and the Defense Innovation Unit-Experimental directly under R&E supervision, according to another slide.

The research and engineering office was carved out of the former office of the undersecretary of defense for acquisition, technology and logistics, with R&E being responsible for basic and applied research and the new undersecretary of defense for acquisition and sustainment responsible for fielding weapon systems through their lifecycles. The long-planned split went into effect Feb. 1. Michael Griffin, a former NASA administrator, stepped into his new role as R&E undersecretary a few weeks later.
Mary Miller, performing the duties of the assistant secretary of defense for research and engineering, said the root of the organizational changes is the belief that the U.S. military's strength is its ability to fight as a joint force. Griffin believes that R&D should be seen through a joint lens as well, Miller said at the NDIA conference.

All the services are now saying that they must prevail on a "multi-domain battlefield," she noted. Everybody sees the need for this, she said. "However, we need to do one better than that. ... We need to create an architecture that every one of the services can plug into and allows us to trade in information and targeting information and lethal effects among the joint forces."

The new office will work to support the "Networked Multi-Domain Joint Battle." The concept came from a select group of Pentagon leaders convened by Deputy Secretary of Defense Patrick Shanahan, who wanted a new "blueprint for modernization," Miller said. In the deputy secretary's mind, "modernization" didn't mean upgrading equipment, but a whole new way of developing new capabilities, she said.
Technology requirements will be more focused on combatant commanders and speeding up the delivery of what they need, she said. Currently, technology is developed independent of their needs by the services. Then someone must apply a "Band-Aid" to make the technology work in a joint environment, she said.

"This is something we want to get ahead of. We are talking about starting something we call 'mission engineering' where we are looking at: what are those different service capabilities to get the mission done?" she said.

There will be a focus on ensuring that "we can be lethal when we need to be, that we can fight through adversity and target and prosecute the enemy before they can act on us," Miller said.
Adversaries have been watching the U.S. military fight for decades in places like Iraq and Afghanistan, she noted. "They kind of know how we do this." Going forward, there needs to be an emphasis on what the United States can do to achieve surprise, she added.
The Research and Engineering office wants to build on the success began in the previous administration, which tried to reach out to companies outside the defense world through initiatives such as the Defense Innovation Unit-Experimental. All the services now have some kind of rapid capabilities office, she noted. The idea is to speed up the acquisition process and put new capabilities in the hands of warfighters quicker.
"The secretary [of defense] and the deputy regard it as my task to restore defense technology superiority to this country," Griffin said March 21 at a conference in Washington, D.C. "My office is going to be doing everything we can to restore the role of prototyping — advanced prototyping, even operational prototyping — to take new technologies from concept right through demonstration of feasibility. We are going to do everything we can to try to expedite the process."
Early prototyping is critical, Miller said.

"Let's get stuff out earlier. Let's try it out with the warfighter. Let's do what needs to be done knowing that we are not going to get the ultimate perfect solution, but we are going to get pretty darn close," she said. Early prototyping will help inform decision-making on the art of the possible. That is preferable to setting off on a program of record with set requirements that winds up delivering something that is not needed by the time it arrives, she said.

The office will also rely more on intelligence agencies to tell it what adversaries are developing, she said. "We should be tracking what the threat is doing. We should be aware where technology can go," she said. That will further inform the direction the office needs to take fielding new technology and ensure that they don't "misguess" what is truly needed, she added. "That is something we have not always done in the past."

The new office will also have the authority to pilot new ways of doing acquisition and then pass on what works to the undersecretary of acquisition and sustainment, she said.
Additional reporting by Jon Harper.