Appropriations Bill Provides Major Boost in Pentagon Spending (UPDATED)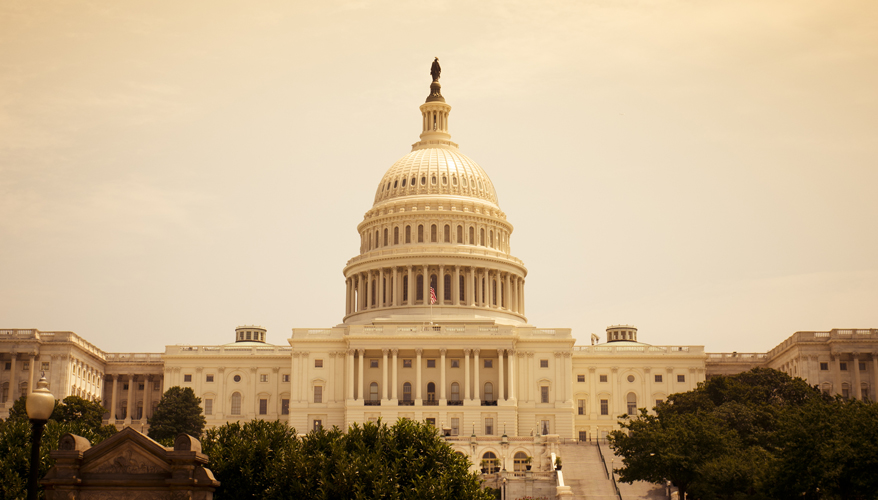 Photo: Getty
Lawmakers passed an omnibus appropriations bill March 23 that would increase the Defense Department's budget by $61.1 billion in fiscal year 2018.
The legislation, which was passed less than 24 hours before the latest continuing budget resolution was set to expire, funds federal agencies for the remainder of the fiscal year, which began nearly six months ago. During a White House press conference, President Donald Trump announced that he had signed it.
The omnibus bill would give the Defense Department a total of $659.5 billion in 2018, about 10 percent more than the 2017 enacted level. That includes $65.2 billion in overseas contingency operations funds. It is the largest year-to-year increase in 15 years, according to a summary of the legislation provided by the House Appropriations Committee.
The bill "will continue to rebuild our military after years of cuts, fund operations overseas, help address growing threats and provide care for our troops," the document said.
About $144.3 billion would go toward equipment procurement and equipment upgrades including $10.4 billion to meet OCO needs. That amount is $19.9 billion more than the president's budget request and $25.4 billion, or 21 percent, over the 2017 enacted level.
Procurement spending includes $23.8 billion for 14 Navy ships, including funding for one aircraft carrier replacement, two DDG-51 guided missile destroyers, two Virginia-class submarines and three littoral combat ships.
Aircraft procurement includes: $10.2 billion for 90 F-35 joint strike fighters; $2.9 billion for 18 KC-46 tankers; $2.4 billion for C/HC/KC/MC-130Js; $1.8 billion for 24 F/A-18E/F Super Hornets; $1.7 billion for 10 P-8A Poseidons; $1.6 billion for 30 new-build and 50 remanufactured Apaches; $1.3 billion for 14 V-22 Ospreys; $1.1 billion for 56 UH-60 Black Hawks; $225 million for 20 MQ-1 Gray Eagle drones; and $103 million for A-10 wing replacements.
Ground vehicle procurement includes: $1.1 billion to upgrade 85 Abrams tanks; $483 million to upgrade 145 Bradley fighting vehicles; $348 million for 116 Stryker Double V-Hull upgrades and $300 million for Stryker lethality upgrades; and $220 million for National Guard Humvee recapitalization.
Space procurement funding includes $1.4 billion for three evolved expendable launch vehicles and $675 million for two wideband gap-filler satellites.
As concerns grow about North Korea's intercontinental ballistic missiles and Russia and China's pursuit of hypersonic weapons, the Missile Defense Agency would receive a total of $11.3 billion including funds provided by a previously passed supplemental.
"This is a really big procurement budget, particularly if you're looking at aircraft," said Katherine Blakeley, a defense budget analyst at the Center for Strategic and Budgetary Assessments, a Washington, D.C.-based think tank. Fighter jets such as the F-35 made out particularly well, she noted.
"It's really a congressional emphasis on buying the systems that we have in production today and growing some of that capacity in order to preserve the readiness of the force and preserve the capabilities that we have," she added. "This is really opening the spigot of procurement funding."
At a time when Pentagon officials are warning that the U.S. military's technological edge is eroding as China and Russia modernize their forces, the legislation would provide $89.2 billion for research and development. That is $5.6 billion more than the president's request and about $16 billion, or 22 percent, over the 2017 enacted level, according to the document.
That money would support R&D for: the F-35; space security programs; the B-21 bomber; the Columbia-class submarine; future vertical lift; the next-generation overhead persistent infrared radar; the joint surveillance target attack radar system recapitalization effort, which the Air Force recently proposed terminating in its 2019 budget request; and other efforts.
Research, development, test and evaluation has been a major emphasis in the president's 2018 budget request, the National Defense Authorization Act, the 2018 appropriations bill and the 2019 budget request, Blakeley noted.
Congress' passage of an appropriations bill that covers the remainder of the fiscal year, coupled with a major boost in defense spending, is good news for those at the Pentagon who have been complaining about having to operate under a series of continuing resolutions that froze spending at 2017 levels and prevented the Defense Department from starting new programs. However, the passage of the legislation so late in the fiscal year, which began Oct. 1, doesn't give them much time to spend the extra funds, officials have noted.
"The Pentagon has not known how much money they're going to have for six months," House Armed Services Committee Ranking Member Rep. Adam Smith, D-Wash., said at the recent annual McAleese defense conference in Washington, D.C., before the omnibus bill was passed. "Now they've got six months to spend a lot of money. It's going to be hard to figure that out."
Some officials hope to be granted authority to spend a portion of the funding appropriated for 2018 in fiscal year 2019.
"We're working with Congress right now to see what kind of authorities we can get so we can cross the fiscal boundary on dollars, … particularly on procurement," Assistant Commandant of the Marine Corps Gen. Glenn Walters said at the conference.
"Some of our conversations over there is, 'Look, you've got to give us a little more time to spend the '18 money. … Just give us the authority for '18 dollars across the '19 line,'" he said.
Walters warned that if that authority isn't given, "the money is going to dry up on the vine."
Smith said lawmakers should ultimately give the Pentagon additional reprogramming authorities.
"What's going to happen is the Pentagon is not going to be able to spend all the money [in fiscal year 2018], so we are going to get a lot of requests for reprogramming along the way," he said. "We are going to set a record for reprogramming requests starting about the second half of this year. … We'll see what those reprogramming requests are and which ones the majority wants" to support.
— Additional reporting by Yasmin Tadjdeh and Vivienne Machi
Update: This story was updated after President Trump announced that he had signed the omnibus bill.
Topics: Budget, Defense Department, Acquisition, Acquisition Programs