Five Shipbuilders Expected Vie for Coast Guard Icebreaker Contract (UPDATED)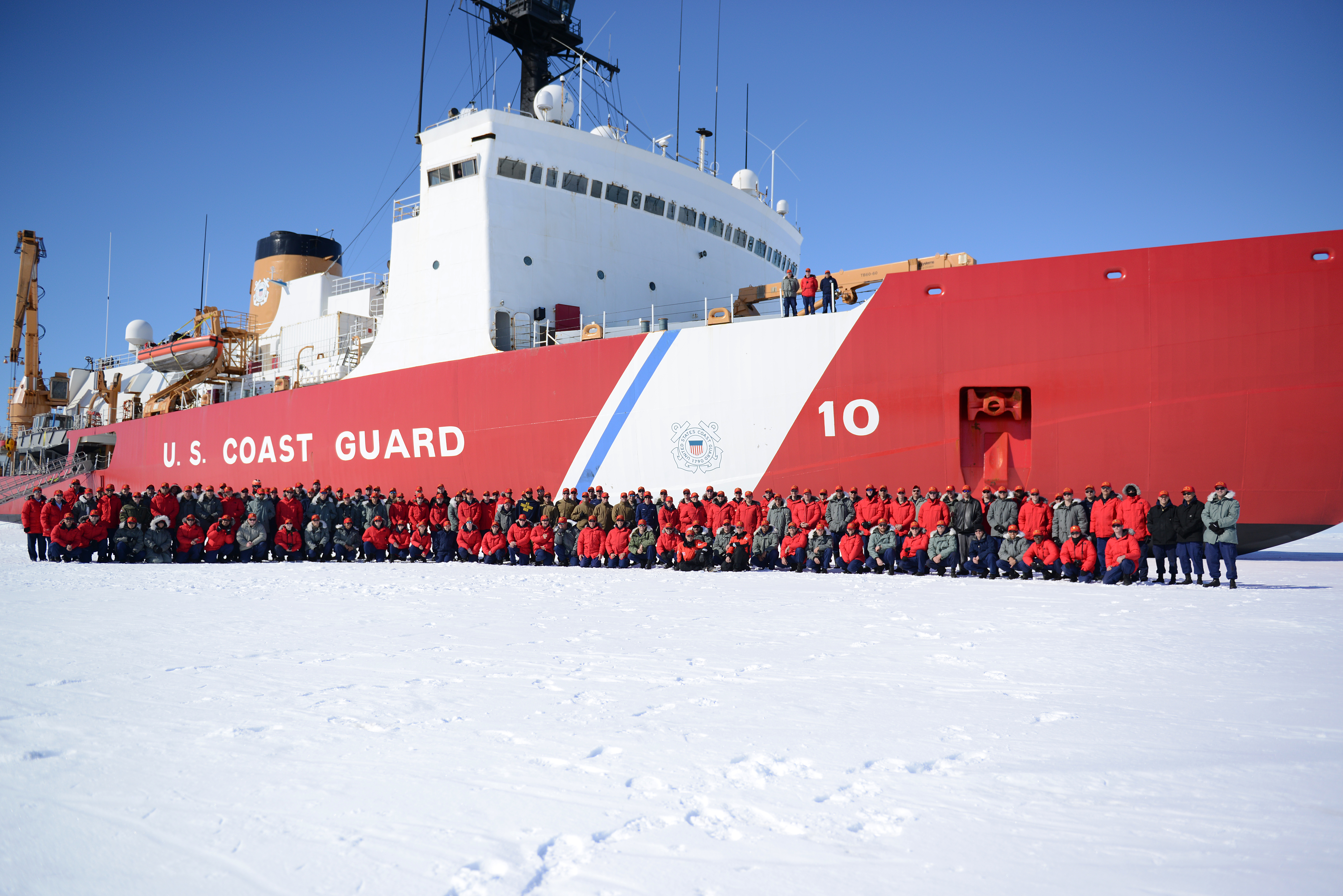 The crew of the Coast Guard Cutter Polar Star poses for a photo on the frozen Ross Sea off of Antarctica, Jan. 11, 2017.
Defense Department
The Coast Guard plans to release a request for proposals for a new heavy icebreaker March 2, according to the service's commandant.

Adm. Paul Paul Zukunft told reporters after his final State of the Coast Guard address March 1 that the RFP will contain a set of requirements for the upcoming vessel, with five potential vendors expected to submit proposals. He did not name the potential competitors, but referred to companies that were awarded contracts last February for the heavy polar icebreaker study. Those companies included Bollinger Shipyards, Fincantieri Marine Group, General Dynamics and National Steel and Shipbuilding Company, Huntington Ingalls and VT Halter Marine, a Coast Guard statement noted.
Plans include fielding the ship in fiscal year 2023 and conducting a block buy for the next set of vessels, he said. The service currently has one working heavy polar icebreaker, the USCGC Polar Star, with the USCGC Polar Sea serving as a parts donor.

"We've been working this for 20 years now, but we're getting out the starting blocks and we need to sprint," he noted.

The service is looking to acquire a total of six icebreakers, which include three heavy and three medium cutters, he said. Zukunft added that the fiscal year 2019 budget request includes funding for this initiative.

The service also hopes to "build some modularity" into the design and might need to weaponize the platform to counter potential aggression from Russia, he noted.
Zukunft said in January that Russia is already militarizing the Arctic and that China has an eye on the United States' resource-rich continental shelf, heightening the need for the United States to expand its capability in this area.

"So maybe you don't need [modularity] up front, but one example is: we need to weaponize the heavy icebreaker," he said. "As you look at what is Russia's intent in the Arctic, are they going to oppose U.S. presence in the Arctic? Can we use another tool other than submarines? Do we need some surface assets? And right now the only thing we have that can operate in an ice environment other than submarines will be these icebreakers."
He added: "We are building out the Coast Guard of tomorrow, and to do that we will need 5 percent annualized growth in operations and maintenance account and a $2-billion floor for acquisitions to continue to do so," he said. "It is a small ask, for the smallest armed service whose full appropriation is less than one line item on the appropriations of the other four armed services."
Updated: This story has been updated to reflect additional comments from the Coast Guard.
Topics: Acquisition, Shipbuilding, Emerging Technologies