DARPA Director: More Funding Needed to Counter Russia, China Hypersonics Programs (UPDATED)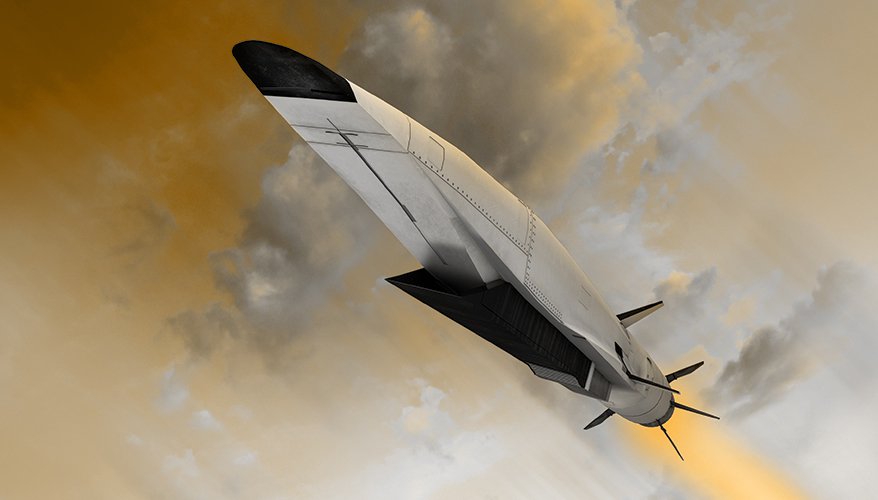 Photo-illustration: Turbosquid, Scott Rekdal
Just hours after Russian President Vladimir Putin announced that his country has developed new hypersonic missiles that could threaten U.S. forces and the homeland, the director of the Defense Advanced Research Projects Agency laid out plans to more aggressively pursue similar capabilities for the United States.

In his state-of-the-nation speech March 1, Putin said a new intercontinental missile called Avangard could fly at a speed of Mach 20, according to a report by the Associated Press. Another new weapon, named Kinzhal, has already been deployed in Russia's Southern Military District, he said. It can fly Mach 10 and has a range of 1,250 miles, he said. Hypersonics is generally defined as speeds higher than Mach 5.

"China and Russia are active in the area of hypersonics [and] have been developing capabilities," DARPA Director Steven Walker noted March 1 during a meeting with reporters in Washington, D.C.
"We do need an infusion of dollars in our infrastructure to do hypersonics," he said. Much of DARPA's testing is taking place in just one facility, he noted.

Last year, agency officials told Defense Department leaders that the United States should be more aggressive along these lines, he said. They "laid out where we thought the U.S. was in hypersonics and where we thought some of our peer competitors were in hypersonics, and really tried to convince the department that we need a national initiative in this area."

DARPA and the military services were allotted more funding for hypersonics development in the fiscal year 2019 budget request, he noted. "I don't think we got everything we wanted but it was a good first step."

The budget blueprint calls for DARPA to receive $257 million for its hypersonics efforts in fiscal year 2019, a 136 percent increase over the 2018 request, according to an agency spokesman.

The extra money would go toward additional flight tests and "getting some of our offensive capability further down the line into operational prototypes," Walker said.

Over the last five years, the agency has been working with the Air Force Research Laboratory to develop air-launched hypersonic missiles. The tactical boost glide and hypersonic air-breathing weapons concept programs are moving forward, and flight testing is expected to ramp up next year, Walker said.

"These will be systems that are very capable," he said. "The speed provides you a lot of range so you can use them from standoff" distances, he added.

DARPA helped the Air Force receive additional funding in the 2019 budget request for a follow-on effort for tactical boost glide systems that could lead to operational prototypes, he said.
The agency is also kicking off a new joint program with the Army called "op fires." The focus will be on increasing the capabilities of the service's long-range fires systems, Walker said.

Additionally, DARPA aims to work with the Navy on a hypersonic air-breathing weapon program and a follow-on effort, he noted.

"This is becoming not just an S&T thing," he said. "The services are engaged and interested in moving forward with real capabilities."

The agency is also working with NASA to develop an advanced full-range engine which uses a combined cycle propulsion system. It could potentially enable an aerial vehicle to fly at speeds of Mach 6, Walker said. Ground testing of the new engine is expected in 2019 or 2020.

Hypersonics is a top priority of new Undersecretary of Defense for Research and Engineering Michael Griffin, Walker noted.

Although the extra money for hypersonics development in the 2019 budget request is welcome, more investment in infrastructure is necessary, he said.

"If you look at some of our peer competitors — China being one — and you look at the number of facilities they've built to do hypersonics, it surpasses the number we have in this country and is quickly surpassing it by [a factor of] two or three," he said. "It is very clear that China has a focus on hypersonics and are making it one of their national priorities, and I think we need to do the same."

Walker said he plans to work with Griffin and NASA leadership to develop a new infrastructure plan to help advance the technology.

Meanwhile, DARPA is lending its expertise to assist the Missile Defense Agency with its efforts to develop ways to defend against these types of weapons. For 2019, MDA requested $120 million for projects dedicated to this mission.

"We were called in … to help inform them on what this hypersonics thing is all about," Walker said. DARPA provided data about its own weapons development efforts and intelligence information about adversaries' work along these lines, he said.

"We were able to give MDA a lot of the information about what's going on elsewhere," he said.

"That was a good springboard for them into the missile defense review and other work that they're doing to look at defending against hypersonics," he added. "My program managers are involved with their folks. Whenever they need us to come look at stuff, we're there."
Update: This story has been updated to include additional budget information provided by DARPA.
Topics: Advanced Weapons, Budget, Emerging Technologies, Defense Innovation