Digitization to Provide Cost Savings for Major Navy Programs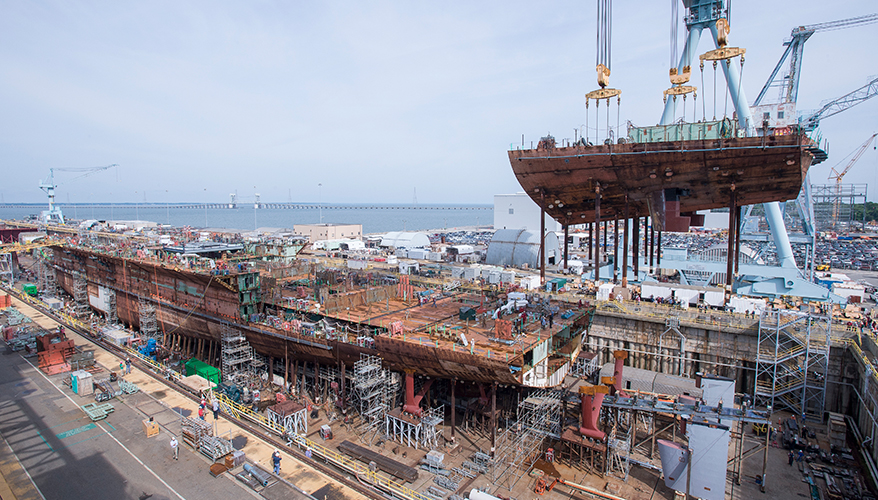 Construction on the nuclear-powered aircraft carrier USS John F. Kennedy (CVN-79) at Huntington Ingalls Shipbuilding in Newport News, Virginia.
Photo: Navy
SAN DIEGO — The Navy could see cost savings on its largest procurements by increasing the use of digital technologies beginning in the research-and-development phase, a senior service official said Feb. 8.
James "Hondo" Geurts assumed the job of assistant secretary of the Navy for research, development and acquisition in late 2017, after many years as the acquisition executive for Special Operations Command. In his new role, he is looking to help the service create different acquisition processes for different programs, he said at the annual WEST conference in San Diego co-hosted by the Armed Forces Communications and Electronics Association and the U.S. Naval Institute.
"Where we're really moving to is a portfolio approach," he said in a keynote speech. "Some things take a long time and they should take a long time because we're going to have them around for 40, 50 years. But that doesn't mean every piece of gear on that ship needs to be built for 50 years" of service.
But even with regard to major procurement programs such as shipbuilding, "you're starting to see the era of digital come," he said. Augmented reality and 3D digital modeling technologies can encourage speed and efficiency among manufacturers at the development stage, and among inspectors and maintenance workers once the platform is fielded, he said.
The service is beginning to see "huge savings" on the construction of the second Ford-class aircraft carrier, the USS John F. Kennedy, CVN-79, thanks to these digital models, Geurts told reporters. Newport News Shipbuilding, a division of Huntington Ingalls Industries, is the manufacturer of the ship.
"I think that's just going to continue," he added. "We've got to figure out how to get those kinds of technologies in so we can drive out the cost of these megaprojects."
One such program is the Navy's forthcoming new configuration of the Arleigh Burke-class of guided missile destroyers. The service released the final request for proposal for a multi-year contract to build the Flight III ship on Feb. 8, Geurts said. General Dynamics-Bath Iron Works and Huntington Ingalls Industries are competing for the award, USNI News previously reported. Both companies had to submit a 3D design model for the new ship by last December, the report stated.
"We look forward to the shipbuilders looking at how they can build those ships as effectively and as quickly as possible," Geurts said. "I'm very confident they will be creative in the competitive process."
The former SOCOM acquisition executive is also looking at ways to help the Navy apply lessons learned from his SOFWERX initiative, founded in 2016 to facilitate fast prototyping and technology experimentation between Special Operations Command and nontraditional partners. The Air Force announced last September the opening of its own "AFwerX" facility near Nellis Air Force Base in Nevada, to attempt to more rapidly and affordably field capabilities.
The Navy may not need to create its own "NavyWerx" facility as it already has many centers that perform similar roles, Geurts said.
"Our warfare centers are excellent places where we've got academia and labs and operators kind of mixing together," he said. "I think the challenge is, let's look at what we have, … figure out where we have those gaps and figure out how to close that seam."
Geurts noted that a Navy team visited SOFWERX last week, and Navy Secretary Richard Spencer also paid a visit to the facility in late 2017.
"We're already building in all the relationships down there," he said. "I just need to understand, when I look across the whole board, whether we need to create another unique thing, or we can take advantage of things we already have in the Department of the Navy."
The Marine Corps has similar efforts in place in Quantico, Virginia, "where they've got [operations] and future concepts and acquisition tied all together," he noted. But it could benefit from better incorporation of more nontraditional partners in a SOFWERX-like manner, he added.
Topics: Shipbuilding, Modeling and Simulation, Acquisition