Q&A with SOCOM's New Acquisition Executive, James Smith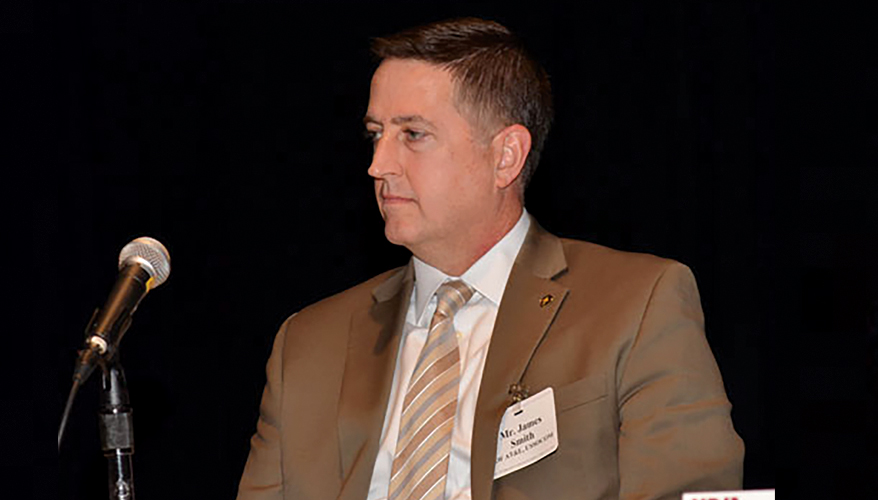 Photo: Defense Dept.
Special Operations Command has a new acquisition leader, the Air Force announced Feb. 8.

James Smith, the former deputy director for acquisition at the command, assumed the role of executive as his predecessor, James "Hondo" Geurts, now serves as assistant secretary of the Navy for research, development and acquisition. A former Army officer, Smith joined SOCOM after his retirement from the service in 2013.

He takes the helm as the command is working to build more survivable platforms and increase lethality. Programs including the tactical assault light operator suit look to harness cutting-edge technologies to build the ultimate warfighter protection system. The organization's SOFWERX facility is finding ways to work more quickly and easily with industry to field capabilities faster. In an email, Smith responded to questions from National Defense about how he plans to lead the directorate, near-term acquisition priorities and where industry can give him a hand. The Q&A has been edited for length and clarity.
Q: As you take the helm of SOCOM's acquisition directorate, what is the state of the directorate? How do you anticipate leading it?

A: We're in great shape. It's all about the people. We've got a fantastic workforce of acquisition experts. They understand that support to U.S. Special Operations Command means building and maintaining trust with our stakeholders.

First and foremost, those are the operators who provide our demand signal, but it's also building trust with our partners in industry, academia and the DoD labs who provide our technology, and building trust with OSD and Congress who provide our authorities and resources.

I intend to lead much the same way that every other special operations acquisition executive has approached this position. I've gone back and looked at the first USSOCOM's acquisition executive's thoughts on acquisition from 1997 and learned that we've been fortunate to have an amazingly consistent leadership philosophy for the last 20 years: clearly communicate your expectations for risk management and empower the team to make decisions at the appropriate level.
Q: What do you regard as a few of the top acquisition priorities for SOCOM in fiscal year 2018, and then over the following two to three years? Where can industry specifically help you there?

A: Our near-term priorities are to make our mobility platforms more survivable, to protect our operators from asymmetric threats and to increase the lethality available to the small unit team. Industry has been fantastic partners to date.

In the near future, we expect our industry partners to deliver an improved terrain following/terrain-avoidance radar capability for our rotary-wing fleet that will transition later to the fixed-wing fleet; a shallow water combat submersible to replace the SEAL delivery vehicles; a next-generation handheld radio to greatly enhance small-unit connectivity; and multiple operator-borne optics and lasers for improved small unit dominance.
Q: Can you provide updates on the tactical assault light operator suit (TALOS) program? Do you still anticipate delivering a prototype suit this year?

A: TALOS continues to push the boundaries of how much protection you can provide to the individual operator without sacrificing their mobility. As an S&T [science and technology] project, we've entered into the exciting stage where each of the individual vendors will begin delivering subsystems this fall and we'll begin integration into the first functioning prototype. The current development schedule projects demonstrating a functional TALOS MK5 prototype during the summer of 2019. The Exoskeleton subsystem is the critical path for the first article prototype combat operator suit, and it remains the most complex which has resulted in design delays.

The other TALOS subsystems — encompassing base layer, visual augmentation systems and operator interface; helmet; armor; power; and communications — continue to be refined for optimal performance and integration with the exoskeleton subsystem development. We intend to demonstrate these subsystems in a lab environment progressively by the end of 2018 (not including the exoskeleton).
Q: What is the progress of the ThunderDrone effort to acquire unmanned systems technology? What are some of your initial findings from the events and what's next?

A: What we've learned from our partnership with the Strategic Capabilities Office is that the SOFWERX model is effective in bringing diverse groups of thought together in close proximity with the operator to rapidly advance teaming opportunities and technology applications in sometimes unanticipated, but effective, means.

We finished Rapid Prototyping Event (RPE) #1 "Art of the Possible" last November. The tech expo portion of that included more than 31 industry partners that participated in 32 demonstrations. We're in the middle of RPE #2 "Counter-Small Unmanned Aerial Systems." We just concluded the Tech Expo portion in February and had more than 90 vendors demonstrating their technologies to over 250 government subject matter experts. This expo will result in some of those vendors being invited to demonstrate their technologies on the range in March and April.

ThunderDrone will culminate with RPE #3 "Game of Drones" in June. The top performers from RPE #2 will receive an invite to compete against other technologies from the [Air Force's] AFWERX for cash prizes.
Q: What other ventures do you anticipate coming through SOFWERX? Can you talk a bit about the importance of working with industry and academia early on in a program, and how that has worked out for SOFWERX and SOCOM more broadly?

A: We have no shortage of challenges in SOF that will continue to feed our SOFWERX network. The SOFWERX model addresses one of the biggest barriers to success in acquisition: knowledge. We often try to make an acquisition decision before we have sufficient knowledge. SOFWERX allows you to increase your knowledge with a fairly low investment by industry or the government.

The best example is the work we did on the [command, control, communications and computers] equipment for our all-terrain vehicles. Those vehicles have a limited amount of volume, weight capacity and power available for the large number of radios and other electronic equipment we'd like to carry. We weren't sure how to address this issue and we didn't have the knowledge to develop a contract for a solution that we didn't know existed.

We conducted a rapid prototyping event at SOFWERX with multiple radio vendors, antenna manufacturers, power experts and the ATV vendors. We learned we could drastically reduce the size, weight and power requirements. Armed with this knowledge, we'll be able to enter a contractual partnership with far less risk of cost increases or schedule slips because both we and the vendor will have a far greater understanding of what we want and what the vendor can provide.
Q: What are a few R&D priorities on the horizon?

A: In addition to the traditional domains we operate in, we are focusing our R&D efforts in the digital domain. SOF need to be able to dominate in this domain just as they dominate in the physical domains.

There is a vast amount of data available to the SOF operator through our SOF Information Enterprise, but that data can be overwhelming to an operator performing across the full spectrum of SOF activities — from direct action to foreign humanitarian assistance. We need automated machine learning that will reduce the burden on our operators and cull the data down into useful information. We need devices at the right size, weight and power envelope that can conduct this computing at the edge where our teams are operating.
Q: As SOCOM, you typically are not subject to the same levels of acquisition red tape as the rest of the Defense Department. What lessons or suggestions would you offer other agencies within the department to help speed up their own processes?

A: I think that's a misperception. We are absolutely subject to all of the same oversight and policy as the rest of DoD. Our workforce operates professionally within the same DoD 5000 directives, the same Federal Acquisition Regulation, and the same Financial Management Regulation. I think it's important to understand that. If you don't, you might not give credit to our acquisition workforce for the results they achieve, and you might dismiss using USSOCOM as a benchmark for how to do acquisition under the assumption that we're somehow "different."

For the most part, our ability to move relatively fast is a function of scale. Our direct relationship to USSOCOM for the acquisition of only services and equipment that are unique to special operations gives us three primary advantages. First, USSOCOM is a combatant command with an extremely relevant ongoing mission. We're fully co-located and integrated with the staff here. We have a firsthand understanding of priorities and urgency that gives us a different appreciation for schedule emphasis. It's not a cliché to say that our operators will often accept the "80 percent" solution if we can get that solution into the fight sooner.

Second, we benefit from the SOF operators' involvement in the process. Our SOF are, by design, older with more training, more education and more deployments. Frankly, we gain an acquisition advantage from these operators by receiving better requirements at the front of the process and better feedback during operational testing at the back end of the process. Throughout the process, we keep them fully involved to continue to squeeze benefit from their expertise.

Finally, because of the relatively small size of SOF, most of our programs fall into the lowest Acquisition Category (ACAT). They require less oversight. We tailor our approach to these programs appropriately. The services are doing the same now but they're also responsible for large scale programs that are mandated to have greater oversight. That oversight comes with a cost and schedule impact.

Many people don't understand that the services actually manage many of our programs for us. Those acquisition professionals throughout the services are fully capable of acquisition streamlining. We're fortunate they're on the team.
Q: Does the lack of budget predictability within the department cause you concern for any acquisition efforts in the immediate future? If so, which ones?

A: We've been able to work with both the Congress and OSD to mitigate most of the potential impacts of the recent budget deliberations. However, beginning production of our second dry combat submersible is considered a new start for FY18. We won't be able to get that work underway until we have a budget appropriated this year.

Again though, the vendor has taken steps to mitigate some of the impact and we're working with OSD and Congress to mitigate the remainder. The dry combat submersible program is an important program for USSOCOM and I'm confident we'll be able to work together towards a solution and deliver the capability.
Q: Up to this point, as new acquisition director or in your time as deputy acquisition director, has industry come to you with any specific concerns? If so, how do you plan to address them?

A: I greatly value the ongoing dialogue we have with our industry partners. It provides a forum for us to share concerns and potential solution paths to best meet USSOCOM's acquisition needs. It's all about communication.

An example is industry's feedback to us that we still have room for improvement on how often and how openly we communicate with them before and after a solicitation. We've teamed with industry to develop training for our workforce on what type of information is useful to industry in anticipation of a solicitation to encourage the maximum amount of exchange. They participated actively in that training, so our workforce could gain a firsthand appreciation.

We also meet with industry after a solicitation — specifically the vendors that were not offered a contract — to listen to their concerns and to enable them to compete more effectively in the future. We work hard to encourage small-business participation. I've met with numerous small business leaders to hear their concerns and work with them to allow them to compete more favorably.
Topics: Special Operations-Low Intensity Conflict, Special Operations