ROBOTICS AND AUTONOMOUS SYSTEMS
Army to Further Evaluate Self-Driving Truck Concept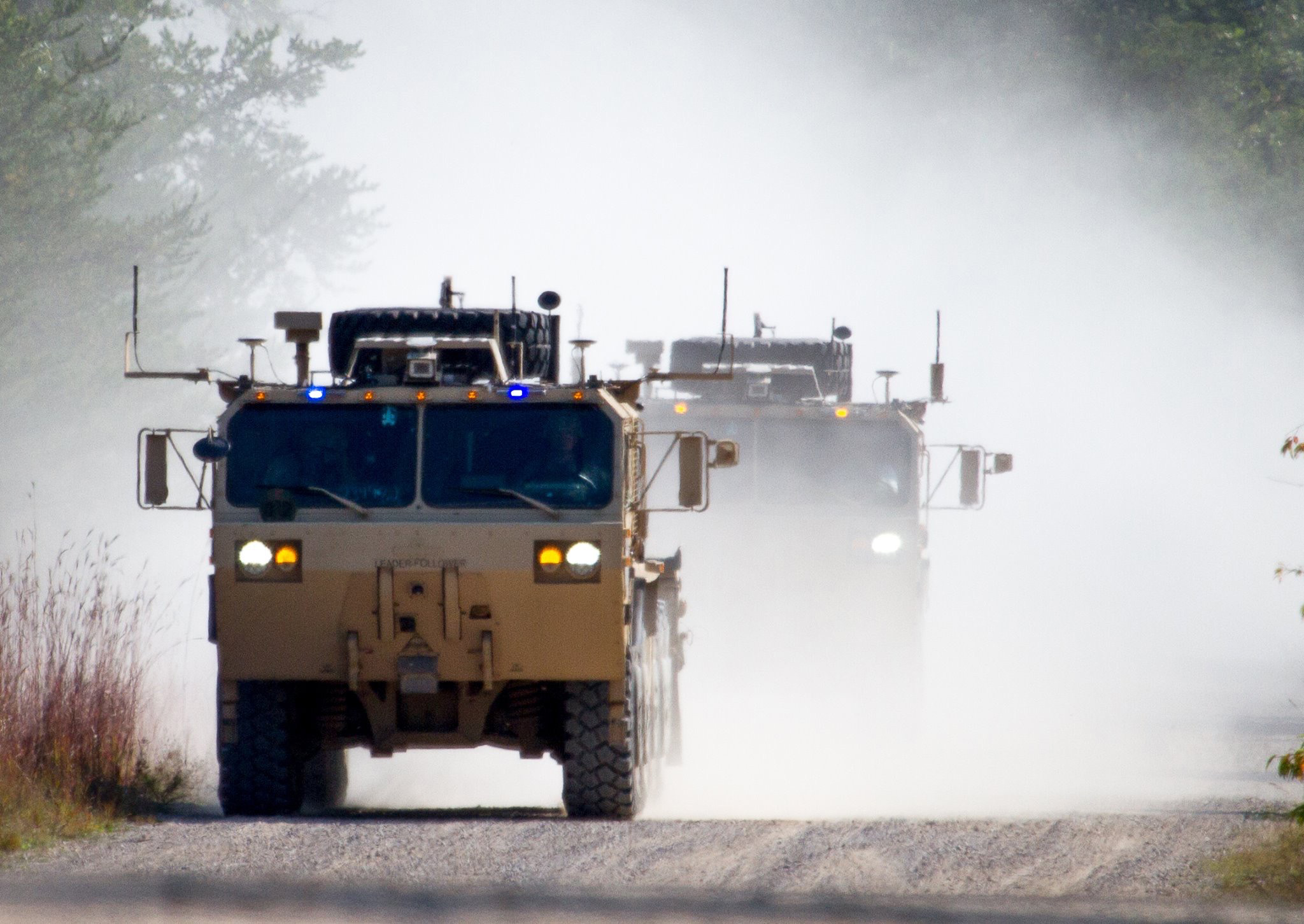 A convoy of driverless Army trucks
Robotic Research LLC
The Army plans to conduct an operational evaluation of leader-follower technology in fiscal year 2019 as it seeks to integrate autonomous capabilities into resupply convoys, the director of the Tank Automotive Research Development and Engineering Center said Feb. 7.

The project falls in line with the Defense Department's desire for more manned-unmanned teaming. The intent is to have a line of autonomous trucks follow a manned truck during resupply missions.

Speaking at an Association for Unmanned Vehicle Systems International conference at National Harbor, Maryland, TARDEC Director Paul Rogers said a 12-month operational evaluation will kick off in the fourth quarter of fiscal year 2019 with the Palletized Load System.

Halfway through the evaluation, the service will begin "flowing" the second increment software out to integrate additional capabilities into the technology, he said.

"We have a baseline capability, we get it in the hands of soldiers, we start using it, we start exploring it. And then over time, we're enhancing that performance," Rogers said, noting that plans include having one manned truck followed by up to seven autonomous trucks.

The software upgrades will be divided into three increments, he said. The first will be ready in the fourth quarter of fiscal year 2019 and provide the baseline architecture for the system, according to Rogers' presentation materials. The second increment will be incorporated in the third quarter of fiscal year 2020, and the third will be rolled out in fiscal year 2022. Each increment is expected to improve the autonomous resupply capability in various ways, such as improving the trucks' ability to operate in inclement weather and GPS-denied environments.

Previous tests have shown that the unmanned follower vehicles were able to outperform their manned counterparts, he noted.

"That manned vehicle picks the route, drives the route, and that [information is] being real-time shared with all the follower vehicles," he said. "The variation in their tracking of that exact route was much better than a man. Yet we trust the manned vehicle much more than we would trust an autonomous vehicle," he added.

Rogers told National Defense that plans for the operational evaluation have yet to be finalized, but 60 trucks are expected to take part. Fort Sill, Oklahoma and Fort Polk, Louisiana, are being considered as locations.
Topics: Army News, Robotics, Robotics and Autonomous Systems