Seeing, Thinking Robots to Assist Troops (UPDATED)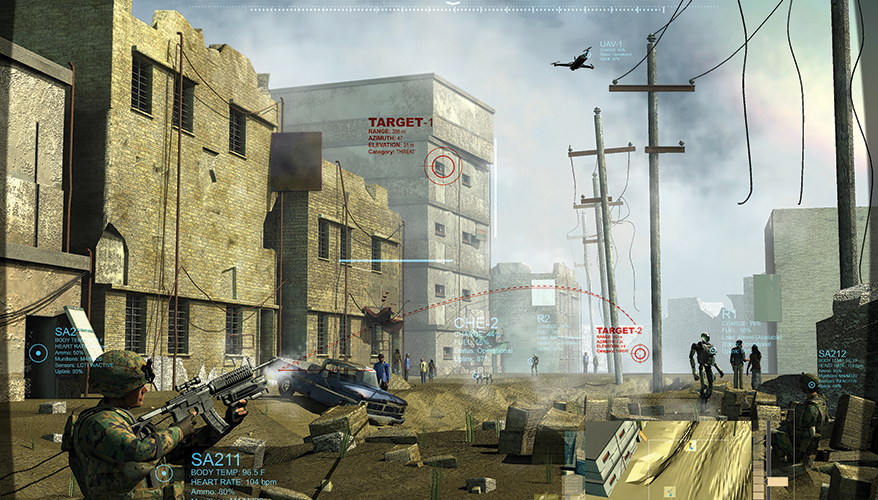 Squad X Core Technologies concept art
Concept art: DARPA
Outside of a bustling foreign city, a squad of U.S. soldiers moves with intent as they perform a covert mission. A small aerial drone buzzes around them as an unmanned ground vehicle follows, both of them sensing the surroundings and ready to alert the soldiers to anything amiss.
This scene could be commonplace should technology from a burgeoning Pentagon program come to fruition.
The Defense Advanced Research Projects Agency is currently leading two major efforts — known as the Squad X Core Technologies and the Squad X Experimentation programs — to equip soldiers with new cutting-edge gear, said Army Lt. Col. Philip Root, the program manager for the projects.
The point of both programs is to develop and integrate new technology — such as unmanned aerial systems, robotic ground vehicles, advanced sensors and machine learning — in such a way that they can act as an extension of the squad, he said.
"This capability would allow small units, particularly in an urban space, to extend their ability to sense and react to threats," Root said. "That's a problem that's going to stay with the ground domain in the foreseeable future."
In the scene envisioned above, the unmanned aerial and ground systems "behave intuitively as any other member of the squad and they know their unique capabilities," Root said. "The UAS is sensing those areas where it is uniquely capable of doing so and the robotic ground member is moving as a natural member of the squad without being tele-operated … or requiring more cognitive attention."
That gives an individual soldier or Marine a "superhuman understanding of the scene," he added. "You can digest all of these tools rapidly without always monitoring many computer screens or tablets."
The assets are meant to be display-agnostic, so information could be fed into a visor or another viewing device, he noted.
Root — who took the helm of the two separate but closely aligned projects in October — said DARPA is in the midst of experimenting with the new technologies.
For the Squad X Core Technologies portion, DARPA awarded eight phase-two contracts to industry to develop new systems in four different focus areas — precision engagement, non-kinetic engagement, squad sensing and squad autonomy. The companies recently tested those systems at a variety of locations including Fort Stewart, Georgia, and Yuma Proving Ground in Arizona and New Mexico.

Squad X Core Technologies concept art (DARPA)
"The testing in October went exceptionally well. We had terrific feedback from the Marines, both technically and operationally," he said. Marines used the technology "in ways that we hadn't anticipated to support how they would perform a simulated mission."
Additionally, Marines and industry were able to work together to make tweaks to the systems on the fly, he said.
For squad sensing, contractors demonstrated an ability to detect and track unmanned aerial vehicles at an extended range, he said. For squad autonomy, a group of Marines walked more than 25 miles alongside a ground robot, which was able to assume the right position in the squad and perform in an intuitive manner, he added.
During the experiment, Kitware, a Clifton Park, New York-based software company participating in the event, was able to detect and discriminate threats on the ground, Root said.
"The ground [domain] is particularly hard because it's so cluttered," he noted. "Their challenge [was] in applying machine learning to target detection and then discrimination. [It] is incredibly daunting and increasingly applicable to the urban battlespace."
There will be another experiment for Core Technologies in March at the Muscatatuck Urban Training Center in Butlerville, Indiana, Root noted.
These technologies will fold into the Squad X Experimentation program, he said. For that project, DARPA awarded Lockheed Martin and BIT Systems contracts to integrate all four focus areas of the Core Technologies program into one single system each. The first experiment will be in August.
"We are actively engaging the services in order to maximize this DARPA investment."
DARPA plans to "experiment with these technologies, validate that they indeed increase performance over some baseline and we will continue to increase the complexity over time," he said. "We are intending to challenge these performers to create a squad ensemble that can demonstrate its viability against a thinking adversary even at the first experiment."
Lockheed and BIT are not required to choose systems that were developed via Core Technologies, but Root expects some will be used. "They looked across the industry space and picked those that they felt highlighted their approaches," he said.
Phase one ends in 2019. DARPA will then down select to one competitor.
The agency hopes that the multi-year program — which will wrap up in 2021 — will yield cutting-edge technologies that can quickly be put in the field, Root said.
"We are actively engaging the services in order to maximize this DARPA investment," he said. Ideally, the agency will transition the technology to the military before 2021, he added.
Correction: A previous version of this article misstated the headquarters of Kitware. It is based in Clifton Park, New York.
READ MORE STORIES FROM OUR SMALL UNIT DOMINANCE SPECIAL REPORT
Seeing, Thinking Robots to Assist Troops
Army Introduces New Night Vision Goggles
Pentagon Takes New Look at Rifles, Ammo
Leased Unmanned Systems Providing Flexible ISR for Special Operations
Advancements in Body Armor, Biometrics to Provide Protection
Industry Ruggedizing, Securing Battlefields Radios
Topics: Land Forces, Robotics, Robotics and Autonomous Systems