Industry Ruggedizing, Securing Battlefield Radios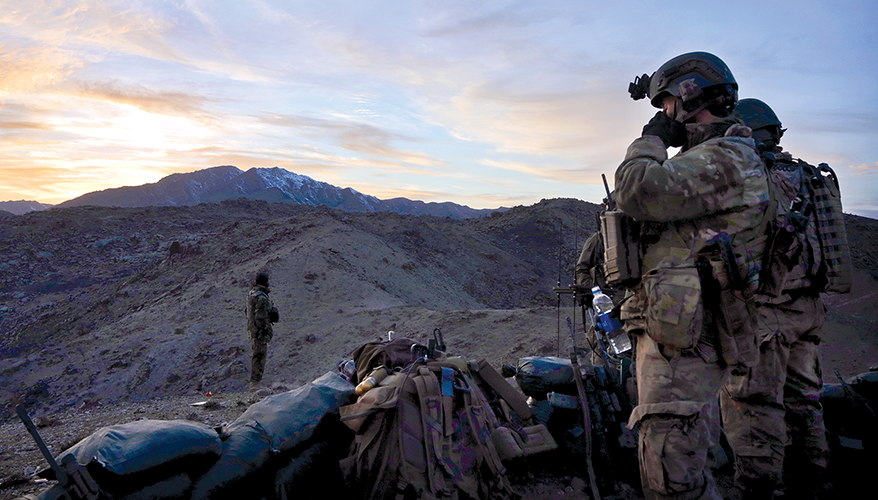 A U.S. Special Forces soldier talks on his radio
Photo: Defense Dept.
For dismounted troops, access to communications facilitated through reliable, fast and protected networks can mean the success or failure of a mission, particularly in degraded conditions. Industry is working to meet that demand by developing new equipment and optimizing networks.
At Harris Corp., the company is developing a variety of radios that are aimed for use by Special Operations Command, whose commandos are often fanned out across the globe in remote areas, said Jeff Kroon, director of engineering at the company's communications systems division.
In 2016, SOCOM's program executive office for command, control, communications and computers awarded the company a $390 million indefinite-delivery/indefinite-quantity contract for the AN/PRC-163, a next-generation handheld radio, which would upgrade the command's legacy devices from a one-channel to a two-channel system.
"That radio is designed to be for the small units … and distributed across the whole team so they have full communications at the edge from satellite communications to wideband communications to narrowband," he said.
The systems are also equipped with electronic countermeasures such as the ability to avoid jamming, he noted. Additionally, they are simultaneously able to employ a threat-warning capability that can detect enemy radio frequency emissions.
A module attached to the back of the radio provides full intelligence, surveillance and reconnaissance connectivity to stream full-motion video from various unmanned assets, he added.
In September, the company delivered test radios to the command, Kroon said.
"We got a lot of good feedback from the user community that we've incorporated," he said. "A lot of this has to do with how the user interacts with such a sophisticated device."
Prototypes of the new handheld radios were delivered to SOCOM in January, Kroon said. Production deliveries are slated for the spring.
In June 2017, the command awarded Harris an IDIQ contract worth up to $255 million for the procurement of a next-generation multi-channel Manpack radio.
The contract includes radios, a new power amplifier, vehicular systems and push-to-talk headset audio subsystems, according to Harris.
That radio will offer users two channels and increased power and capability, Kroon said. Development of the device is underway but delivery is still "sometime out," he noted.
Radio technology has made large strides over the past decades, particularly in size and capability, he added. Radios went from the size of shoeboxes to their current forms which are much lighter and easier to carry.
Harris is also partnering with TrellisWare Technologies, a San Diego-based communications company, to develop a new version of its soldier radio waveform, known as SRW narrowband.
The two companies are working together under leadership from the Army's Communications-Electronics Research, Development and Engineering Center. The new version of the waveform will be outfitted with improved electronic warfare capabilities and will be able to transmit data and voice farther, according to Harris.
Investments in more resilient networks come at a time when military leadership have warned about foreign nations using electronic warfare to jam signals and deny the United States the ability to communicate.
Meanwhile, Marlin McFate, federal chief technology officer at Riverbed Technology, a San Francisco-based company, said the military often employs networks powered by satellites for its communication needs. However, transmitting data via satcom can often be cumbersome.
Satellite communications are very slow, he said. There is inherent latency because of the time it takes to relay information from the ground to the satellites.
Riverbed works to optimize that information, allowing data to be sent and received more quickly, McFate said. That is particularly critical when processing large amounts of data, such as images or video.
"We have to change the protocol that is being utilized over the link so that it can cope with the network conditions better because we can't change those," he said. "We can't make a radio wave move faster, or an electron move faster. … We have to mitigate the negative effects of these network impairments."
The company also works to reduce the amount of bandwidth used by devices, he said. It uses compression and data de-duplication techniques to "take something that is a very small amount of bandwidth, such as a one-megabyte pipe, and make it feel like it's a 10-megabyte pipe or a 20-megabyte pipe, allowing end users to get their information faster," McFate said.
The company currently works with a variety of Pentagon customers, he noted.
READ MORE STORIES FROM OUR SMALL UNIT DOMINANCE SPECIAL REPORT
Seeing, Thinking Robots to Assist Troops
Army Introduces New Night Vision Goggles
Pentagon Takes New Look at Rifles, Ammo
Leased Unmanned Systems Providing Flexible ISR for Special Operations
Advancements in Body Armor, Biometrics to Provide Protection
Industry Ruggedizing, Securing Battlefields Radios
Topics: Land Forces, Battlefield Communications