ROBOTICS AND AUTONOMOUS SYSTEMS
Navy Evaluates Man-Machine Pairing with New Fire Scout
MQ-8C Fire Scout
Photo: Northrop Grumman
SAN DIEGO — The Navy continues to experiment with how to efficiently partner up manned and unmanned aerial platforms to survey, detect and engage targets at sea, as the forthcoming MQ-8C Fire Scout unmanned aerial system moves through testing.
A successor to the MQ-8B, the Northrop Grumman-developed platform is teamed with a manned helicopter, Sikorsky's MH-60R or MH-60S Seahawk, to perform various missions such as reconnaissance, situational awareness, aerial fire support and precision targeting support for ground, air and sea forces.
Pairing the Fire Scout and Seahawk together has allowed the Navy to use one system to perform broad-area maritime search operations while waiting to employ a more agile, manned platform to execute the mission, said Cmdr. Edward Johnson, MQ-8 Fire Scout requirements officer.
The two aircraft complement each other, he said at the 2018 WEST conference in San Diego co-hosted by the Armed Forces Communications and Electronics Association and the U.S. Naval Institute.
"One is the hunter, one is the killer; one is the looker and one is the doer," he said. "Going forward, that's how we're always going to look at these aircraft … as a family of systems with complementary capabilities."
The Fire Scout concept first came out of a joint program with the Army, but the Navy decided to move forward after the service abandoned the concept, said Jack Thomas, Fire Scout mission engineering director at Northrop Grumman Aerospace Systems.
The B variant, first introduced in 2009, is based on a Schweizer 333 airframe — now owned by Sikorsky — on which Northrop integrated advanced sensors, payloads and an autonomous flight control system. The MQ-8B has between five and six hours of total endurance with an operational ceiling of 12,000 feet. Northrop built 29 units and 23 are still in the fleet, Thomas said.
The Navy awarded the company a $262 million contract in 2010 to build the MQ-8C. The first operational unit was delivered to the Navy in 2014, and initial operating capability is anticipated for later this year.
Both variants of the Fire Scout provide long-range detection to the service, Thomas noted. "It goes out, detects targets, tracks them, identifies them … and then the manned helicopter engages the surface target."
The C variant is larger and features upgraded capabilities over its predecessor. It is based on the Bell 407 airframe, has an increased endurance of about 12 hours, and flies at 16,000 feet.
"There was an urgent need to increase the range, payload and endurance of the Fire Scout system," Thomas said. "The Navy asked us to take essentially all of the autonomy and sensors that were on the MQ-8B, and put it into a larger airframe."
The aircraft will also possess a new active electronically scanned, 240-degree Osprey 30 radar built by Leonardo, which will help provide the enhanced detection range, he added.
The Navy is planning for the MQ-8C to have a Link 16 data exchange system and an in-flight target update capability, where the Fire Scout can feed the service data to a broad number of ships and other service platforms, he noted. It will also be able to provide updated targeting for networked weapons such as long-range anti-ship missiles, that can be updated in flight via Link 16. "The Fire Scout will be one of the first aircraft that will be able to provide that updated targeting," Thomas said.
The system also has its own weapons capability. The Navy already integrated BAE Systems' advanced precision kill weapon system — a laser-guided rocket — into the B aircraft, and also plans to incorporate it into the C variant, Thomas said.
Both the B and C platforms serve as "the eyes and ears" for littoral combat ships, and are integrated into both the Freedom and Independence-class vessels, Thomas said. Nineteen MQ-8C units have been built so far, and Northrop is on contract for another 14 systems. Bell Helicopter provides the helicopter, built in Ozark, Alabama, and then Northrop adds in the unmanned capabilities and payloads at its Moss Point, Mississippi, facility.
Testing began in 2014 aboard the USS Jason Dunham, an Arleigh Burke-class destroyer, and continues aboard littoral combat ships. As the LCS fleet continues to be developed, the Navy has performed some land-based testing to prepare for additional Fire Scout deployments, service officials said.
The aircraft "has a lot of testing still to be done," said Lt. Cmdr. Evan Young, MQ-8 integrated transition team lead for the Navy's Helicopter Sea Combat Wing, Pacific Fleet, at the WEST conference.
It will not be deployable for several more years until the updated radar system is installed, he added.
Those enhanced capabilities will "fundamentally change the way the Navy thinks about helicopter operations from a ship, simply because its line-of-sight distance and its endurance is significantly bigger than anything [the service] has ever experienced before," Johnson added.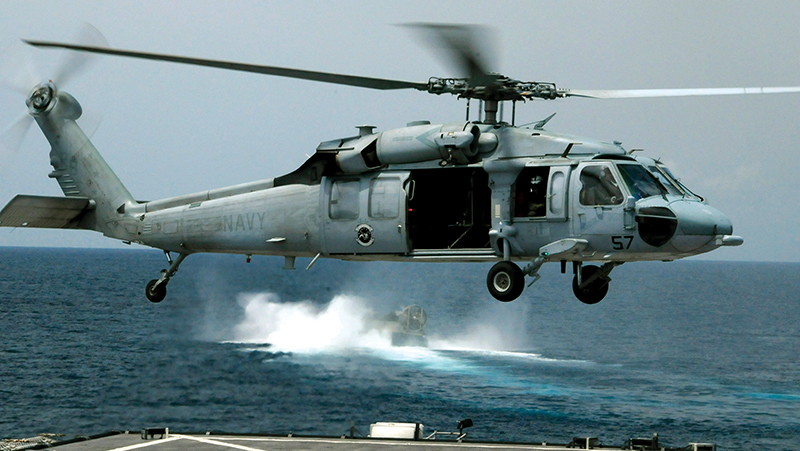 MH-60S (Navy)
He noted that the MH-60S in particular possesses fewer sensors, "but what it lacks in sensors, it makes up for in terms of weapons" and other payloads, he said.
While the Fire Scout is currently integrated onto littoral combat ships, the Navy plans to incorporate it onto its expeditionary sea base, or T-ESB, class of ships, Johnson said. The service's expeditionary warfare directorate provided funds to procure the mission stations and related antennas and equipment for ESB-4 and ESB-5, he told National Defense.
"The two main focuses of that ship are mine countermeasures or special warfare support," he said. "In the vein of special warfare support, they want them to have unmanned system support from the ship."
Those control stations are expected to be installed on ESB-4 later this fiscal year and on ESB-5 about a year later, he said. He noted that while there are no "concrete plans" to deploy the Fire Scout from an expeditionary mobile base, the service wants the system integrated onto the ship in the future.
The symbiotic relationship between the Fire Scout and the Seahawk could be applied to future instances of man-machine teaming, said Graham Drozeski, a program manager with the Tactically Exploited Reconnaissance Node, or TERN, project at the Defense Advanced Research Projects Agency. The program seeks to design, develop and demonstrate a medium-altitude/long-endurance unmanned aircraft system and related technologies that enable future launch, recovery and operations from small ships, according to the agency.
"There are things that humans are good at, and there are things that a machine is good at," he said. "In a team, you try to put the best teammate on task, and so we are starting to discover that" with the MQ-8 and MH-60, he added.
A human operator may always be more proficient at understanding a commander's implicit or explicit intent, but unmanned systems such as the Fire Scout could "enable him to put his full mental capacity on those tasks and take the other ones out of his way," he noted.
Drozeski added that the cost of having a servicemember present on an aircraft would change the calculus of a future conflict. The MQ-8 can serve as a "silver bullet," an asset that helps to gather key information about an adversary's position or plans before the Navy needs to put a human in harm's way, he said.
Meanwhile, service leaders are mulling the benefit of using unmanned aerial systems such as the Fire Scout once the fight moves from sea to land.
Pentagon leaders have spoken of the need to better prepare for conflict in urban environments and megacities — with populations of more than 10 million people. The Marine Corps in particular has been working to develop new capabilities and efforts to train for that eventuality, and unmanned systems will help troops on the ground perform tasks they are less capable of, said Col. Che Bolden, assistant chief of staff for G-7 modernization and development for the Marine Corps Installations Command.
"When we start getting into dense, urban environments, we want those systems to be able to do the things we can't do, or that we don't want to do," he said.
"My primary focus as a Marine is how do I get the Marines from the ships to the shore?" Bolden said. "Everything else around that is in support."
The service — which does not currently employ the Fire Scout — and the broader Defense Department need to focus on how it will maintain command and control of these unmanned assets in a contested environment, he added.
"We get so wrapped up … about the attributes about the platform itself, we tend to get lost on what the whole purpose of it is in the first place," Bolden said.
The Navy sees some challenges to training pilots to fly an unmanned aircraft, officials said.
A "huge paradigm shift" occurs when an aviator is told he or she will be operating a UAV rather than a traditionally piloted aircraft, Young said. Operators need to understand how an unmanned system functions and the "system of systems" concept that helps it meet a mission objective, he added.
Trust needs to be built so that the operator feels comfortable using the system, and traditional mission planning could help alleviate the stress, Johnson said. He suggested training in "baby steps," for example, beginning with performing tasks that are relatively simple like searching a large body of water.
"You start to build that level of trust that the machine is thinking the way we want it to. … It's developing a plan that makes sense," he said. "As we build that trust, we may see higher and higher levels of autonomy."
The Fire Scout platform is autonomous to the point that the system follows a mission profile that was uploaded to the system, but commands are still issued by an operator, Thomas noted.
Johnson noted that the system's reliance on data links offers some limitations.
"It's not a fully autonomous vehicle. It makes millions of decisions a minute in terms of how to keep itself straight and level. … It's not making decisions about how to fight," he said. "We are beholden to those networks, and that does present a vulnerability" that enemies could exploit.
While the prospect of operating in a communications-degraded environment may seem like an incentive to add greater autonomy to an unmanned platform, Drozeski said the technology is not quite ready yet even if it were desired.
"The technology development area is maturing, but is not mature," he said.
Topics: Robotics and Autonomous Systems, Robotics, Navy News