Air Force Wants Platforms Built with Connectivity in Mind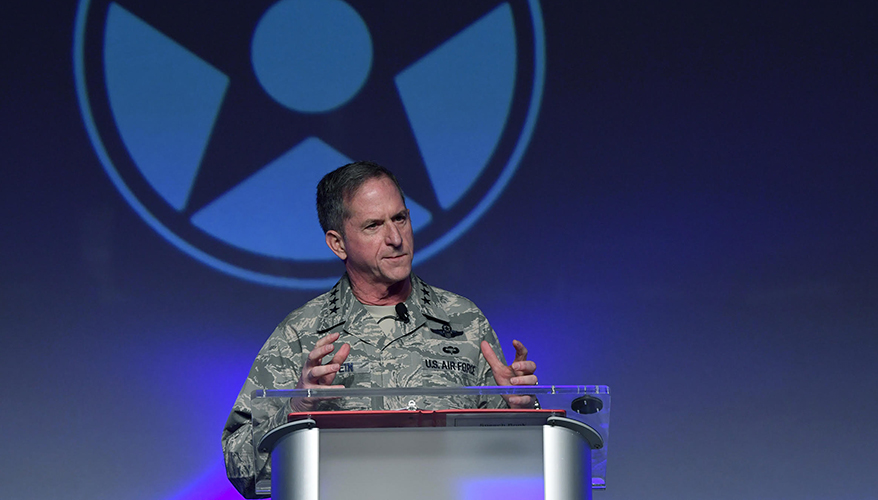 Gen. David L. Goldfein speaks during the Air Force Association Air Warfare Symposium, Feb. 23.
Photo: Air Force
ORLANDO, Fla. — The Air Force is sending a clear message to industry for future platform designs: If it doesn't connect, share and distribute information or perform in a disaggregated battlespace environment, the service is not interested.

The Air Force needs to move away from platform-centric acquisition programs that don't have connectivity and information-sharing capabilities in mind from the beginning, said Chief of Staff Gen. David Goldfein Feb. 23.

In the past, the service has initiated multi-year contractual obligations "knowing full well the informational capacity of the platform, sensor or weapon would likely be either obsolete or vulnerable to cyber attack long before the contract was completed," he said in a speech at the Air Force Association's annual Air Warfare Symposium in Orlando, Florida.

"If we are going to fight and win in wars of cognition, we've got to ask a different series of questions before starting an acquisition program on any platform, any sensor or any weapon," he said. "Does it connect? Good. Does it share? Better. Does it learn? Perfect."

Goldfein has made these points in previous speeches. But the service's recent decision to cancel the joint surveillance target attack radar system, or JSTARS, recapitalization program in favor of a more distributed battle management network, is an indicator that he and other leaders are indeed taking a different approach to acquisitions.
Senior Air Force officials, including Secretary Heather Wilson and Air Combat Command Commander Gen. James "Mike" Holmes, spent time at the conference pushing for a more disaggregated architecture that uses new and additional sensors on a variety of air, sea, ground and space platforms.

"Instead of the discussion about the merits of JSTARS as an individual and platform-centric combination and whether we should replace [it] with a similar — albeit newer — platform and sensor that brings little in the way of combat capability despite years of investing, I look forward to discussing how we can leverage new technologies … that can bring more lethality to the fight in both contested and non-contested environment," Goldfein said. "These are the discussions we have to have, and they are worthy of our intellectual investment if we are going to thrive."

The U.S. military is pivoting to focus more on great power rivalries, he noted. The 2018 national defense strategy emphasizes that the United States can no longer be certain of its dominance against peer adversaries Russia and China.

"Great power competition and accelerating technology … demand that we redefine ourselves," Goldfein said. "Are we as an aero industry fostered to thrive in this [technological] revolution, or will we be consumed by it?"

The services must also quickly adapt to fighting in the space and cyber domains and refine their operating procedures, he noted.
The United States could be fighting from space "in a matter of years," he said. "It's time for us as a service … to embrace space superiority with the same passion and sense of ownership as we apply today to air superiority," he added.
"Are we as an aero industry fostered to thrive in this [technological] revolution, or will we be consumed by it?"
Goldfein pointed to new opportunities in space technology thanks to miniaturization of satellite systems and rapid expansion of investment in both the public and private sectors globally.

"We're just a few years away from being able to go to a commercial website that's imaging every inch of the globe 10 times per second," he said. "For airmen, these are exciting technologies."

The Air Force must also embrace advanced computing and artificial intelligence, he said.

"We have got to think beyond an already old idea of big data and think more about timely access of the right data," he added. "What algorithms are required to leverage the computing power of systems at the [tactical] edge, that can connect and compare information sources in ways specific to improving our ability to orient?" he asked.

Goldfein called on industry to help the service build the contracting mechanisms needed not only to help achieve these data fusion goals, but also to make it profitable for companies to develop those technologies.
The Air Force chief also announced that the within the next week the service will be allocating $64 million to wing and squadron commanders to "kick start" innovation at the tactical edge. The money will enable units to test, experiment and refine their ideas, he said.
Topics: Air Force News, Air Power