Air Force Offers Up Options for a Post-JSTARS Future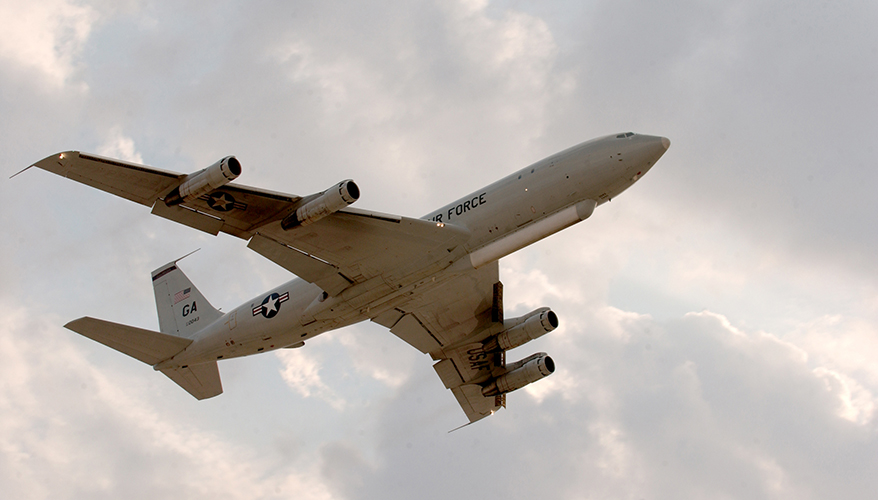 An E-8C Joint Surveillance Target Attack Radar System aircraft
Photo: Air Force
ORLANDO, Fla. — The Air Force is proposing an array of near-term solutions to maintain the effectiveness of its battle management capabilities after announcing it was cancelling the joint surveillance target attack radar system recapitalization program.
Senior officials said the service plans to save several aircraft that were planned for retirement and add more sensors to unmanned platforms as it begins an advanced battle management system analysis of alternatives this summer.
When Secretary Heather Wilson first heard about JSTARS as a member of then-President George H. W. Bush's national security council, it was considered a "revolutionary capability," she said Feb. 22 at the Air Force Association's annual Air Warfare Symposium in Orlando, Florida.
Since then, the pace of technology has quickened considerably, and yet the recapitalization program would have provided the Air Force with the same capability first developed in the early 1990s, she said in a keynote speech.
"Buying something that was revolutionary 30 years ago doesn't take us to a more competitive future," she said. "That's why the chief [of staff] and I have decided to change gears and convinced the joint staff and the [office of the secretary of defense] staff to change gears too."
Reports that the service planned to scrap the forthcoming JSTARS recapitalization program were confirmed in the fiscal year 2019 presidential budget request, released earlier this month. Rather than include money for the program, the Air Force proposed to modernize seven Boeing E-3 Sentry airborne early warning and control system aircraft, also known as AWACS, and put an array of sensors on MQ-9 Reaper unmanned aerial vehicles.
It would also keep the current Northrop Grumman-developed E-8C JSTARS platforms operational through the mid-2020s "as we develop and transition to an advanced battle management system," according to budget documents. The JSTARS recap program would have included 17 new aircraft for an estimated total program cost of nearly $7 billion, according to Government Accountability Office reports. Lockheed Martin, Boeing and Northrop Grumman were competing for the program.
The Air Force will begin an advanced battle management system analysis of alternatives this summer, said Air Combat Command Commander Gen. Mike Holmes. The study was originally planned to analyze the future of the AWACS platform, but the service will broaden its scope to consider all of its airborne intelligence, surveillance, reconnaissance and battlement management assets, he said at a media roundtable.
While the service ponders these options, it plans to take some of the money that would have been spent on the JSTARS recapitalization program to upgrade those seven E-3 aircraft "that we were retiring as a money issue," he said. Those platforms will receive upgraded technologies that will ensure greater communications capabilities and data gathering, and possibly have more connections to the ground moving target indicator, or GMTI, radar feed to better detect ground targets, he added.
There still may be a use for some of the JSTARS-related equipment the service has been eyeing, Holmes noted.
The Air Force has downselected to one new ground moving target indicator radar for the aircraft, he said. The Government Accountability Office dismissed a protest from Raytheon in late 2017, leaving Northrop Grumman's submission as the winner.
The Air Force could still use that system as it considers future options, Holmes said. "That radar is kind of a modular radar. … We think there may be uses for that radar as we work through" the analysis of alternatives, he added.
The MQ-9 Reaper, manufactured by General Atomics, could receive a new system, he said. "We're proposing to spend some money to develop a GMTI radar that can go on some portion of the MQ-9 fleet. … You have the capability to use the GMTI radar and use the electro-optical system and then the weapons that it carries to close the whole kill chain with one airplane."
Northrop Grumman's Global Hawk intelligence, surveillance and reconnaissance aircraft also provides GMTI information, and the Air Force's platforms could see some upgrades to help fill in the gaps for ground target detection, he added.
Holmes emphasized that a new radar on an MQ-9 or more sensors on a Global Hawk would not be intended to completely replace the coverage of a JSTARS aircraft. "It's a different tool to offer the warfighters to do part of what they're using the JSTARS to do now, which is to narrow that beam down and focus it on one point and do dismount detection," he said.
The service is taking a look at the approach it takes to all of the missions it provides for the joint force, not just airborne command and control, he noted.
"JSTARS comes up now because it's the decision point of whether we are going to recap that capability … now," he said.
He added that if the recapitalization program delivered on schedule, it would deliver airplanes between 2024 and 2028. "I'm talking about buying something new and [considering] how useful it would be by the time it is delivered."
The service does plan to retire several JSTARS aircraft, although the majority of the E-8 fleet will keep flying through the mid-2020s.
Wilson told reporters that about three aircraft are not currently flying, "so we don't intend to continue to fund those."
The Air Force is engaged with Congress as it pushes for this disaggregated method of performing the advanced battle management mission, she said, noting that "it's entirely possible that the Congress could say, 'no, we want you to build JSTARS.'"
Lawmakers "need to understand that we do not believe JSTARS will survive and be able to be deployed … in a highly contested environment [against] China or Russia, post-2025," she said. "We think we've presented something that can help us in a highly contested environment and we think it's a better answer," she added.
Topics: Aviation, Air Power, C4ISR, Battle Management