Lockheed Martin Looking to Reduce Cost of F-35 Sustainment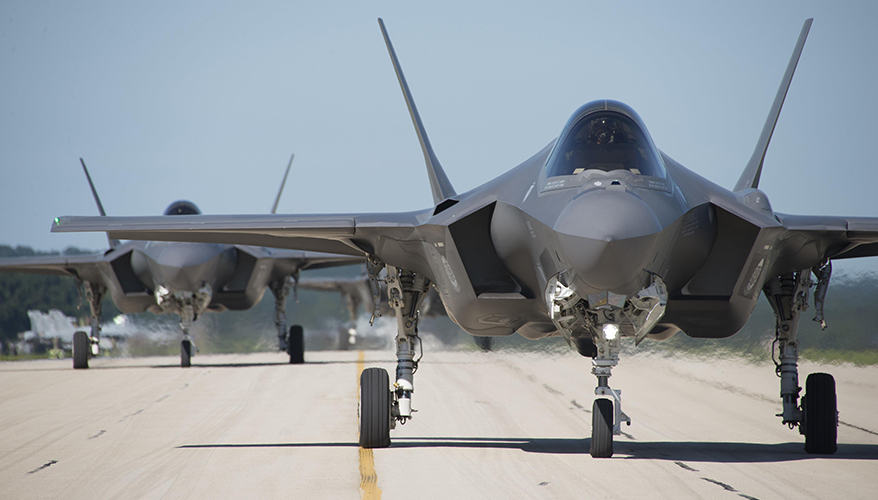 Photo: Air Force
ORLANDO, Fla. — Lockheed Martin is making efforts to trim the training and logistics costs for the F-35 joint strike fighter program as the Pentagon warns of sustainment issues.

Ellen Lord, undersecretary of defense for acquisition and sustainment, told reporters in January, "right now, we can't afford the sustainment costs we have on the F-35. And we're committed to changing that."

As the joint strike fighter's developer, Lockheed Martin is working to cut costs by moving toward more performance-based solutions for the user, rather than purchasing more equipment than ultimately needed up front, said Amy Gowder, the company's vice president and general manager for training and logistics solutions.

"We are on the front end of that [savings] opportunity," she told reporters at a media event Feb. 21 at Lockheed 's rotary and missions systems facility in Orlando, Florida.

The company wants to reduce the tail cost on the LM-STAR performance-based logistics system by 20 percent in 2018, she said. It provides avionics test equipment for the F-35 and can service other aircraft including the F-22 and F-16 fighter jets. To make that cost reduction, Lockheed identified areas where it can tailor the number of systems down and reduce the locations where it is installed, she added. About 200 stations are installed at over 50 sites worldwide, according to the company.

Lockheed is also working with 38 companies in countries hosting or soon to host F-35 training facilities, to build a product support provider network that can supply a range of common tools and supplies, she added. Those countries currently include Japan, Israel, Italy, the United Kingdom and Norway, and will soon include Australia and the Netherlands.

Using in-country firms as repair sources has helped Lockheed generate 83 percent savings in support equipment over the last two years, Gowder noted.
"There's possibilities with this network to repair legacy equipment" including air carts, engine trailers and hand tools, she said.

Lockheed has also cut the cost of flight suits by 20 percent, she added.

"If I know I am going to have X number of pilots coming through in the time period at these times, I can much better align all of the activities and costs … rather than just buying things in bulk and waiting for a pilot to come through that may or may not use that material and equipment," she said.
Gowder noted that pilot flight suits and aviator testing systems may be smaller commodities, but they are also "natural areas where you can pilot these performance-based and outcome-based models."

"We're on the front end of showing [that] different ways of operating the support elements can drive cost savings," she added.
Changes in the autonomic logistics information system, or ALIS, production line setup have also helped drive efficiency, Gowder noted. The company has reduced the amount of tools needed to build the hardware and maintained a brisk pace moving a part from station to station through development. Small changes such as these have helped production triple since 2014 — when the line was first opened — while reducing manufacturing time by 35 percent, company officials said.
But more could be done to lower the manpower cost associated with ALIS, Gowder said, including reducing the number of administrators.

"There are initiatives we have underway to go look at, how do you centralize some of the ALIS admin functions and how do you get more efficient in the administration tasks," she said.

However, it is too early to say how much these efforts to move toward more performance-based models will cut costs in the long run, she noted.

"I think that's fair [to say] that we haven't had the opportunity … to employ these same types of contracting models and these logistics models to the larger support elements," she said.

Meanwhile, Lockheed Martin is ramping up training operations in the United States and internationally. The company currently trains instructors and students at three facilities: Eglin Air Force Base, Florida; Luke Air Force Base, Arizona; and Marine Corps Air Station Beaufort, South Carolina.

Naval Air Station Lemoore in California will be the next facility to open, in March, and the company delivered 10 foreign military sales simulators to four nations in late 2017. By 2019, more than 70 FMS simulators will be fielded, and by 2021 that number will grow to nearly 100 installed at more than 20 training facilities around the world, Gowder said.
Topics: Air Power, Defense Contracting